New data obtained by Webb-site show that Gambia and Guinea-Bissau, two small African countries, now account for 75% of the mainland Chinese who have obtained residency in HK under the Capital Entrant Investment Scheme. The requirement for mainlanders, who account for 84% of the CIES, to obtain permanent residency somewhere else is farcical and should be scrapped. It is part of HK's value proposition to be the Monaco of China, and we should welcome them.
Chinese Africans in HK

15 April 2012
At the end of our article You can call me Dr Sir last month, we remarked that The Republic of the Gambia has a special relationship with Hong Kong: although it has no consulate here, Gambia has been the largest single conduit for Chinese mainlanders seeking residency in HK via the Capital Investment Entrant Scheme (CIES). In order to qualify for that, apart from making an investment of a certain size in certain assets, mainlanders must have permanent residence in a foreign country. This is so that we can all pretend that mainlanders moving to HK under the scheme are coming with their money from overseas and not bypassing mainland capital controls and treating HK as the Monaco of China that it is.
Those comments were based on figures from figures as of 31-Dec-2007, provided in an answer to LegCo on 16-Apr-2008. That was quite early in the scheme, when only 1,114 Chinese nationals had been formally approved under the CIES for residency in HK. So on 26-Mar-2012, Webb-site filed a request under the Code on Access to Information for an update on these figures. 18 days later on Friday, we received the figures from the Immigration Department. As of 29-Feb-2012, there were 11,585 mainlanders in the CIES, up more than 10-fold since 31-Dec-2007. Here is a breakdown by country of permanent residence: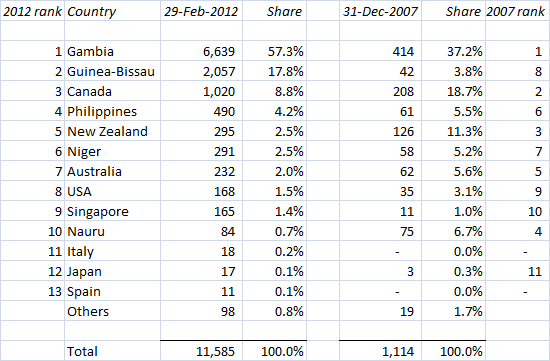 As you can see, our relationship with Gambia has gone from strength to strength: the majority of mainlanders (57.3%) under the CIES now have permanent residency in Gambia, a small African country (population: 1.7m) which very few of them have ever visited. Like Hong Kong, it is a former British colony. Soaring up the ranks from 8th place in 2007 to 2nd place now is the former Portuguese colony of Guinea-Bissau, another small African country (population: 1.6m) currently enduring its latest military coup. It does not have a consulate in HK. Between them, the two countries account for 75% of Chinese mainlanders under the CIES.
Searching the web for firms handling applications for CIES, we find several that openly advertise that they will obtain permanent residency in Gambia or Guinea-Bissau as part of the CIES service. Solicitors ONC Lawyers, for example, offers assistance with the Gambia, while Wingate Business Ltd claims that it can obtain a Gambia or Guinea-Bissau identity within 15 days. Rowland Chow, Chan & Co can get you Gambia permanent residency in 1 month.
According to the latest published statistics on CIES, as of 31-Dec-2011 there were 13,111 formal approvals, of which 11,022 or 84.1% were for Chinese nationals with permanent residence overseas. So 563 mainlanders gained formal approval in the first 2 months of this year, or an annualised rate of 3,378 per year. Taiwan and Macau accounted for another 4.7% of CIES members, leaving 11.3% from outside Greater China. The CIES then, is very much a vehicle for wealthy mainlanders to obtain residency in HK.
It is part of HK's value proposition to be a convenient offshore tax haven for wealthy mainlanders, just as Monaco is to Europe, and as Jersey, Guernsey and the Isle of Man are to the UK. If mainlanders establish HK residency, then after 7 years here they will qualify for permanent residency and, because they are Chinese nationals, they will then also qualify for an HKSAR Passport. If they are paid in HK, and do not spend more than 183 days in the mainland each year, then their employment remuneration will be exempt from Individual Income Tax in the mainland (see Inland Revenue pamphlet 72(e)). So they can base themselves here while supervising their mainland business interests.
More importantly in many cases, as HK residents, mainlanders under CIES will not pay taxes on investment income, capital gains and death. HK has a territorial-based system of taxation; it does not tax offshore income. HK taxes earnings (salaries and profits) but does not tax bank interest, dividends or capital gains - and if it ever tried to do so, then it would have to drop the territorial approach and tax residents on their worldwide income and gains, otherwise people would just invest their savings overseas. Indeed, onshore bank interest was once taxed, and a lot of money was kept in offshore branches and subsidiaries of HK banks until the tax was abolished. HK doesn't tax death either. The PRC proposed an inheritance tax in 1994 but has not yet legislated it.
The spending of mainlanders living in HK under the CIES will help support the economy, and the management of their savings will support the banking and asset management sectors. We should welcome their presence - but why do we make them jump through hoops by obtaining permanent residency in poverty-stricken African countries that they are unlikely ever to visit? The whole thing is farcical. The requirement for overseas permanent residency should be scrapped.
© Webb-site.com, 2012
---
Topics in this story
---
Sign up for our free newsletter
Recommend Webb-site to a friend
Copyright & disclaimer, Privacy policy
---