Singapore was then a British colony, but the entry records record him as both a citizen of China and British. Also on the same ship were future leading figures in HK.
Lee Kuan Yew arrives in Liverpool, 1946

30 March 2015
A little bit of history from the UK National Archives: when the young Lee Kuan Yew arrived at Liverpool, England from Singapore on Cunard White Star's MV Britannic on 8-Oct-1946 (travelling first class), his proposed address was given as "Middle Temple, London" (where he would later be a barrister), his profession, occupation or calling as "Merchant" and his "Country of which Citizen or Subject" as "China". That's interesting, because he was born in Singapore (then the capital of the Crown Colony known as the Straits Settlements). On 1-Apr-1946 Singapore became a separate Crown colony (separate from the Malayan Union established on the same date). So in 1946, he was still a British Subject.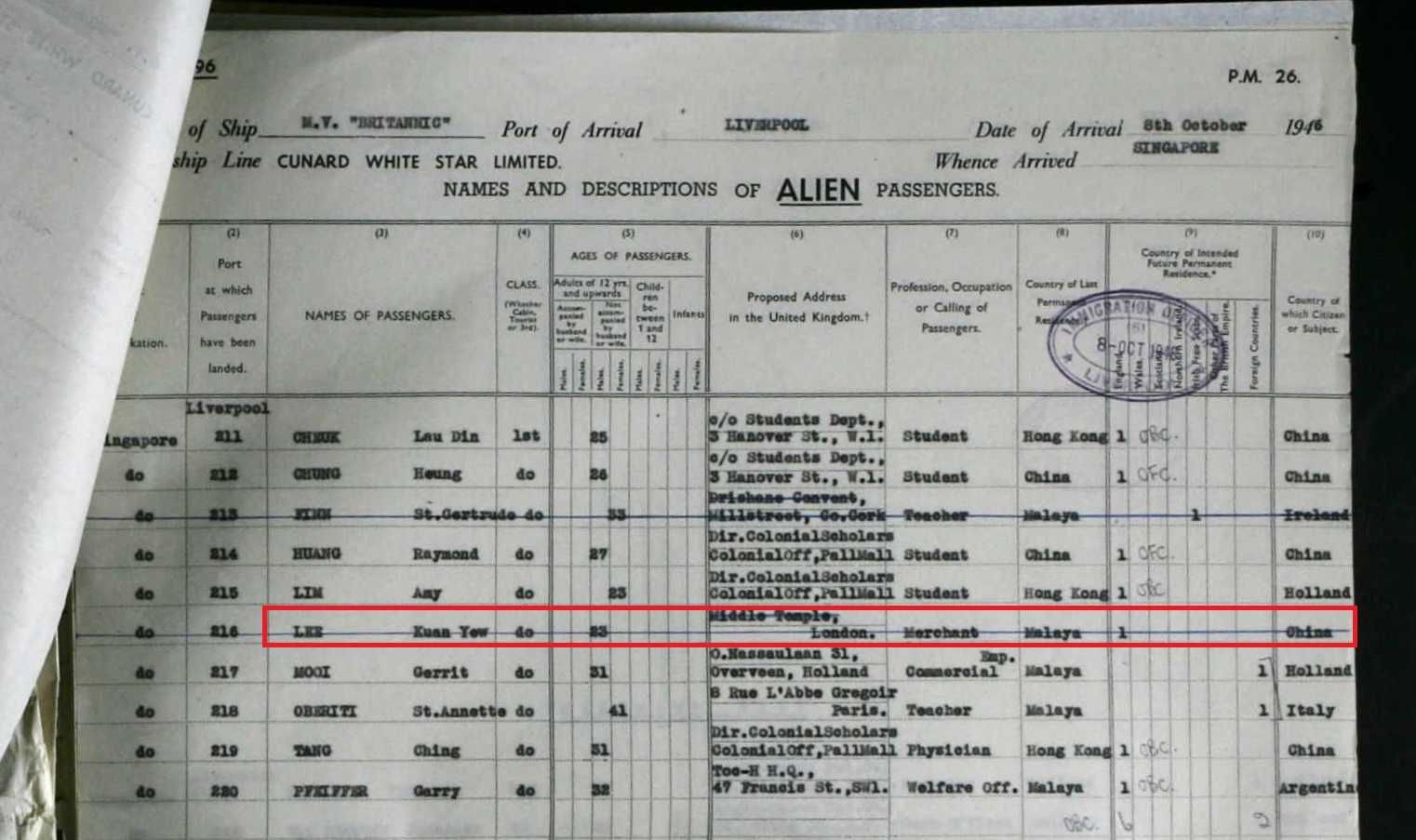 However, the mystery is perhaps solved by the fact that apart from appearing on the list of "Alien" passengers, he also appears on the list of British passengers, as shown below:
Also on that voyage, incidentally, in the list of British and not Alien passengers, were future HK barrister Patrick Yu Shuk Siu and his brother Brian Yu Kwai Ko, who were 2 of the 6 "Victory Scholars" that post-war year, scholarships for local students from the British Colonial Government. Their father Yu Wan was an inspector of vernacular schools (local Chinese schools) for the HK Government's Education Department. Also on board were Bank of East Asia scion and future HK Court of Appeal judge Simon Li Fook Sean, then a 24 year-old student, with his 23-year-old student wife Marie Veronica Lillian Li Yang Yen Ying, future parents of current Senior Counsel and Civic Party member Gladys Veronica Li Chi Hei.
© Webb-site.com, 2015
---
People in this story
---
Sign up for our free newsletter
Recommend Webb-site to a friend
Copyright & disclaimer, Privacy policy
---