What is Taiwan? Tradelink has the answer...
Tradelink's provincial politics (updated)

22 September 2015
A user of Tradelink (operated by Tradelink Electronic Commerce Ltd, 0536) points out to Webb-site Reports that the trade declaration company's software may be just a bit too politically correct. Rather than accepting international convention and just calling Taiwan, well, "Taiwan", the software asserts that Taiwan is a "Province of China" as shown below: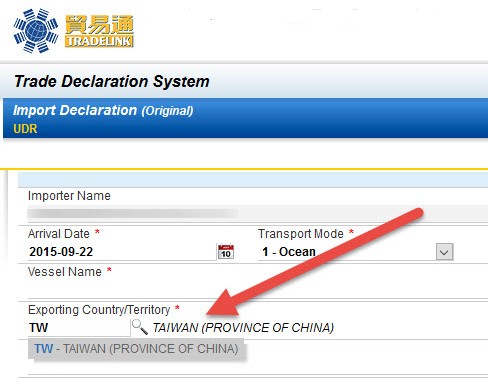 Of course, it doesn't say which China - would that be the People's Republic of China, or the Republic of China? How much business does Tradelink hope to win from Taiwanese companies and their HK subsidiaries, with this kind of offensive labelling?
Update, 13:45
Tradelink has responded to Webb-site Reports and blames this on HK Government specifications, shown here, which include (page 43) "TW" for "Taiwan (Province of China)". This in turn comes from ISO 3166-1-Alpha-2 Code published by the International Organization for Standardization. So if you have a problem with Taiwan being labeled a Province of China, take it up with the HK Government for specifying that code table. Incidentally, the Companies Registry has no such qualms - it just calls the place "Taiwan", like the rest of us. How unpatriotic.

© Webb-site.com, 2015
---
Organisations in this story
---
Sign up for our free newsletter
Recommend Webb-site to a friend
Copyright & disclaimer, Privacy policy
---