An open letter to the Board of Allan International Holdings (0684.HK)

10 September 2023
Allan International Holdings Limited (Allan)
Dear Directors,
I have been an excessively patient investor in Allan for over 23 years, first buying shares at the turn of the century on 24-Jan-2000, disclosing a 5% shareholding on 1-Apr-2003 when the disclosure threshold was reduced from 10% to 5%, and gradually increasing my holding to the current position of over 12%. I even made Allan the 2003 Webb-site Christmas Pick, although I did write at the time:
"the group had net cash (including held-to-maturity securities, time deposits, money-market funds and bank balances), after paying the final dividend, of about HK$172m, or about $0.51 per share. We have urged them to pay out the surplus as a special dividend, to improve the return on equity and the total return for investors, including the Cheung family."
Since then, you have hoarded more and more equity, dabbled in investments in which you have no expertise and bought an investment property which is non-core to your business of "manufacturing and trading of household electrical appliances". That core business, which is 60 years old this year, has apparently gone into sunset mode.
I had hoped to avoid airing these matters publicly. I have repeatedly tried to engage with you to right-size the balance sheet, but to no avail. For a while in the late noughties and early 2010s, I was prepared to tolerate the overweight balance sheet because, after several years of stagnation from 2001 to 2007, the business was growing impressively. You had finally realised that to succeed, you needed to scale up and service your then big-brand customers such as Philips, Groupe SEB and De'Longhi with more bargaining power and greater efficiency.
In the year to 31-Mar-2012, turnover peaked at HK$2,417m, but sadly since then it has fallen every year for 11 years, reaching only $413m in the year to 31-Mar-2023, a drop of 83% from the peak, and less turnover than 24 years earlier in 1999, even after considerable inflation since then.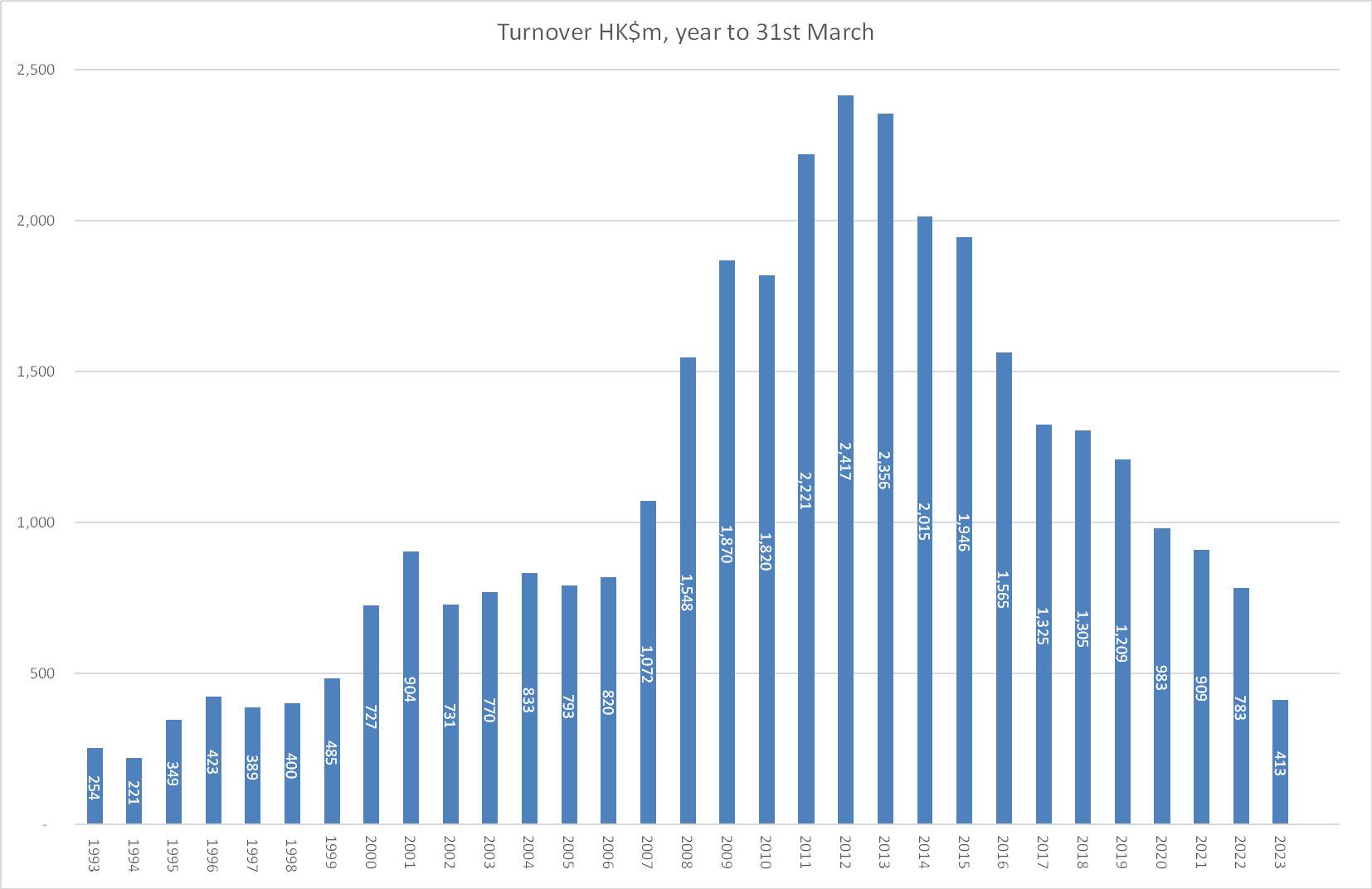 Mainland industrial property
In 2006, you bought 2 adjacent parcels of land in Huizhou at "Hui Nam Hi-Tech Industrial Park" (HNHTIP), Huizhou, Guangdong, for HK$20.4m, for expansion. Construction began in Feb-2008 and the new factory in the first 2 buildings opened in Aug-2011, just before turnover peaked, when the site looked like this on Google Earth: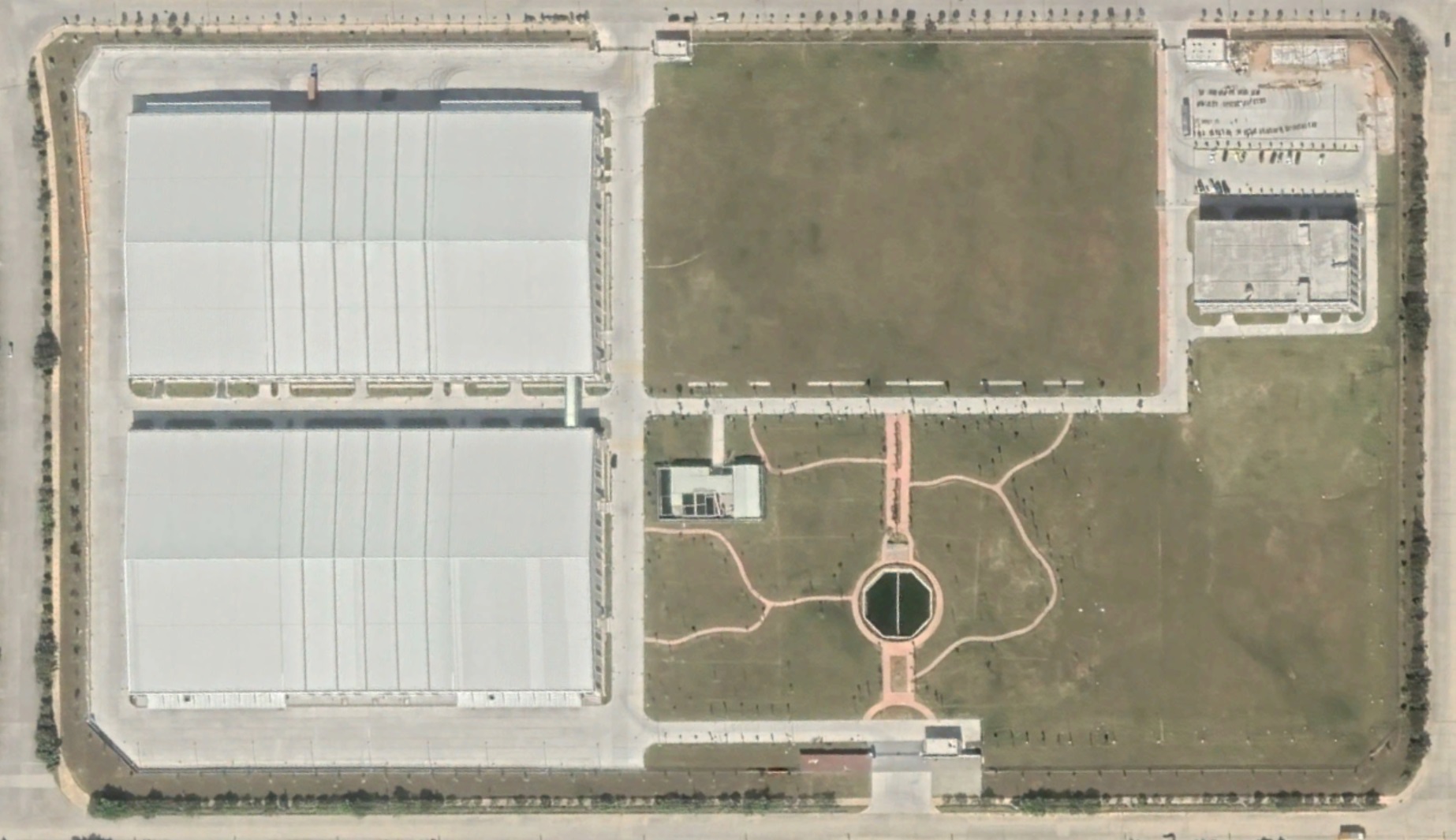 On 4-Jul-2013, you announced the sale of Southern Well Holdings Ltd, which owned 2 parcels of land at Nanmen Xi Street, Danshui, Huizhou City, Guangdong, with various disused factory buildings, to one Ye Xujun (葉旭君) for net proceeds of HK$54.88m, or about $0.164 per share. The sale completed on 30-Aug-2013.
On 25-Apr-2018, as disclosed in the Mar-2018 annual report, the Group agreed to sell "part of its land use rights in the PRC" with a book cost of HK$3.145m, and properties on the land with a book value of $10.0m, to an "independent third party" for RMB21m (then HK$23.6m). The transaction completed in the year to 31-Mar-2019 with a gain on disposal of HK$5.2m. Also in that year, construction on the third factory building at HNHTIP was completed. The latest satellite view shows that the Eastern slice of the site, presumably the part that was sold in 2018-19, now has a completed multi-storey complex, indicating the redevelopment potential of the remaining portion of the site which currently holds only 2-storey factory buildings: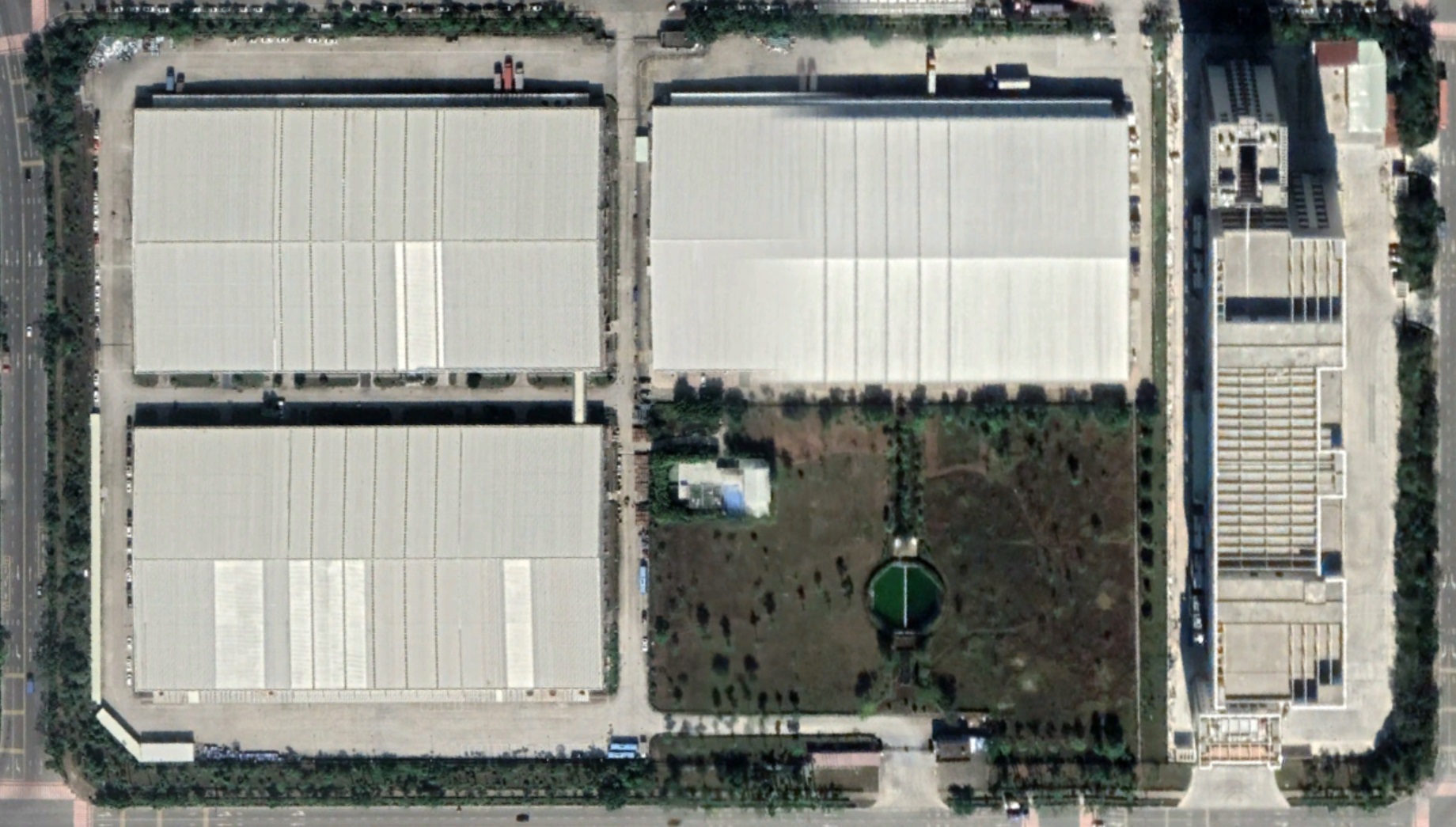 In 2019, after less than 8 years of operation at HNHTIP, you recognised the long-term decline in the business by retreating from HNHTIP to your old factory in Lilin, consolidating production at that one site and leasing out the buildings at HNHTIP, which were therefor transferred to investment property in the accounts. You wrote in the 2019 results:
"We would closely monitor the market condition and development policy in Huizhou so as to realise the value of the land and building situated in [HNHTIP]."
The newly-completed third factory block was leased out in Apr-2019 for 5 years to an independent third party at CNY558k per month for the first 3 years with an option to increase 8% for the remaining 2 years. The other 2 buildings were leased out in Dec-2020 for 5 years to another independent third party.
In the 2023 results, HNHTIP was valued at HK$233.0m, or about $0.70 per Allan share.
HK office property
On 1-Nov-2010, you announced the purchase of the 9th floor and 2 car spaces at 151 Gloucester Road (the Gloucester Road Property, then AXA Centre, now Capital Centre) for HK$153.7m, via a newly-created 100% subsidiary, New Prestige Investments Ltd (New Prestige). The office comprised 6 units with various existing tenancies and licenses. Your stated intention was:
"After expiration of such existing tenancies and licence and depending on the then market circumstances, the Group shall either continue to lease the Property for investment purpose to strengthen its income base or use the Property by itself."
I understand the desire of some manufacturers to sink capital into their own head office and be free of tenancy negotiations with landlords, although with low yields on office properties, such a use of capital does result in lower returns on equity. However, in no circumstances is it acceptable for a manufacturer to be morphing into an investment property company "to strengthen its income base". You simply don't have the economies of scale that a large landlord like Swire Properties or Hysan Development would have, and investors didn't and wouldn't approve this diversion of their capital. If investors in Allan wanted to invest in office properties, they would buy shares in companies or REITs that are established and listed for that purpose.
On 29-Dec-2015, you announced the sale of your then office at 12th Floor of Zung Fu Industrial Building in Quarry Bay for HK$179m to a subsidiary of Swire Properties Ltd, for eventual redevelopment. The deal included a 3-year leaseback, of which the first 2 years would be at a nominal HK$1 per month and the market rate for the 3rd year, capped at $250k per month, all plus rates and management fees. The sale completed on 3-Mar-2016. The proceeds were equivalent to HK$0.534 per share, but you only distributed a special dividend of $0.28 per share and added the rest to the cash pile.
On 17-Sep-2018, you moved the head office out of Zung Fu Industrial Building and into 23/F, Chaiwan Industrial Centre, which you rent from Ardent Investment Ltd (Ardent), "a subsidiary of a substantial shareholder" of Allan, for HK$123,800 per month. It was clear from that decision that Allan has no need to retain ownership of the Gloucester Road Property. The Group also rents land and factory premises in Lilin, Huizhou City, Guangdong from Allan Investment Co Ltd (AICL) which is 89% owned by Union Associates Ltd (UAL), which must also be the substantial shareholder referred to in relation to Ardent. As disclosed, UAL is held by the Cheung Lun Family Trust, the beneficiaries of which include the only 4 Executive Directors of Allan: siblings Maggie, Albert, Sophie and William Cheung.
Bloated balance sheet
At each year-end since the IPO, Allan has had a net cash position, which could initially be described as conservative and prudent but is now hideously obese. When assets have been sold, you have only distributed part of the proceeds. When profits have been made, you have retained a large portion of it, when there was no business case for doing so.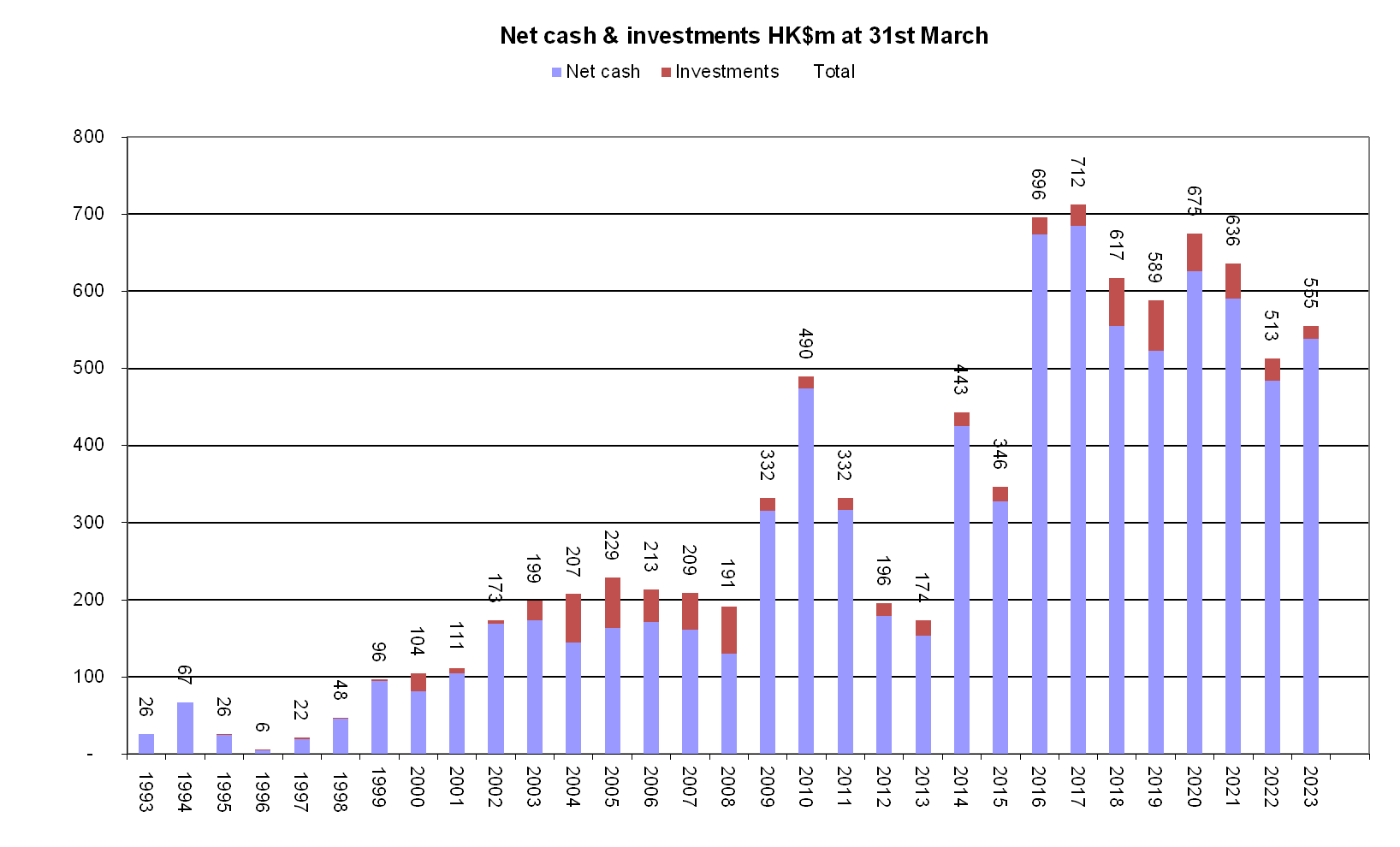 And those investments - you apparently think the Board is a better judge of investments in bonds, funds and equities than your investors are. We can pick our own investments, thank you. You are not professional asset managers and you do not have a mandate to speculate in the markets. At one point in 2009-12, Allan even held debt investments the return on which was "linked to specific commodity indexes such as biofuels and agriculture products". That investment has as much relevance to kitchen appliance manufacturing as a food blender has to asset management.
As the chart below illustrates, the Group balance sheet has become dominated by net cash and investment properties. Prospects for the business are now so poor that in the Mar-2023 accounts, you found it necessary to impair Property, Plant and Equipment by HK$24.9m, leaving just $6.6m of PP&E, even less than your Club Debentures of $10.3m. This will at least reduce future depreciation charges if and when the business recovers.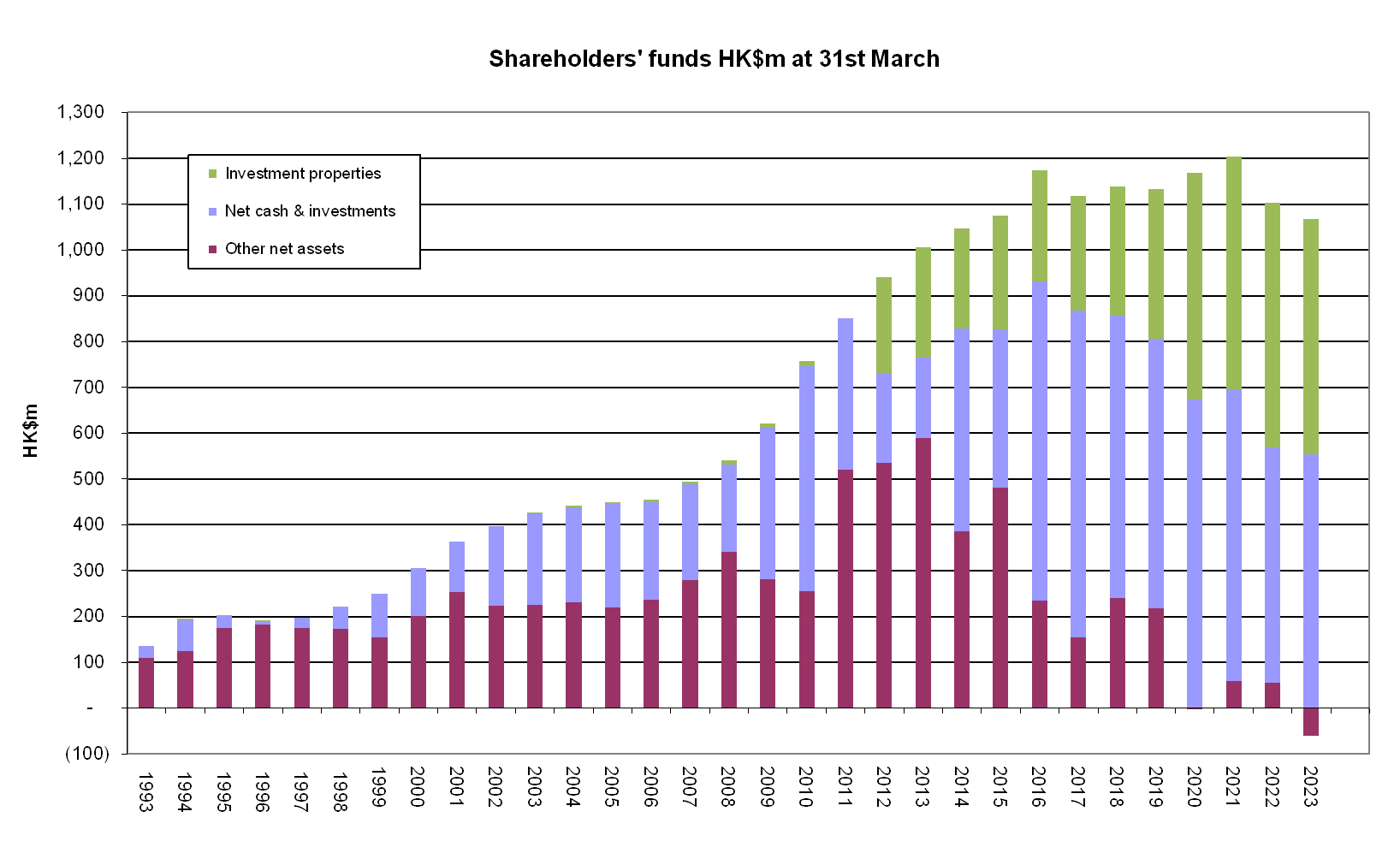 The Hong Kong Government has recently appointed a Task Force on Enhancing Stock Market Liquidity. So much of that problem has to do with low valuations, which in turn are related to poor governance, including the hoarding of excess capital, diluting potential returns on equity. If Allan did not have a controlling shareholder, it would have long ago right-sized the balance sheet or been taken over by people who would.
At the closing price of HK$1.11 per share on 7-Sep-2023, Allan has a market value of just HK$369.7m, but net tangible assets of $1,007m, or $3.02 per share. The net cash and investments are $555m ($1.67 per share), plus investments properties of $513m ($1.54 per share), of which the Gloucester Road property alone is valued at $280m ($0.84 per share).
As I said at the outset, I have been excessively patient. With limited time left, I can no longer afford patience and would rather not leave the matter to potentially more activist successors who will manage my assets after my death. Your retention of excess capital borders on oppression of minority shareholders, something that would be legally actionable. In Allan's 60th year of business, this behaviour is a shameful stain on the Group's reputation. I urge you, without further delay, to:
Announce the convening of a Board meeting to declare the payment of a special dividend of the surplus cash. Even if you turn the business around and double last year's turnover to about $800m, that level of turnover was exceeded in 2000-1 with net cash and investments of $111m at year end. Even with a margin of safety, Allan does not need to hold net cash of more than $150m, allowing a distribution of $405m, or about $1.22 per share.
Announce the appointment of a reputable estate agent to conduct a sale of the Gloucester Road Property by 2-month open tender and a prompt sale to the highest bid, with a reserve price 20% below the latest valuation. Don't wish that you had sold it at its peak valuation in 2019. One can never time the market. From any point, it could just as easily go down than up. The point is that Allan has no business investing in office properties. In the same announcement, undertake to distribute all the net sale proceeds as a special dividend. At current valuation, that would be $0.84 per share, minus expenses. As the property is held by a special-purpose vehicle (New Prestige), Allan can alternatively transfer that vehicle, to reduce stamp duty from 4.25% to 0.2%. Bidders could be invited to tender on either or both bases.
Similarly, announce the appointment of a reputable agent to tender the HNHTIP former factory site (or its corporate owner) for sale to the highest bidder, with existing tenancies. Alternatively, if the Cheung family fancies its chances of redeveloping the site in future, I would be willing to approve a connected sale at the latest valuation of HK$233m (which is based on its existing use), provided that in either case, all the proceeds are distributed as a special dividend. At latest valuation, that would be equivalent to $0.70 per share, less costs and any taxes.
Sell or redeem all investments in securities and funds, and undertake not to make such investments in future. Instead, commit to a dividend policy of retaining no more cash than is necessary for reasonable contingencies, not for Armageddon.
These moves would be in the interests of all shareholders, including the controlling Cheung family. It would demonstrate corporate reform for a new era, a commitment to better governance and respect for minority shareholder rights. It would of course be positively received by the market and begin to salvage Allan's market reputation. With a much leaner balance sheet, the Cheung family, who will receive their share of the special dividends, could then consider whether they wish Allan to remain a public company, or take it private at the right price in a transaction that I could support.
I look forward to your announcements.
David M Webb
Founder, Webb-site.com
© Webb-site.com, 2023
---
Organisations in this story
Topics in this story
---
Sign up for our free newsletter
Recommend Webb-site to a friend
Copyright & disclaimer, Privacy policy
---