Starting with an investigation into the banking problems of a digital token exchange, we follow the trail of the people behind a Vanuatu Bank and a series of questionable transactions on London's AIM.
How one thing leads to another

22 November 2017
Updated, 23-Nov-2017
We're going to take you on a mystery tour which will give you a little insight into how our investigation process typically evolves.
A while back, Webb-site heard about one of the digital token exchanges in HK called Gatecoin Ltd (Gatecoin), which had suffered a setback in May-2016 when digital pickpockets stole 250 Bitcoin and 185,000 Ethereum tokens from its wallets, or 15% of its crypto-assets. There were corresponding debts to clients, for which the firm coined a new unit of account: "ETD" or Ethereum Debt, which, the last time they mentioned it on their blog, they were still hoping to repay. Rather like their assets, some of the blog posts have also disappeared, but we captured this one from 12-Oct-2016.
Fast forward to 28-Sep-2017, when Gatecoin blogged that inward HKD and USD transfers had been "temporarily halted". First, there was the "sudden suspension and subsequent closure" of its account at Hang Seng Bank. Gatecoin had contingency plans with a firm it called "Alpen Baruch". Gatecoin said:
"The first back up bank account we used for HKD and USD transfers was with Alpen Baruch, a financial institution with a presence in both Hong Kong and the South Pacific region. However, the charges for processing HKD and USD transfers on their side were extremely high and the processing time was very slow causing a lot of dissatisfaction among our clients.

Therefore, we decided to switch to our other client bank account in Hong Kong at Fubon Bank. Unfortunately, Fubon Bank decided to stop processing HKD and USD deposits one day after we displayed the new bank transfer instructions to our clients as the incoming transfer amount exceeded their maximum deposit allowance.
As a consequence, we have no choice but to temporarily halt all HKD and USD transfers until we have found a financial institution willing and able to process our transfers in a fast and affordable manner."
This was not the whole truth. In an update on 17-Oct-2017, Gatecoin revealed that on 26-Sep, "Alpen Baruch froze our account without notice" - something that it had not mentioned in the first blog post. There was now a more detailed chronology, stating in part that:
On 15-Sep, "Gatecoin activated our bank accounts held with Alpen Baruch and migrated all HKD and USD transfers processing through those accounts".
On 19-Sep, "Gatecoin activated the Fubon Bank account in Hong Kong and proceeded to transfer funds originally held at our Hang Seng Bank account."
On 21-Sep, Fubon froze the account and "despite the high fees and transfer delays we switched our HKD and USD processing back to Alpen Baruch."
On 26-Sep, "Alpen Baruch froze our account without notice."
"Our accounts at Alpen Baruch only holds deposits sent by clients between 18-26 September"
"no reason has been given by Hang Seng or Alpen Baruch Banks for freezing our accounts. Fubon Bank did not inform us of the daily account transfer limit and did not explain why exceeding the limit would force them to freeze our accounts."
You will notice that Gatecoin described Alpen Baruch as "a financial institution with a presence in Hong Kong and the South Pacific region". We assume that Gatecoin did its due diligence before directing client money to this firm. Its full name is Alpen Baruch Bank Limited (ABB), but it does not have any banking licence in HK. Despite its German-Swiss sounding name, the only place we could find ABB is in the Republic of Vanuatu, an island nation in the South Pacific. On 20-Nov-2017, Webb-site reached out on Twitter to ask Gatecoin whether its ABB account was still frozen. A terse "Yes" came back. We asked "How much is frozen in Vanuatu?". The reply: "0. The accounts were in HK." That's interesting, given that ABB has no banking licence here. Gatecoin declined to disclose how much is frozen in ABB.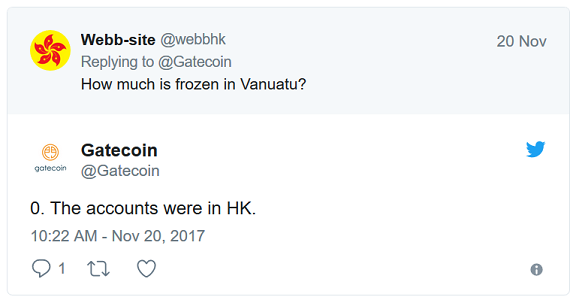 So we reached out to the HK Monetary Authority. A spokesperson replied by e-mail:
Alpen Baruch Bank Limited is not an Authorized Institution or Local Representative Office approved under the Banking Ordinance (the Ordinance).
Any person who carries on deposit-taking business in Hong Kong or uses the name "bank" in its description without the authorization of the Monetary Authority is an offence under the Ordinance. We have reported this case to the Police for appropriate follow up.
Perhaps then, ABB had been receiving deposits via other banks in HK, and those accounts have also been frozen, leading ABB to freeze Gatecoin's accounts at ABB. However, the assertion that Gatecoin's account at Hang Seng Bank was frozen without explanation also points to the possibility of an investigation, which banks would not be allowed to disclose to Gatecoin. Otherwise it seems odd that a firm with the correct licence (a Money Service Operator licence from the Customs and Excise Department) would have such difficulties.
Update, 23-Nov-2017: Aurelien Menant, CEO of Gatecoin, responded by email today, contradicting his firm's Tweets and blaming those on "information provided by our marketing guys". Mr Menant stated:
"Our client funds had been transferred back from the ABB account way before November 20th and transferred back to a personal account under my name that we opened in that purpose."
So the good news is that the funds are no longer frozen by ABB. The bad news, in our view, is that the funds were transferred to a personal account of a company officer. It is never a good idea for companies to allow funds to be held by their officers, whether as nominee or otherwise and for however long. Banks generally don't allow personal accounts to be used for that purpose either - they only recognise the bank account holder as the beneficial owner of funds.
Regarding ABB, Mr Menant stated:
"Regarding the banking and payment partners, we are trying to operate as transparently as possible... Unfortunately, that is impossible here in HK, so we act under the radar, which is no longer possible given our daily volumes. The only players we found that were still open to work with us are third tier ones... Among those, the one that looked decent and potentially reliable was ABB, since they at least have a licence somewhere... this temporary partnership with ABB was an accident..."
Regarding the now-closed account at Hang Seng Bank, Mr Menant wrote:
"The bank account we were using with HSB [=Hang Seng Bank] was not under the name of Gatecoin, but Gate Digital Services, therefore there was no mention of our MSO license to them... that account was still declared to the HKCED [=HK Customs and Excise Department] and under their supervision."
We note that according to annual returns purchased from the Companies Registry, at 24-Jul-2017, Gatecoin was 100% owned by Gate Digital Services Ltd, which at 3-Jul-2017 was 94.58% owned by Mr Menant. The other shareholders are shown here. Mr Menant was the only director of both companies.
Mr Menant also wrote that the various blog articles removed from their archive are:
"not deleted, they are only temporarily unavailable as we are changing our CMS [=Content Managment System]".
According to the web site of the Reserve Bank of Vanuatu, ABB has a deposit-taking licence in Vanuatu, and its Director is one "Koh How Keng". ABB has a web site at alpenbaruch.com. On that site, we also found a welcome statement from Chairwoman "Maragret" Koh How Keng (Ms Koh), whose bank apparently has difficulty spelling "Margaret". The site currently lists three officials: CEO Joseph Lee, Chief Operating Officer Eric Leung Hung Kee (Eric Leung), and "Branch Manager" Daniel Cataki. The internet archive shows a name now removed from the page, Singaporean Mr Brendan Yong as "Resident Director". We have no idea who Joseph Lee is or his full name, but he once worked for Indover Asia Ltd, the HK subsidiary of the now-defunct bank De Indonesische Overzeese Bank N.V. which went bust in the global financial crisis in 2008. IOB was owned by the Central Bank of Indonesia.
However, Ms Koh has a much more interesting history and present. She was once the Chief Financial Officer of Empire Group Alliance Pte Ltd (EGA), an affiliated company of Sunshine Empire Pte Ltd (Sunshine), which was involved in a massive Ponzi scheme in Singapore (or as the defence claimed, a multi-level marketing scheme). Ms Koh was not charged with any offence. As the 2010 District Court judgment reflects, EGA director James Phang Wah (James Phang), his wife Neo Kuon Huay and Jackie Hoo Choon Cheat, director of another affiliate, were convicted. Phang and Hoo were jailed for 9 years and 7 years respectively, while Neo was fined S$60k for a relatively minor role.
Next stop: we check the domain record for alpenbaruch.com. It is was created on 19-Dec-2012 and is currently registered to one "Bernyce Tong" with an address not in Vanuatu but at a residential unit of Grand Horizon, Tsing Yi, HK. Her registrant e-mail address is szethye.bernyce@<domain>. This has relevance.
There is a company in HK called Sze Thye Group Ltd (STG), which according to the Trade Development Council web site is a garment exporter with 1-5 staff, and the contact is "Miss Shyn-Leng Tong, Executive Secretary" (Ms Tong). But who is really behind it? We purchased the annual return from the HK Companies Registry (yes, HK still has a paywall, deterring scrutiny). As of 6-Oct-2013, STG was 100% owned by Ms Koh, who was the only director. She gave the same residential address as we found for Ms Tong in the alpenbaruch.com domain record. The Company Secretary is shown as Tong Shyn Leng, giving a residential address at Rambler Crest, Tsing Yi.
Alpha Returns Group PLC - related party transaction?
Now, let's return to Eric Leung, the COO of ABB. He was also an INED of Alpha Returns Group PLC (ARG, LON:ARGP), a UK AIM-traded company, from 1-Dec-2013 to 30-Apr-2016. A month after he joined the board, on 2-Jan-2014, ARG announced that it had entered into a joint venture agreement with "Miss Tong Shyn Leng", described as "a Singapore entrepreneur with interests in a number of privately owned companies", to co-fund Riche Bright Group Ltd (RBG, BVI) for the sole purpose of buying MY Securities Ltd (MYS), a HK stockbroker.
ARG would inject a purported HK$9m by 31-Jan-2014 for 30% of RBG, and Ms Tong would invest HK$17.5m in cash for 70% of RBG. ARG would satisfy the consideration by issuing 26,668,668 shares at a deemed value of 1p each, although the previous market price was 1.75p, and the balance in cash. ARG had the option to purchase up to 40% of RBG from Ms Tong at HK$3m per 10% payable in cash or, at the option of Ms Tong, in shares at a 50% discount to market. Earlier, on 11-Dec-2013, before the deal with ARG, RBG had agreed to buy MYS for HK$6m above its net assets subject to a maximum of HK$26m, including 26,668,668 shares of an AIM traded company valued at 0.9p per share.
Now, what we didn't mention is that STG was the controlling shareholder of ARG. We could not find any record of ARG having disclosed who owned STG, but as noted above, the HK annual return shows that it was wholly-owned by Ms Koh, who was also its only director. She appears to have shared an address with Ms Tong, based on the domain record for alpenbaruch.com and the 2013 annual return of STG, and Ms Tong is the Company Secretary of STG, so she reports to Ms Koh. This begs the question of whether Ms Tong was really acting as an independent third party, or as a nominee for STG or Ms Koh, the ultimate controlling shareholder of ARG. Even under the lax AIM Rules, companies are required to disclose when they are dealing with a related party, to consult their NomAd (nominated adviser) and state that the non-conflicted directors believe the terms are fair and reasonable. No such disclosure was made.
We cannot be certain, but it appears highly likely that Bernyce Tong and Tong Shyn Leng are the same person.
The acquisition of MYS by RBG was completed on 7-Aug-2014. The next day, ARG exercised its option to buy a further 30% of RBG from Ms Tong for HK$9m, half in cash and the rest in new shares at 1.9125p each, at a 50% discount to market.
On 29-Jan-2015, ARG announced that since the acquisition, trading at MYS had significantly improved with a return to profitability and that unaudited commission income for the 9 months to 31-Dec-2014 was over 250% higher than the full year to 31-Mar-2014. This would be fantastic but for one thing.
On 17-Feb-2015, ARG exercised its option to buy 10% of RBG from Ms Tong for HK$3m all in shares at 1.925p, a 50% discount to market, increasing its stake to 70% of RBG. ARG explained that "commission income grew along with an increased customer base".
It wasn't until 14-Sep-2015 that ARG revealed the main reason for this fantastic growth, namely that the commission in the year to 31-Mar-2015 of HK$12.45m included $8.597m from STG, still ARG's substantial shareholder, of which $8.25m was after RBG bought MYS, including $2.48m in the 3 months to 31-Mar-2015 and, implicitly, $5.77m in the 2014 results of ARG. None of this had been disclosed as related party transactions in ARG's 2014 audited accounts, nor was it disclosed in the 2015 audited accounts. ARG also botched the accounting by failing to deduct the goodwill attributable to the minority interest in RBG, leading to an overstatement of shareholders' equity and a restatement in 2015. The auditors in both years were Welbeck Associates Ltd.
Meanwhile on 9-Jul-2015, MYS was renamed "Riche Bright Securities Limited". On 2-Nov-2015, ARG announced the conditional sale by RBG of MYS to Hzone Holdings Ltd for HK$11m above net assets. The deal completed on 31-May-2016. On 4-Jul-2016, RBG repurchased the 30% of itself once held by Ms Tong, although by then she only held 13% and there were two other, unnamed shareholders.
Another undisclosed Related Party Transaction
But RBG wasn't the first probable related party transaction by ARG. Let's jump back to when STG took over ARG.
ARG was an AIM shell called "Digital Learning Marketplace PLC", when STG came along to reactivate it in late 2012. In a restructuring approved by shareholders on 3-Dec-2012, GBP250k of 0% loan notes convertible at 1p per share were issued. The subscribers were not identified at the time, but 3 new directors were appointed at the same EGM, including Quattro Chan Cheong Yee, who featured in our 2015 article Bubbles and troubles in Hong Kong. Another director appointed was Gregory Collier (Mr Collier).
The new controller was not revealed until 25-Feb-2013, when the loan notes were converted and ARG (then Shidu Capital plc) announced that STG owned 62.08% of the company, without saying who owned STG. Interestingly another shareholder who apparently converted GBP40k of loans to own 8.87% of ARG was Brendan Yong Weng Chun, presumably the same Brendan Yong who was once named as Resident Director of ABB in Vanuatu. And here he is on Facebook.
On 15-Aug-2013, ARG announced a huge placement of 340m shares at 0.15p per share, an 85% discount to the market price. The placees were shareholders who already owned 29.995m shares, or 62.0% of ARG, of which STG owned 28m shares or 57.8%. STG took up 310m shares. Non-placee shareholders were offered 10 new shares for every existing share at 0.15p per share, an 85% discount to the market price. The offer closed on 4-Sep-2013, leaving STG with 82.1% of ARG. The whole exercise raised GBP0.54m before expenses.
On 22-Oct-2013, ARG announced its first investment since STG took control. It was a "partial assignment" of a transaction that had already been entered into by Wupoxi Group Ltd (Wupoxi), to purchase 37.5% of Telistar Solutions Pte. Ltd., an unquoted Singapore IT service solutions provider, for S$1,025,000 (GBP 511,500) payable over 2 years. The vendor(s) to Wupoxi was/were not disclosed.
So, who owns Wupoxi? It is registered in HK, so we purchased the annual return dated 14-Jan-2013. It was a wholly-owned subsidiary of STG, the controlling shareholder of ARG. Its only director was Ms Koh. So this appears to be another undisclosed related party transaction by ARG. The directors of ARG either knew or should have known who owned Wupoxi, given that the information was publicly available. On 28-Feb-2014, ARG announced the acquisition of a further 15% of Telistar for new shares worth GBP227,000, without saying who the vendor was.
New Trend Lifestyle Group PLC
We mentioned that one of the new directors associated with STG's takeover of ARG was Mr Collier. He left ARG on 31-Jul-2014. On 1-Jun-2016, he was appointed as a director of New Trend Lifestyle Group PLC (NTLG, LON:NTLG), another AIM-traded company which was admitted to AIM on 28-Jun-2012 following a placing of 12m shares at 8p per share. NTLG is in the superstition business - its Singapore subsidiary sells Feng Shui advice and related products. Upon admission to AIM, NTLG was 68.93% owned by its CEO, "Grand Master" Mr Hillary Phang Song Hua (Hillary Phang), who founded the business in 2005. He has gradually reduced his shareholding in NTLG, and on 24-Apr-2017, he sold 30m shares (24%) at 0.65p each to Bliss Season Holdings Ltd, which is owned by none other than the ubiquitous Ms Tong.
We have been unable to determine with certainty whether Hillary Phang is related to the convicted fraudster James Phang of Sunshine Empire. We note that the previous name of Sunshine Empire until 8-Jan-2007 was "NiuTrend International Pte. Ltd.", probably not a homophonic coincidence with "New Trend", and this could be a case of one Phang leading to another.
© Webb-site.com, 2017
---
Organisations in this story
People in this story
Topics in this story
---
Sign up for our free newsletter
Recommend Webb-site to a friend
Copyright & disclaimer, Privacy policy
---