You might want to hang on to a bit of corporate history.
China Huarong seeks erasure of Lai Xiaomin

22 November 2018
China Huarong Asset Management Co Ltd (Huarong, 2799) is going to rather extreme lengths to erase the name of its former Chairman Lai Xiaomin, who now faces corruption charges. According to a circular dated 16-Nov but only filed last night (21-Nov), until Christmas Eve, Huarong is offering to swap existing physical share certificates bearing his signature (or more likely, an image of it), with new certificates bearing the signature of new Chairman Wang Zhanfeng. Until Christmas, shareholders will not be charged, unlike Mr Lai. There is no suggestion that old certificates will be invalidated.
This reminds us of Liu Jinbao, the CEO until 2003 of BOC Hong Kong (Holdings) Ltd (2388), who was taken down for corruption in a bribes-for-loans scandal. He was eventually given a death sentence suspended for 2 years and is presumably still in jail. Look hard and you can still find Hong Kong dollar Bank of China banknotes with his signature, although most of them have worn out and been withdrawn from circulation. We also have several certificates for 2 shares each with his signature, left over from our Project Poll in 2003.
So if anyone out there has a Huarong Lai Xiaomin share certificate for one board lot (1000 shares) or less, given that the company is reducing supply, you might want to hang on to it, because it might one day be worth more than the shares it represents. If Huarong goes under, you can at least donate the certificate to our future Webb-site Museum of Corruption.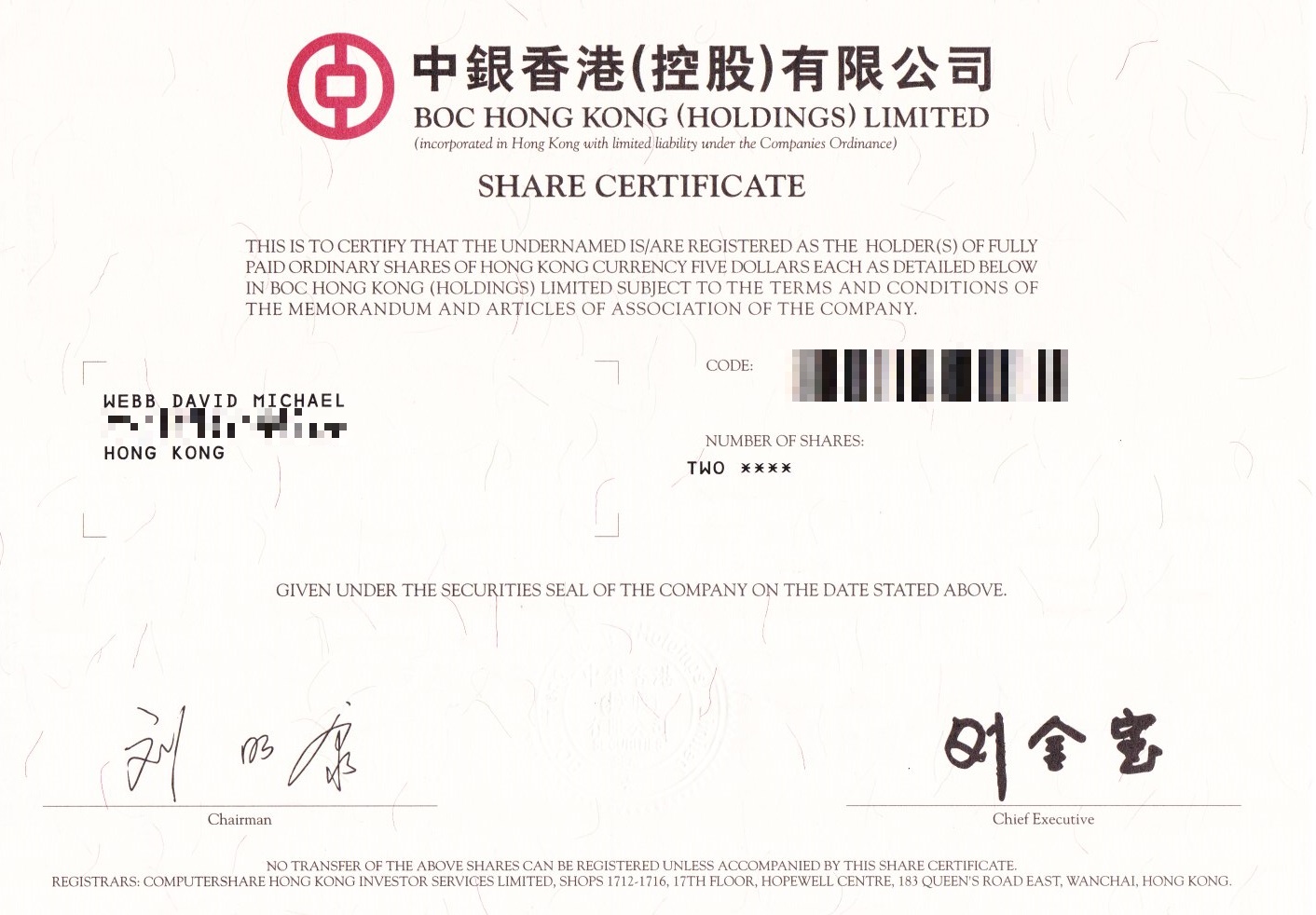 © Webb-site.com, 2018
---
Organisations in this story
People in this story
---
Sign up for our free newsletter
Recommend Webb-site to a friend
Copyright & disclaimer, Privacy policy
---