We show you just how hard HKEx makes it for investors to vote their shares in listed companies. Brokers and banks have no obligation to seek voting instructions, HKEx's CCASS system leaves Investor Participants guessing, and even if you succeed in giving voting instructions to HKEx, it won't demand a poll, so your votes probably won't be counted.
DeVoted to Failure - HK's Share Voting System

9 December 2002
Watching the small-circle election of the 36 Hong Kong delegates to the National People's Congress last week (electorate: 953), we were struck by how efficient, democratic and representative that process seems - when compared to the way shareholder voting is conducted in Hong Kong.
Have you ever tried to vote your shares in a Hong Kong listed company? If you are an individual investor, then you probably hold your shares through the bank or broker who bought them for you, who in turn holds them through the Central Clearing and Automated Settlement System (CCASS) run by Hong Kong Securities Clearing Co Ltd (HKSCC) which, like the Stock Exchange of Hong Kong Ltd (SEHK) is wholly owned by Hong Kong Exchanges and Clearing Ltd (HKEx). HKSCC is a de facto monopoly, because shares must be deposited in its system before they can be used to settle transactions on SEHK (which is also a monopoly).
Chances are, your bank or broker doesn't even seek your voting instructions, and you have to push hard to get them to tell CCASS to vote. We have yet to see any online broker in HK with an online voting facility. However, there is an alternative way for investors to hold shares.
Since 1998, HKSCC has been quietly operating a system to allow investors to participate directly in CCASS, called the Investor Participant system. Doing so gives you direct control of your own shares, and removes the risk of your broker abusing or running off with them, as 3 collapsed brokerages have allegedly already done this year. We say "quietly" because we cannot recall seeing any HKEx advertisements for this service in several years. Initially, the system was operated by telephone, like phone-banking, but since late 2000, an internet system has been available, provided that you have a suitable digital certificate. Again, this is a monopoly - only a Hongkong Post e-Cert is accepted.
Like most monopolies, HKSCC, facing no competition, has been very slow to innovate the Investor Participant system. Indeed, the latest news link on their web site takes you back over two years to a Sep-00 item which, ironically, announces the launch of the internet system. The last published figures we have were for 7,345 Investor Participants, as shown in the Sep-00 final issue of HKSCC's ClearTalk magazine. The magazine was axed, 6 months after HKSCC became a for-profit company and a subsidiary of HKEx.
The phone system is excruciatingly slow, taking around 2 minutes per transaction to "affirm" a transaction (to authorise payment for shares or delivery of sold shares from your account) as it spells out all the details and repeats warnings. The system is open for instructions only between 10:00 and 15:45, Monday to Friday, or 17% of the week. Outside of those hours, you can affirm a transaction between 15:45 and 19:00, 5 days a week, but that affirmation will only count on the next business day. Imagine what life would be like if banks operated ATMs or internet banking on that schedule, rather than 24x7.
The CCASS internet system operates on the same brief hours as the phone system. It is clunky, for example requiring the user to agree to a 1,200 word disclaimer each time they log in - we wonder how many people would notice if they changed a few words.
Brokers don't want you to know about the Investor Participant system, because they benefit from holding your stock - they get the sale order when you eventually sell, and they get to mark up the various fees charged by CCASS. If you've signed a margin finance agreement, they may also use your stock for collateral for their own borrowings.
Voting Blind
The Investor Participant system allows investors to vote their shares, but makes it so difficult that most people do not bother. Now, take a look at the following input voting screen from the CCASS system: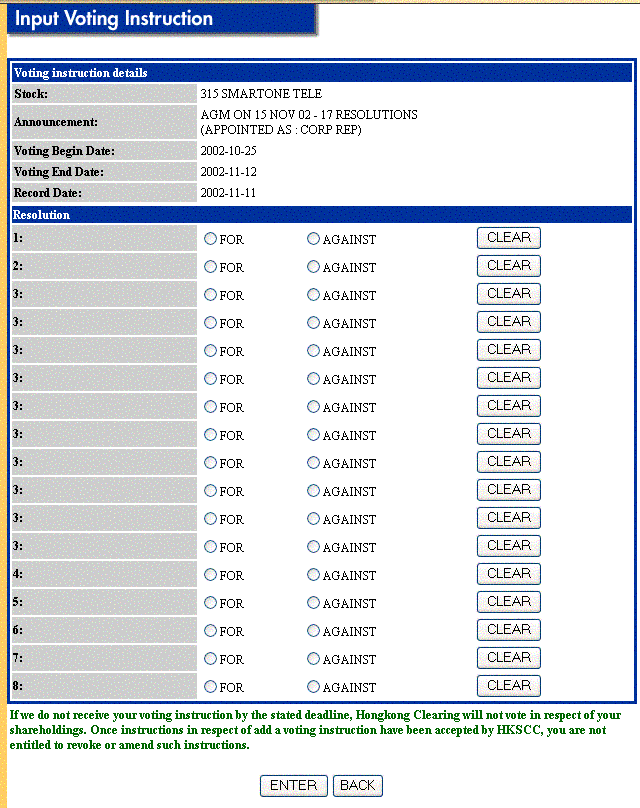 What do you see? Absolutely no description of the 17 resolutions you are trying to vote on. This is not a one-off aberration, it is the same for every meeting of every company in the CCASS system. Not only that, but ten of the resolutions have the same number (resolution 3) - so how do you know which is which?
A very patient investor might now search the HKEx company announcements web site for the Notice of General Meeting, and in this example, the notice is here. Now look at the content - under the HKEx's antiquated Listing Rules, companies just produce a basic description of the "ordinary business", listing the "purposes" of the meeting rather than the exact resolutions to be voted on. In this case, "purpose 3" is "to elect Directors and to authorise the Directors to fix their fees". So it is a fair guess that the ten items above involve voting for or against the election or re-election of 9 separate directors, and then authorising the board to fix the fees.
Obviously, we still don't know which director corresponds to which button in the voting screen. In fact, HKEx knows this because, as the registered holder of your shares, HKSCC Nominees Ltd (owned by HKEx) has received a proxy form listing each resolution with a brief description, for example "To re-elect Mr A. B. Chan as a director". This proxy form is not something which is published on the HKEx web site of companies' documents, so we can't show you what it looks like or in what order the names appear.
Voting blind
Faced with this insurmountable barrier, the diligent investor, taking his responsibilities as a shareowner seriously, gives up trying to vote. To vote for or against each resolution without knowing who or what they are would be shooting in the dark. It makes the famously confusing Palm Beach County butterfly ballot look like child's play. At least they had a shot at voting for the right person, even if thousands accidentally voted for right-wing Pat Buchanan instead of democrat Al Gore, determining the outcome of the 2000 US Presidential election.
But the votes don't count
It's worth mentioning that, in most shareholder meetings, giving voting instructions to HKEx in this way (even if you figure out who you are voting for) is futile, because HKEx sends just one person to the meeting, to represent all the shares registered through CCASS, including most of the shares owned by individual and institutional investors.
The HKEx representative does not demand a poll. Hence on a "show of hands", she counts for one hand on behalf of all CCASS participants (including banks, brokers, custodians and investor participants) while all the other "hands" in the meeting room (usually management-affiliated hands) outvote her. Only if a poll is taken will the instructions you give to HKEx make any difference.
For the time being then, share voting in HK has the following hurdles:
the system is only open for voting 17% of the time;
banks and brokers seldom seek voting instructions from owners;
the notice of meeting does not itemise the resolutions, just stating a purpose;
Investor Participants can't figure out what or who they are voting for; and
anybody who succeeds in giving voting instructions to CCASS will not normally get their shares counted in the vote.
Nobody, not even the Government, could have devised a system more likely to frustrate democracy.
What we need
The HKEx and SFC regularly bemoan the lack of shareholder activism, while doing nothing to resolve the problems which prevent effective voting. What we need is:
Registered dealers (including banks and brokers) must be required to seek voting instructions from beneficial shareowners on every meeting. They can either add online voting to their online dealing, or for non-internet clients, send notice by mail. This is standard procedure in the USA.
HKEx's CCASS system (and in particular, the voting system) should be open 24 hours a day, 7 days a week.
Listing Rules should require notices of shareholder meetings to give the full text of each proposed resolution, not just list the "purposes" of the meeting. There should be a 1-to-1 correspondence between proposals and resolutions.
The summary text of each resolution, as set out in the proxy form, should be displayed on the CCASS internet system, so we know who or what we are voting for.
All listed companies should conduct a poll on each resolution, so that the votes get counted.
Failing (5), HKEx should always exercise its right to demand a poll. HKEx (via HKSCC Nominees Ltd) holds more than 10% of nearly every listed company (which entitles a shareholder to require a poll), so a poll would then be taken. Then, the actual votes instructed by investors would be counted, 1-share-1-vote.
Companies should be required to announce the result of every vote (the number of shares voted for and against each resolution) to HKEx. Even if a single controlling shareholder calls the shots, investors are entitled to know the degree of dissent or approval of management resolutions.
Until then, the Hong Kong share voting system will be deVoted to failure.
© Webb-site.com, 2002
---
Topics in this story
---
Sign up for our free newsletter
Recommend Webb-site to a friend
Copyright & disclaimer, Privacy policy
---