After blogging about parts of an "intemperate grilling" from the Commerce and Economic Development Bureau over his call for a do-not-call person-to-person register, igniting public debate, the Privacy Commissioner has now refused our request, under the Code on Access to Information, for copies of the CEDB's letter and his reply letter, citing a lack of public interest. He can't have it both ways.
PCPD not answering our calls

5 September 2014
What should we make of the recent tiff between Privacy Commissioner for Personal Data (PCPD) Allan Chiang Yam Wang, and Secretary for Commerce and Economic Development, Gregory So Kam Leung, over the PCPD's call for a do-not-call register for person-to-person (P2P) calls?
Normally correspondence between Government Bureaux, or in this case, a Bureau (CEDB) and a statutory body, takes place behind closed doors, but Mr Chiang chose to bring it into the open in his blog ("Renewed Call to Set Up a Do-not-call Register for Person-to-person Telemarketing Calls caught between two Bureaux", 21-Aug-2014) by disclosing (at least some of) what the CEDB had said to him "in a letter dated 11 August 2014", with selected quotes from the CEDB's letter, generating substantial media coverage.
Mr Chiang complained "It is not entirely clear why CEDB grilled on the figures intemperately". Perhaps that's because grills are inherently hot - have you ever heard of a cold grilling? Leaving behind the tautology, Mr Chiang wrote "I am confident that I have in my written reply satisfied all the queries".
When public officials divulge selected contents of internal documents in their public statements, that makes those documents matters of public interest. "Let's get to the bottom of this", we thought, and find out, in the public interest, what the CEDB's exact concerns are, and what the PCPD's written reply was. Which side was right? So on 22-Aug-2014, Webb-site filed an information request with the PCPD under HK's toothless Code on Access to Information. Suddenly, the PCPD went all shy on us, and denied our request for both letters. The PCPD wrote in a response on 4-Sep-2014:
"The requested documents form part of the discussion with and consultation from the Government and should be afforded with a degree of protection so that the frankness and candour of such discussion is not to be inhibited by their being subject to public debate and criticism (paragraph 2.10 (b) of the Code refers)."
Oh really? Then why did you partially disclose what what was in them and ignite public debate in the first place? Is the CEDB really likely to keep writing to you with "frankness and candour" if you behave this way? But this hypocrisy gets richer:
"In this regard, our Office has already informed the public (through the Commissioner's blog) the major contents as considered appropriate and necessary for the further pursuit of the introduction of the Register in the interest of personal data privacy protection. We fail to see the public interest in disclosing the requested documents.
Further or alternatively, the said letter issued by CEDB to our Office providing information on the Register and related topic is third party information that should not be further disclosed unless with the third party's consent or the public interest outweighs any harm or prejudice that would result (paragraph 2.14(a) of the Code refers). Having considered the possible harm and prejudice as well as the lack of public interest as pointed out above, we consider it inappropriate to accede to your request."
Sorry Mr Chiang, but you cannot have it both ways. You could have kept the CEDB's letter confidential, and the public would never have known about your private exchange of letters or disagreement, but you chose to make it public, and thereby generate public interest. You have waived the privilege of claiming bureaucratic confidentiality over these letters.
Indeed, under paragraph 2.14(a) of the Code, by publishing your blog, you must have concluded that "the public interest in disclosure outweighs any harm or prejudice that would result". You disclosed it on that basis, and now you claim that the public has a "lack of interest" in seeing the whole letters, and that "harm or prejudice" outweighs disclosure. What are you trying to hide that is so harmful or prejudicial, if you have already disclosed "the major contents" as you claim?
Webb-site will now file this article with the Ombudsman as a complaint under the Code on Access to Information.
If the phone don't ring, it's me not calling you
For what it is worth, Webb-site agrees with Mr Chiang's call for a do-not-call P2P register, even if his call is somewhat unsolicited by CEDB or OFCA. The public should have the right to opt-out of being randomly called for marketing purposes, disturbing their concentration while writing and publishing articles like this one.
At a glance, there are two issues with the survey though: first, the public views on this were ascertained by, you guessed it, randomly calling fixed-line phone numbers until someone answered, and then asking them what they thought about unsolicited calls. Yes, really. So you are bound to get a sample of people who tend to answer the phone. Not everyone will answer an unknown caller ID, or have a fixed line at home.
The second great irony is that one of Mr Chiang's previous jobs before this was Postmaster General (2003-2006), where he led an organisation which thrived on delivering unsolicited mail via the Hongkong Post Circular Service. In his final annual report as Postmaster-General, Mr Chiang wrote:
"In direct mail we are...collaborating with the local direct marketing industry to help make this a cost-effective took for marketers in Hong Kong, Initiatives such as this will help to maintain growth of mail volumes despite the proliferation of e-mail."
Thank goodness for that. It was only 4 years after he left that job that HK Post introduced a "No circular mail" sticker that you can put on your letter box to opt-out, although almost nobody uses it.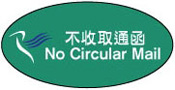 © Webb-site.com, 2014
---
Organisations in this story
People in this story
Topics in this story
---
Sign up for our free newsletter
Recommend Webb-site to a friend
Copyright & disclaimer, Privacy policy
---