There was good news from Hopewell this evening regarding a return of surplus capital to shareholders by special dividend - but there was unfair disclosure and probably insider dealing as a result of the invitation to the media conference, which was circulated during market hours containing price-sensitive information.
Hopewell's unfair disclosure

23 October 2008
Clarification, 24-Oct-08: In a filing on 13-Oct-08, HHL did say that it would hold a board meeting on 23-Oct to consider a possible of a payment of a special dividend. However, by putting out a media invitation yesterday during market hours, the possibility became a certainty, indicating that the board had resolved to pay a special dividend. That is still price-sensitive information.
Hopewell Holdings Ltd (HHL, 0054.HK) and its 73% subsidiary Hopewell Highway Infrastructure Ltd (HHI, 0737.HK) tonight announced surprise special dividends in which HHI will pay HK$0.84 per share to its shareholders, a total of $2.495bn, and HHL will in turn pay $3.3 per share to its shareholders, a total of $2.925bn.
Whenever a company returns surplus capital to shareholders this is of course good news and is reflected in the share price by a removal of the discount on the cash held in the balance sheet. It also tends to enhance future return on equity. There are many companies out there which should do the same. Of course, one might query whether this was motivated by some need for cash by the controlling shareholder, but it really doesn't matter - at least other shareholders get their fair share.
However, the way in which Hopewell handled this announcement resulted in unfair selective disclosure and probably insider dealing by people who received advanced information of the special dividend as it leaked out. At least as early as 11:11 this morning (the timestamp on one e-mail, which was forwarded to us during market hours), Hopewell's Public Relations agent Citigate sent out invitations to a 5.45pm media conference call on behalf of both companies. Here's what it said:
23 October 2008
Hopewell Holdings Limited
Hopewell Highway Infrastructure Limited
Payment of Special Dividend
In Respect of the Year Ending 30 June 2009
Media Conference Call
Hopewell Holdings Limited ("Hopewell Holdings", stock code: 0054) and Hopewell Highway Infrastructure Limited ("HHI", stock code: 0737) cordially invite you to a media conference call regarding the payment of special dividend in respect of the year ending 30 June 2009 on Thursday, 23 October 2008.
Look what happened to the HHL share price and volume after that invitation went out: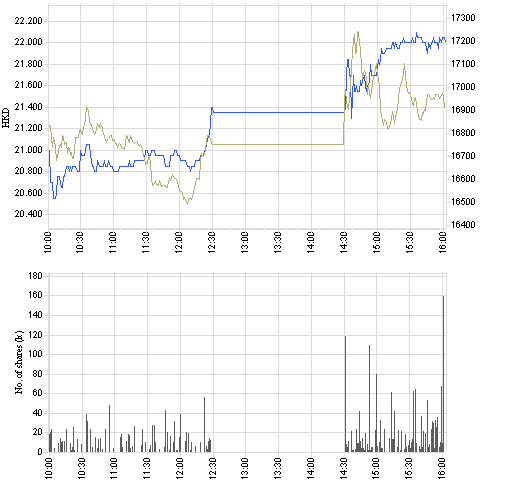 The chart above is sourced from the HKEx web site daily page (charts are deleted daily). The blue line and left axis is HHL, while the grey line and right axis is the S&P/HKEx LargeCap Index. As you can see, both the stock and the index rose just before lunch, but during the afternoon, the information contained in the media conference leaked out, and while the market trended down, HHL soared. It closed the day at $22.00, up 4.76%, on a day when the Hang Seng Index fell 3.55%, an out-performance of 8.62%.
The wording of the media invitation was ambiguous as to whether HHI would be paying a dividend, and its share price did not move as much (up 0.49% for an out-performance of 4.19%), but HHL, being the parent, was certain to be paying a dividend - even if it was just a distribution of HHI shares by HHL as a special dividend. In the end, it turned out to be a cash dividend by both.
Webb-site.com has asked SEHK to investigate unfair disclosure and we have asked the SFC to investigate whether there was any insider dealing on this information during the afternoon, by people who received this information as a result of the media invitation.
The moral of the story is this: if you are a listed company and are going to announce something price sensitive, you should ask the Exchange to suspend your stock until you announce. Failing that, invitations to media conferences must not include any price-sensitive information as this one clearly did.
© Webb-site.com, 2008
---
Organisations in this story
Topics in this story
---
Sign up for our free newsletter
Recommend Webb-site to a friend
Copyright & disclaimer, Privacy policy
---