Was overseas coverage of HK's Handover anniversary too much and too positive? Webb-site.com exposes the Hong Kong Government's junket journalism programme, spending taxpayers' money flying journalists here, putting them up in 5-star hotels, and biasing the coverage of HK affairs.
HK Government intervenes in journalism

14 July 2007
If you live outside HK and felt the wave of coverage of the tenth anniversary of the Hong Kong Handover, there's a reason why the coverage was that bit more extensive, and more positive, than you might have expected.
Webb-site.com has learned that the Hong Kong Government engages in junket journalism, spending taxpayers' money to fly journalists here, usually business class, and put them up in 5-star hotels while they write about HK. This intervention inevitably introduces bias to the coverage of important issues such as constitutional reform, economic policies, and other public affairs. It is why many of the more respectable media around the world have strict policies against accepting such payments, and a clear separation between advertising and editorial departments. When the subject you are writing about starts paying your expenses, sure, you might go home and bite the hand that fed you, by writing critical coverage, but you are less likely to do so, particularly if you hope for a return expenses-paid visit to this metropolis of the Far East. That tilts the coverage in the Government's favour.
Perhaps for obvious reasons, we've never seen this practice mentioned in the media, but the Government's Information Services Department (ISD) shamelessly assures us that it is a long-standing practice of over 25 years and not just something for the Handover or its anniversary. We first became aware of the practice when the ISD approached your editor in late May seeking interviews on behalf of some of these journalists. In view of the Handover anniversary, as well as the 10th anniversary of the Asian Financial crisis and the current Chinese market bubble, we had been receiving a lot more media interest than usual, and had indeed given extensive interviews to a number of media organisations both from HK and overseas.
We checked with sources at several international media, including the Financial Times, Bloomberg, Dow Jones and the New York Times, who confirmed that their in-house rules prohibit the acceptance of such payments in cash or in kind. The only exception, in current affairs coverage, would be to accept transportation if there was no other way to get to a place, such as a war zone or a polar expedition. Some of our sources noted that travel-writers were excepted from the policy if they were reviewing a product or service, such as a hotel or an airline, and disclosed that it was not paid for in their articles.
For example, the New York Times ethics policy on "Paying our own way" states:
"30. When we as journalists entertain news sources (including government officials) or travel to cover them, our company pays the expenses....

31. Staff members may not accept free or discounted transportation and lodging except where special circumstances give little or no choice. Such special cases include certain military or scientific expeditions and other trips for which alternative arrangements would be impractical..."
A page full of ethics policies from other US publications can be found on the American Society of Newspaper Editors site. Similarly, the Society of Professional Journalists' ethics code also states:
"Journalists should:
- Avoid conflicts of interest, real or perceived...
- Refuse gifts, favors, fees, free travel and special treatment....,
- Disclose unavoidable conflicts...
- Deny favored treatment to advertisers and special interests and resist their pressure to influence news coverage..." (emphasis added)"
That last point on advertising brings us onto another kind of sponsorship: "tied advertising". The Government's ISD wrote to us asking for an interview on behalf of journalists for The Australian newspaper, saying:
"The Information Services Department has entered a partnership agreement with The Australian to produce a Special Report on Hong Kong..."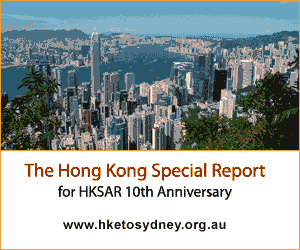 When we declined the interview on the grounds that it sounded like an advertorial or sponsored report which could be biased, the ISD denied it, responding:
"Our partnership simply means that we, the Government, is putting an advert in the paper. We are not paying for or sponsoring a supplement."
Ah, so if there had been no paid advertising, then the newspaper would have done a special report anyway? Somehow, we doubt it. Judge for yourself - their Hong Kong Special Report is here.
Next up, ISD asked us for interviews with two journalists from provincial UK papers - the Yorkshire Post, which is based in Leeds, and the Western Daily Press, of Bristol. Both were to be flown in and lodged for 6 nights at HK Government expense. Now you might wonder, even if you accept sponsored journalism, what the regional press could possibly add to the coverage by the UK national media. What did we get for our dollars? Predictably, in the main story in the Yorkshire Post, it homes in on Yorkshire's legendary connections with Hong Kong. Apparently, "Yorkshire entrepreneurs are playing key roles in [Hong Kong's] revival". Thank goodness - where would we be without them? We learn that local property guru Nick Brooke was born in Leeds (there's a separate piece on him), while a leasing manager with Sino Land comes from Shipley, West Yorkshire. And we learn that Bradford & Bingley is a member of the British Chamber of Commerce here. Gripping stuff. Of course, if we had granted an interview, they would no doubt have mentioned that your editor David Webb spent six years of his childhood in Yorkshire - it made us what we are today. In another article, we learn that Oasis Airlines CEO Steve Miller hails from Darlington (almost in Yorkshire) and Oasis might fly direct to Doncaster's Robin Hood Airport "if the market is there". Don't hold your breath.
Meanwhile in Bristol, the Western Daily Press produced a series of articles on 28-Jun which look like an advertorial supplement, covering various businesses from that area who do business in HK, including HSBC, and with a foreword by Christopher Hammerbeck of the British Chamber of Commerce in HK.
In written e-mail answers, the ISD told us that so far this year up to mid-June, their Government department had sponsored 25 journalists, including 10 who came in a group to cover preparations for the Olympic Equestrian events in 2008. You know, the horse sideshow that the Government claims not to be spending any money on? Flights are usually at business class, and the Government has contracts (awarded by annual tender) with the luxury Island Shangri-la, where "most of our guests" stay, and the somewhat cheaper South Pacific Hotel in Causeway Bay. The ISD's budget for sponsored journalists is HK$1.26m in 2007/8, the same as the previous year. The amounts the Government spends on overseas newspaper advertising are probably far greater, but the ISD couldn't put a figure on it.
The junket journalists seldom, if ever, disclose in their coverage that they have been financed by the Government. We Googled the phrase " guest of the Hong Kong government" and the only matches it came up with were disclosures by overseas legislators (as required in their parliamentary rules) or think-tank members. We regard that kind of expenditure as acceptable if it is disclosed and intended to promote Hong Kong's interests. For example, the Government may want to lobby on visa-free access for its citizens to overseas countries, or against trade barriers being erected through overseas legislation. Put that down as good inter-governmental relations - it has nothing to do with journalism.
While we have no objection to the ISD helping arrange interviews for journalists who visit and pay their own costs, your editor rejected all requests by the ISD for interviews by Government-funded journalists, because we do not wish to encourage the practice, which would lead to our comments being used in biased coverage. We have a lot of good things to say about HK (it is our home after all), but we also say a lot of critical things about Government policy, and we do not want to run the risk of biased journalists using only our positive comments.
Not only does Government sponsorship distort journalism, but it also distorts the economics of the media. If there is a story in HK worth covering, then the overseas media will send journalists here on their own dollar, or even base them here. In fact, junket journalism disincentivises the media from basing correspondents in HK. Why pay high rents, when the Government will pay to fly your journalists in?
No doubt there are other Governments that adopt such practices, particularly in Asia, but that doesn't make it right. It is essential that crucial issues such as electoral and constitutional reform, land policy, immigration policy and fiscal reform receive fair and unbiased coverage in the media both here and overseas. Spending taxpayers' money on it should be outlawed.
© Webb-site.com, 2007
---
Topics in this story
---
Sign up for our free newsletter
Recommend Webb-site to a friend
Copyright & disclaimer, Privacy policy
---