This stock closed at a record daily high of $12.40 on Wednesday, 91.8x its listing price for a US$1.67bn bubble, but even as a shell, in our view it is only worth about $0.25, for 98% downside.
Bubble warning: MPG (8147)

1 October 2015
update 10-Oct-2015
Time for a bubble warning on Millennium Pacific Group Holdings Ltd (MPG, 8147). MPG makes consumer electronic products such as "GPS personal navigation devices" (not so popular now that we nearly all have smartphones with GPS) and "mobile internet devices" including tablets and e-books. Turnover reached HK$348.3m in 2013, up 34.4%, and $169.3m in the first half of 2014.
The stock listed on 18-Jul-2014, following a placing of 345m shares (33.0%) at HK$0.135 (adjusted for the 10:1 split on 8-Jan-2015), raising $46.6m gross and $30.3m net of expenses. The top 25 placees took 91.5% of the placing. The initial custody positions are shown in Webb-site Who's Who here. Apart from 560,000 options (adjusted) exercised in Aug-2014 at the IPO price, no further shares have been issued.
After the listing, in the second half of 2014, turnover collapsed, with the full-year booking HK$237.2m, down 31.9%, and the second half $67.9m, down 63.0%. The collapse continued into 2015, with first half turnover of $40.7m, down 76.0% year-on-year. Even worse, only $10.7m of turnover was booked in the 2nd quarter of 2015, and of that, only $8.5m was manufactured products and the rest was trading electronic accessories. So MPG is basically now a loss-making shell. Net tangible assets (NTA) at 30-Jun-2015 were HK$60.3m or $0.0577 per share.
But you wouldn't know that from looking at the market action. The lowest daily closing price was $0.535, the day after listing, still 4.0x the placing price, and the bubble grew from there. The stock closed on 30-Sep-2015 at a record daily high of $12.40, up 91.9x since the placing, valuing the company at HK$12.96bn (US$1.67bn), or 215x NTA. Even if you think that a GEM shell has a listing value of say HK$200m over NTA, MPG is still only worth about $0.25 per share, so there is about 98% downside from here. The graph is a classic staircase pattern that we often see in cornered stocks - watch out for it.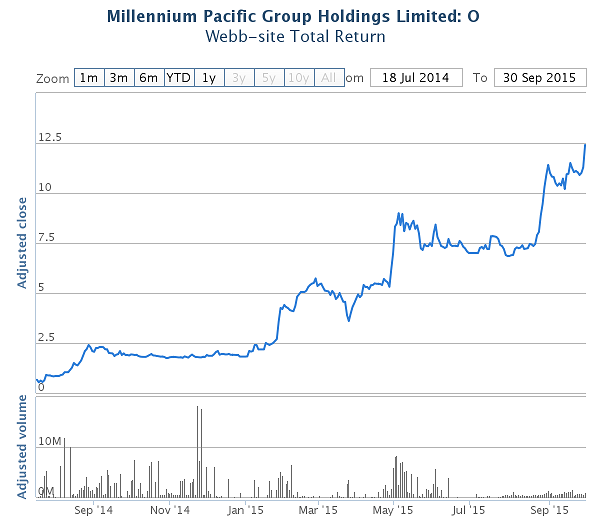 Immediately after listing (split-adjusted), CPIT Investments Ltd (CPITI) held 459m shares (43.9%) of MPG. CPITI is 99% owned by MPG Chairman and CEO Samson Tang Wai Ting and 1% by his wife, Dawn Chan Kai Hei, who is an Executive Director of MPG. 241m shares (23.10%) was owned by a pre-IPO investor, Michael Kor Sing Mung, who paid HK$8.8m for the stake in 2 tranches 2012 and 2013, an average $0.0365 per share. We can see that on 26-Feb-2015, CPITI moved its shares from the custody of Upbest Securities Co Ltd to Emperor Securities Ltd. Mr Kor's shares are apparently not yet in CCASS.
There have been no changes in the ownership structure apart from one significant but so far unexplained movement: according to a disclosure of interest on 17-Aug-2015, CPITI disposed of 200m shares (19.13%) off-market for non-cash consideration, cutting the couple's stake to 24.77%. Another filing shows a person named "楊武", who gave no English name, as the buyer. As of 30-Sep-2015, these shares are still in the custody of Emperor Securities Ltd.
MPG should make an announcement explaining the apparent change in substantial shareholdings in the company. We also urge the SFC to investigate the ownership of the public float.
A further 5:1 stock split is due on 9-Oct-2015 which would reduce the current stock price to $2.48 and our valuation to about $0.05 per share.
Update, 5-Oct-2015
Following our article, MPG has today made this announcement regarding the "potential disposal" of 19.13% of MPG in exchange for "shareholding interests in a company incorporated in Hong Kong" from a Mr Yang Wu.
Update, 10-Oct-2015
Mr Yang Wu was described in the previous announcement as an "independent third party of the Company". It turns out that this was a false statement. Last night, the company announced that he is a "director, general manager and legal person of a subsidiary" which was set up in May 2015.
© Webb-site.com, 2015
---
Organisations in this story
People in this story
---
Sign up for our free newsletter
Recommend Webb-site to a friend
Copyright & disclaimer, Privacy policy
---