The new Dragonair First Class: Cathay Pacific Business Class passengers have seen it all before...
Not classy

17 December 2013
On this 110th anniversary of the Wright Brothers' first heavier-than-air powered flights, into our mailbox this morning drops the image below. Spot the difference between Dragonair's New First Class seat:
and Cathay Pacific's New Business Class seat: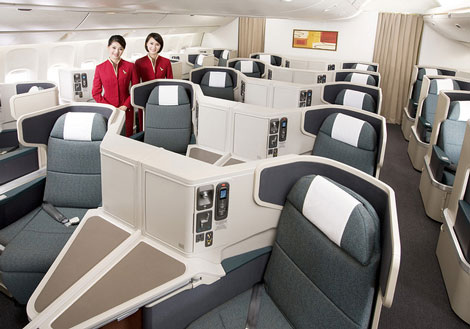 Yes, they are the same. Why offer the passenger an upgrade when you can just upgrade the name of the seat? This title-inflation is likely to lead to confusion and disappointment for passengers who book Cathay Business Class tickets on code-sharing flights that use Dragonair planes. Dragonair is 100%-owned by Cathay Pacific Airways Ltd, so it is not beyond their means to use the same name for the same seat.
© Webb-site.com, 2013
---
Organisations in this story
---
Sign up for our free newsletter
Recommend Webb-site to a friend
Copyright & disclaimer, Privacy policy
---