Boto, the World's leading artificial Christmas tree maker, has been growing a perfect seasonal balance in leisure furniture. Now just as that is soaring, along comes the Chairman with a management buy-out offer backed by Carlyle Group, at an estimated 5.6x Mar-02 earnings, leaving shareowners with a shrunken shell and a start-up graphics animator. The deal requires minority shareholders' approval. We regard the offer as derisory and urge investors to vote against the deal, as we and a number of institutions intend to do.
Say No to Boto's MBO

4 April 2002
Boto International Holdings Ltd (Boto) yesterday announced a proposed sale of almost all of its business to a private management buy-out (MBO) vehicle owned 70% by funds of US private equity giant Carlyle Group (Carlyle) and 30% by Michael Kao Cheung Chong (Michael Kao), the Chairman and co-founder of Boto. We believe the deal represents a back-door privatisation which dramatically undervalues the business.
The deal is subject to the approval of minority shareholders. David Webb, Editor of Webb-site.com, is a Boto shareowner and intends to vote against this deal. We urge fellow shareholders to do likewise. A number of institutions who have previously recognised the value and future growth potential in Boto's core business have already contacted us and indicated that they will also vote against the deal. We urge management to reconsider.
The proposed deal
Under the proposed deal, Boto will receive cash proceeds as follows:
| | HK$m |
| --- | --- |
| For the business and assets | 994.0 |
| For sale of related property | 13.5 |
| Pre-sale dividend from the business sold | 92.5 |
| Grand total pre-expenses | 1,100.0 |
It is probably not a coincidence that the total is a round number multiple of HK$100m. The latest available figure for shares in issue is 3,438,425,000, so this translates to $0.3199 per share. The market price of Boto shares prior to announcement of the deal was $0.34. A two cent discount to the minority share price, for a privatisation? No way!
Dramatic undervaluation
Brokerage Kim Eng forecasted on 24-Jan-02 (after Kmart went into Chapter 11) that net profit of Boto for the year ended 31-Mar-02 would be $179.6m and we wouldn't disagree. The ex-dividend price for the business of $994m, plus the price of property at $13.5m, totals $1,007.5m. Assume $1,000m net of expenses. Then the sale p/e is just 5.57x. That's a ridiculously low price for the outright sale of what claims to be the world's leading artificial Christmas tree maker, with a furniture business that has been growing at as much as 100% in the last year (see below).
If Carlyle and Michael Kao really want to privatise Boto, then they should make a general offer for all the outstanding shares at a full price. Then we'll consider it.
What would be left in the listed shell?
The last audited accounts of Boto were for the year to 31-Mar-01. They showed shareholders' funds, after the final dividend, of $749.4m. The announcement states that the net assets being disposed of were held at 31-Mar-01 at $632.8m. In addition, the sale of the related property will incur a book loss of $42.4m, which implies a holding value of $55.9m, which is what the accounts show at 31-Mar-01 in respect of Hong Kong property.
It is puzzling how the property could have been held in the books at such a large 314% premium to what is now (according to independent valuer FPD Savills at 20-Feb-02) fair value, but there we go. Apparently the value has dropped 76% in less than a year. So we have:
| | HK$m |
| --- | --- |
| Shareholders' funds, 31-Mar-01 | 749.4 |
| Less: business and assets sale | (632.8) |
| Less: property sale | (55.9) |
| Residual net assets, 31-Mar-01 | 60.7 |
Now for the 6 months to 30-Sep-01, Boto earned $160.7m and paid out dividends of $23.8m, leaving retained earnings of $136.9m. We estimate they made another $20m in the second half of the year, taking the total retained earnings for the year to about $157m.
It is not clear how much of the retained earnings since 31-Mar-01 are within the business being sold, and how much are already held at the listed company parent-level. So it is not possible to figure out what the remaining net assets will be. However, in the worst case, the retained earnings are all inside the companies being sold. In the best case, there are already some retained earnings at the parent level which we haven't counted .
The agreement contains various warranties against which Boto is required to retain not less than $200m of net assets for 15 months after completion, so it may need to retain around $140m of cash from the MBO, in addition to its residual net assets. Let's assume $10m of transaction costs, then it would have distributable proceeds from the MBO of $950m, or a dividend of $0.276 per share. If any of the 2002 retained earnings are already outside of the companies being sold, then the figure may be higher.
Boto has stated that it intends to "distribute a substantial part of such proceeds to the Shareholders as a special cash dividend after Completion". As we've said, we and a number of institutions intend to vote against this deal, because we think the price is far too low and would rather remain invested, but if we lose the vote, then we demand that the fullest cash distribution be made, leaving no more than $200m of net assets in the shell. This figure should be announced on or before the dispatch of the shareholders' circular regarding the deal.
Who owns Boto?
The current share ownership of Boto, based on disclosures filed with the Stock Exchange, is as follows: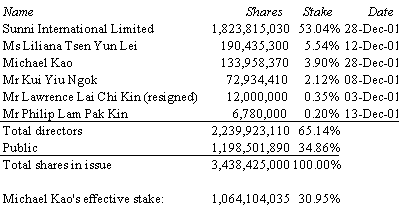 Sunni International Ltd (Sunni) is a private company owned as to 51% by Michael Kao. According to Boto's Group Corporate Development Director Terry Tse Chi Man (Mr Tse), the other 49% is owned by four parties related to the families of Boto's pre-IPO co-founders. As their interests have never been formally disclosed, we infer that none of them holds one third or more of Sunni (the legal trigger for disclosure).
As a result of his stake in Sunni, Michael Kao has a total economic interest of 30.95% in Boto. Under the proposed deal, he will own 30%, so his interest in Boto is barely changed. If he is not selling, then why should you? The other co-founders, several of whom are near retirement age or no longer involved in the business, may want to divest, but we don't. Fortunately, as Michael Kao controls Sunni, it cannot vote in the meeting. If the co-founders want to sell their shares, then Sunni should be dissolved, and they should receive their stake and place it into the market. That way everyone else can continue to own shares in a promising public company.
Interested parties?
We should be told whether or not any of the existing directors will go with the business and be employed by the privatised group, in which case, they should be presumed to be acting in concert with their Chairman, have a material interest in the deal and should be prohibited from voting their shares on the transaction at the independent shareholders' meeting to approve the MBO.
The announcement states that Ms Liliana Tsen Yun Lei (Ms Tsen) and Mr Kui Yiu Ngok (Mr Kui) will resign their directorships of the listed shell upon completion of the MBO, while the Deputy Managing Director, Mr Philip Lam Pak Kin (Mr Lam), will remain only as a non-executive director.
Ms Tsen is in charge of quality assurance and human resources of the group, while Mr Kui is the PRC Managing Director responsible for production and overall management of the factory complex. Ms Tsen, Mr Kui and Mr Lam respectively own 5.54%, 2.12% and 0.20% of Boto, totalling 7.86%.
How does Boto justify the proposal?
Boto provides the following words:
"The Directors consider the Company's markets, in particular for Christmas festive products in the U.S., and the Company's principal products are reaching a relatively mature stage with low growth prospects as compared to the high growth potential of the 3-Dimensional computer graphics animation business. The Directors consider that the Disposal represents a good opportunity for the Company to realise its investments in the Christmas festive products and leisure furniture businesses." (emphasis added)
We do not believe this. While it is true that Boto has for many years had a strong market share in festive products, the market itself has been growing, so the dollar value of that share is going up. That's a function of growth in the number of households as well as the trend away from cutting down trees in favour of increasingly realistic artificial ones. At the same time, Boto has been trading an increasing amount of other products (such as Christmas tree decorations) through the same channels.
The festive products business provides the "cash cow" earnings generator, while the off-season spare production capacity allows for the rapid growth of the outdoor furniture business, as we will show below. That's what Carlyle would see in the business, and that's what we see in it too. So let's take a closer look at Boto's attempts to justify the MBO.
Festive Products
The announcement paints as much doom and gloom as it can about the festive products business. A reader might be forgiven for thinking that Christmas was going to be cancelled forever. This contrasts sharply with the bullish interim report dated 28-Nov-01 (nearly 3 months after the 11-Sep attacks), in which the company wrote:
"The 11th September 2001 terrorist attacks had not resulted in cancellation of orders for Christmas merchandise but, on the contrary, catalyzed consumers to look towards the holidays as a means of escape from the emotional aftermath of the tragedy. This has, in turn, helped propel demand for the Group's festive products."
Boto reported festive products sales of $780.6m for the six months to 30-Sep-01, up 19.7% on the previous year, and at 30-Sep-01 it had orders in hand of $58m. They wrote:
"The Board...expects sales growth for Christmas tree to be maintained. Moreover, it is believed that the availability of a large selection of high quality artificial Christmas trees will place the Group in a strong position to capture added growth as consumers continue to follow an environmentally conscious mentality which avoids the use of live trees. As well, the need for replacement of obsolete trees will also help to fuel added growth." (emphasis added)
Although this is obviously a seasonal business, the manufacturing and sales do not vanish after September. In a typical year, beyond the orders in hand at 30-Sep-01, they also get some early orders for festive products for the following season. On 28-Nov-01 they wrote:
"It is expected that there will be further Christmas festive products sales orders to be received for the year ending 31st March, 2002 in respect of the 2002 season."
To take 2001 as an example, the sales of festive products were as follows:

As you see, over 20% of festive product sales occurred in the second half.
Leisure furniture
Now for the really exciting part of the business. Take a look at the sales of leisure furniture for the last 3.5 years:

The interim report stated that as of 30-Sep-01, they had received orders for HK$157m of outdoor furniture. The previous year, the disclosure was made based on the date of reporting, 15-Nov-00, which is six weeks further into the half-year, when orders in hand were $65m. They eventually sold $61m for the second half of 2001. So it is fair to assume that nearly all the orders held at 30-Sep-01 will be completed by 31-Mar-02 and on their way to the northern hemisphere for summer. That means that furniture sales for the year to 31-Mar-02 grew by around 100%. Not exactly what you call a "mature stage with low growth prospects" is it? How can the directors possibly hold this view?
We believe Boto will continue to rapidly grow its furniture business, and fulfil the goal stated in the annual report for 31-Mar-01, when they wrote:
"This is a favourable trend that benefits the Group's long-term development and is in line with its ultimate goal of achieving balanced revenue sources from both festive products and leisure furniture"
In other words, they expect that eventually furniture will be as big as Christmas trees in their sales.
K-Mart impact small and short-term
Now the only major event since 28-Nov-01 has been that the group's biggest retail customer, Kmart, has filed for Chapter 11 bankruptcy protection. That means that it is currently trying to restructure itself, will close 284 of its 2100 stores, and may end up being broken up. However, they are still trading, because that is what Chapter 11 protection is all about, providing time to reorganise. More importantly for Boto, the ultimate customers are not retailers but the consumers of US and Europe, and the consumer demand (unless the consumer works for K-Mart) is not itself impacted by the troubles of one retailer. So although Boto may see reduced orders from K-Mart, it should gain back at least some of these sales through other channels.
Accounts show that for the 6 months ended 30-Sep-01, the largest customer accounted for 44.5% of sales. For the year to 31-Mar-01, the largest customer accounted for 25.9% of sales, and 25.7% in the previous year. Let's assume that was K-Mart.
Boto's Mr Tse was quoted in today's SCMP as saying that orders from K-mart had dropped as much as 20%. Based on the above figures, that would equate to between 5% and 9% of Boto's annual sales. But speaking to the HK-iMail, Mr Tse said that competing retailer Wal-Mart has increased its order, so already we can see some offset to cushion the fall from Kmart. In the long run, we don't expect demand for Boto's products to be materially affected by its choice of retailers. Christmas will still come every year.
Oil price
Short-term increases in the price of oil, which affects plastic materials prices, do have some effect on margins, but at least part of this can be passed on the consumers through product prices, and Boto plans ahead to protect its margins. The company's track record demonstrates a low impact of oil price on gross margins. In the interim report it said:
"The Board is cautious that the continuous fall in energy prices may not last for a long period of time. However, the Group will be able to minimize the impact of short-term fluctuations on its profit margin by making necessary purchases in advance."
That's just standard good business planning, buying materials against expected orders.
Inside information
As is normal in any management buy-out (MBO) funding, the purchaser was given privileged inside information such as management accounts and projections to assist in their analysis of the possible investment. Mr Tse told Webb-site.com that in this case, Carlyle has received management accounts up to 31-Dec-01 and "3 to 5 year projections".
In practice, management should already have a good idea how much they made for the year to 31-Mar-02, as well as the order book for the coming year, and of course, they know about their own long-term plans for factory expansion and capital expenditure.
Webb-site.com has learned that the "independent financial adviser" will be Anglo-Chinese Corporate Finance Ltd. In order for the adviser and the independent non-executive directors to do their job, it will be essential for them to be given the same information, management accounts and projections which were provided to Carlyle Group, and investors should be given a summary of this information (with all the usual disclaimers) in the shareholders' circular, so that they can see for themselves just what the projected future earnings are. How else can they make an informed decision on the MBO? Reference to historic earnings is not sufficient.
One thing we find surprising is that, even before the independent financial adviser had been appointed, the announcement states that "the independent non-executive directors consider that the Consideration is fair and reasonable to the company". Perhaps they will change their minds once they have had the benefit of further information and advice.
Imagi
Boto has tried its best to present this deal as a venture into the high-tech world of computer animation. However, Mr Tse has told us that the total investment in Imagi to date is just HK$30m. Imagi has developed a cartoon series called Zentrix, and the first five episodes were delivered to the first distributor just a few days ago. In other words, it has no sales track record. Imagi may or may not becoming the next Pixar, a far bigger and leading animation house, but at this stage Imagi is unproven and we can't get excited about it. We have yet to meet anyone who invested in Boto because of it. Imagi is a small start-up business that would be better off being privately developed outside the listed group. It would not qualify for listing on the main board if it applied as a new applicant today.
Boto needs to retain sufficient business activities to justify retention of its Stock Exchange Listing, and Imagi is all that would be left after the MBO. Francis Kao Wai Ho, the 25-year old son of Michael Kao, was appointed to the board of Boto on 8-Feb-02 and will remain at the listed company (to be renamed Imagi International Holdings Limited) if the deal proceeds. The annual report says he "spearheads" the Group's internet related business.
The style in which this deal is presented reminds us very much of the way HK-listed CDL Hotels morphed into City e-Solutions in 2000 by selling its controlling stake in Millennium & Copthorne Hotels to its parent City Developments Ltd, at a substantial discount to underlying net asset value, and then distributed some of the proceeds. As a result, the company is now a shadow of its former self and still sitting on a dwindling pile of cash.
How to Stop this Deal
If you own Boto shares, and have not yet contacted us, then please e-mail us with your support, and prepare to ensure that you vote against this deal, to preserve your ownership stake in the business. Your identities and shareholdings will not be revealed without your consent, and we will aggregate the information to demonstrate the strength of opposition to this transaction.
© Webb-site.com, 2002
---
Organisations in this story
---
Sign up for our free newsletter
Recommend Webb-site to a friend
Copyright & disclaimer, Privacy policy
---