Season's greetings to all our readers - time for our annual stock pick, when Santa rummages in our sack of small-cap investments for the stock we think is most likely to perform over the next year. Last year, our pick gained 30.8%, much better than the 10.9% on the HSI. Over 6 years of picks, we've gained 474% and beaten the HSI by 392%. So what are we putting under the Christmas tree this year? Read on...
The 2005 Christmas Pick

4 December 2005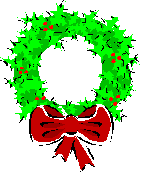 Webb-site.com is celebrating its 7th birthday, and loyal readers will know that we only publish one gratuitous stock pick per year - something nice to say in the season of goodwill to make up for the campaign against bad corporate and economic governance in the rest of the year. Santa rummages in his sack of investments, says "ho ho ho, have I got a surprise for you" and picks the stock from our portfolio that we think is most likely to perform over the next year. It is a seasonal gift to readers, a free ride on our research - you don't have to buy it, but if you followed us in the past, then you made good money. Our picks have beaten the Hang Seng Index by 392% over 6 years, made money every year, and averaged a return of 33.8% per year, versus 2.6% on the Hang Seng Index. The MPF this is not.
Apart from devoting about half his time to public causes, your editor is also a private investor who specialises in smaller companies, panning the riverbed of some 900 smaller companies that make up 10% of the market value, and looking for specks of gold - undervalued stocks with above-average governance. He more often finds the opposite - over-valued and/or badly governed stocks, and these horror stories sometimes end up as case studies on Webb-site.com. He never deliberately reads fiction, but sometimes can't avoid it in annual reports. By avoiding most of the crooks and finding the nuggets, an investor can make exceptional returns over a long period.
Before we tell you about this year's pick, a note of caution. Our annual pick also earns us annual criticism (usually from the same people) who say we have a conflict of interest. We look at it the other way: our money is where our mouth is, and if we are wrong, then we will lose money too, which is more than you can say for most analysts. Readers will also know that if there are any future corporate governance failures in the company we pick, then we have a strong financial interest in fighting for the interests of minority shareholders. That's not a conflict of interest, that's a common interest. Having said that, here are some ground rules:
We only make one pick a year, because Webb-site.com is not a tip sheet, it is a corporate and economic governance site.
We're not a licensed investment adviser, and you're not paying us for advice, so you have no right to rely on it. All we are doing is exercising our right of free speech, which is one of the few things the Government has not screwed up since the handover.
For the rest of the year, we don't normally comment on our portfolio, nor do we comment on the stock we picked, until the next Christmas, when we review how it went. In the meantime, you are on your own, so don't write in asking us whether it is time to sell or buy some more. As long-term investors, the only time we would break this silence is if there was a major corporate event at the subject company.
We reserve the right to increase and decrease our holdings according to market circumstances and our own capital needs.
Before we tell you what we've picked this year, first we'll do something you seldom see the professional analysts do - look back at how our previous recommendations performed.
Last year's Pick
Last year our Christmas pick was Karrie International Holdings Ltd (Karrie, 1050), which makes computer casings and provides electronics manufacturing services to companies such as Canon, Hewlett Packard and Minolta.
Despite a very difficult year in the manufacturing sector, which was hampered by elevated raw material prices, rising labour costs, electricity shortages and the appreciation of the RMB, Karrie has turned in sterling results, and its share price has responded accordingly, although in our view it is still undervalued. On 25-Nov-05 the firm reported 6 month results to 30-Sep-05, with turnover up 53% and basic EPS up 29%.
On 3-Dec-04, the day before our pick, the stock closed at $2.55. During the year, the closing price ranged from a low of $2.65 on 11-Jan-05 to a high of $3.725 on 16-Mar-05 but then fell back along with industrial stocks in general. When the year was over, the stock closed on Friday 2-Dec-05 at $3.125, and investors received dividends of $0.21 during the year, taking the total gain to 30.8% - a round of applause to the Karrie team! By comparison, the HSI had a total return (including dividends) of only 10.9% in the same period.
We expect Karrie's earnings to exceed $0.40 per share in the year to 31-Mar-06 and pay at least $0.22 in total dividend. Excluding the pending interim dividend of $0.09 (the stock goes ex-dividend on Tuesday), the stock stands on a prospective P/E of 7.6 and a prospective yield of 7.2%. Growth in the year to Mar-07 will likely be lower, but Karrie has articulated a clear long-term plan for massive expansion of its capacity and could enter the big league of EMS in the next few years if they stay focussed and manage their client relationships and working capital well in this very low-margin sector.
Your editor continues to hold this stock.
2003's pick
In 5 out of 6 years, our picks have handsomely out-performed the Hang Seng Index, but our only "Christmas turkey" was in 2003, Allan International Holdings Ltd (Allan, 0684), a maker of household electrical appliances and personal care products. This was our worst ever Christmas pick. It had a first-year return of only 4.7%.
The objective of our Christmas picks is performance over 1 year until the next pick, but we track them for you in the second year just to see what happens. In Allan's case, with profits pummelled by the high plastic content of its goods, labour shortages and other rising costs, and with the Cheung family which runs it refusing to do anything about its cash-bloated balance sheet, the stock just drifted lower.
It closed on 3-Dec-04 at $1.25 and on 2-Dec-05 at $0.95, having paid dividends of $0.08, for a second-year return of -17.6% and a 2-year return of -13.7%. On 29-Sep-05, the family began buying shares in the market, and has since bought 1,048,000 shares at prices ranging from $1.00 to $1.04, stopping on 3-Nov-05. They are now in the 1-month dealing ban period before the Sep-05 interim results which are due out on 15-Dec-05.
Regulatory note
We interrupt this festive cheer to make a very sober point. This story illustrates once again the inadequacy of HK's financial reporting regime. The last accounting figures we have for Allan are for 31-Mar-05, over 8 months old, and while the family was buying the shares, our figures were already 6-7 months old. We are in the dark, but they are not. Hong Kong is the last substantial market in Asia not to require its main-board listed companies to report quarterly, and gives them one of the longest periods in the world to report their results - a full 4 months after the year end, or 3 months for the half-year results. How can the chiefs of HKEx, the SFC and Government stand there with a straight face and say that our market is up to international standards? They should be ashamed.
Based on the 31-Mar-05 balance sheet, Allan had net cash and investments of about HK$231.5m, or about $0.69 per share - about 73% of its current share price. Capital expenditure in the year was only $24m, far less than the operating cash flow of $77.5m, and dividends were only $27m. They have never articulated any business expansion plan which would utilise the growing pile of cash. Management is not so much saving for a rainy day as nuclear holocaust.
We're not giving up - your editor still holds more than 5% of this stock.
The six year history
Doesn't time fly? We've been running this series for 6 years now, and our pick has made money in each year, out-performing the total return on the Hang Seng Index 5 years out of 6. Here's the track record: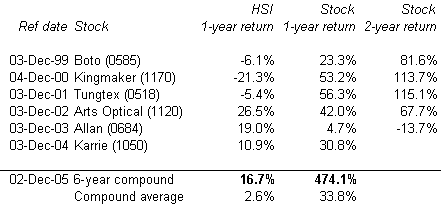 What this table shows is that if you put $1,000 into the first pick, and rotated into the next one each year, you would have made 474.1% and would have about $5,741 by now, a compound average gain of 33.8% per year. By comparison, if you invested the same amount in the Hang Seng Index 6 years ago, you would now have about $1,167, a compound average gain of 2.6% per year (which is less than you could have got in a bank). So our picks have out-performed the index by 392% over 6 years.
This year's Pick
OK, drum roll please.....
The 2005 Christmas Pick is Fujikon Industrial Holdings Limited (Fujikon, 0927), a maker of audio headsets and other "electro-acoustic products", whose customers include Nokia and most recently Microsoft for Xbox 360 bundled headsets, which Fujikon began shipping at the end of the second quarter. The shares closed on Friday 2-Dec-05 at $1.40 per share.
Share capital
Fujikon was listed on 11-Apr-00 after an IPO of 89.9m shares at $1 each, 25% of the company. Since then, shareholders have not been diluted apart from the exercise of employee share options, expanding the issued shares by 3.8% to 373.324m at 31-Oct-05, with a current market capitalisation of HK$523m (US$67.5m). However, at 31-Mar-05 there were outstanding options over 44.692m shares of which 32.8m were held by the directors. The options are exercisable at prices ranging from $1.00 to $1.50 with expiry dates ranging from 2010-2014. Since the year-end and up to 31-Oct-05, 4.434m have been exercised, so that leaves a potential dilution of 40.258m shares or 10.8% of the existing issued shares. New accounting standards that came in this year require expensing of share options, so we hope that this will deter the company from increasing the outstanding options further. We also recommend that they should consider buying back shares to counter the earnings dilution when any options are exercised.
The balance sheet can support this, as they had net cash and investments of about HK$75m or about $0.20 per share at 30-Sep-05. Incidentally, $22m of this is held as long term assets (meaning they have greater than 1 year maturity) and described in the interim results as "34.1% and 61.4% were several structured notes issued by banks and investment funds managed by overseas investment companies respectively".
We disapprove of companies making such investments, as it goes beyond their core area of expertise - if a company has funds which are surplus to foreseeable requirements (and clearly, a multi-year investment is not money you need in the near future) then it should return the money to shareholders and let the shareholders invest it themselves, which is what investors do best. This also enhances the company's return on equity. Shareholders will then be much more willing to support funding requests in the form of rights issues if a company needs cash in the future.
We have seen several small companies make this mistake, often seduced into it by bankers selling them fancy products during periods of low nominal interest rates. A golden rule of investment is that the more complicated the financial product, the higher the profit margin for the bank. Still, as Fujikon has otherwise run a clean ship, we will forgive this mistake and hope that they correct it. It's Christmas, after all.
Ownership and management
The management owns about 59.2%, of which 56.7% is held by a vehicle called Acoustic Touch Ltd, which is owned in equal shares by the three executive directors who founded the group in 1982, Johnny Yeung Chi Hung (Chairman), Simon Yuen Yee Sai (Deputy Chairman) and Michael Chow Man Yan (Deputy Chairman). The only other holder currently over 5% is German fund manager Dr Jens Ehrhardt Kapital AG which disclosed 6% on 10-Jun-05. That investor also holds over 5% of Hon Kwok Land Investment Co Ltd (0160), Hong Kong Catering Management Ltd (0668), its subsidiary Saint Honore Holdings Ltd (0192) and Pico Far East Holdings Ltd (0752).
On 15-Jul-03, the three founders placed 22.68m shares (then 6.16%) through SBI E2-Capital at $1.67 and on 4-Dec-03, three non-founder directors placed 7.984m existing shares (then 2.17%) through the same broker at $1.50 per share.
In a few years there may be a management succession issue, as the 3 founders have ages of 56-63. This could point the way towards a merger or friendly takeover, but don't hold your breath, it is not something we factor into the share price. Recently, on 1-Oct-05, a long-standing executive director, 42 year-old Weeky Wong Sau Lik, who had been with the group since 1989, resigned after selling most of his 2.8% shareholding having earlier delayed the sale. This follows the resignation on 1-Jul-04 of then 45-year old Mr Tsang Yiu Wah, who had been with the group since 1985. The board is now down to 4 executive directors, including the 3 founders and the Finance Director, Dylan Ng Kwong Hing, and 3 independent non-executive directors, namely Chang Chu Cheng, the Chairman and Co-founder of Varitronix International Ltd (0710), Allen Che Wai Hang, partner of law firm Wong, Hui & Co, and Jason Lee Yiu Pun, an accountant. 2 other INEDs left in August. Below the board however, senior management includes 3 younger Vice-Presidents (ages 42-43) of various divisions who have joined since May-04, so perhaps the succession will be smooth.
Outlook
We see demand in Fujikon's industry being driven by two factors - the increasing popularity of portable media players, and the emerging technology for stereo Bluetooth wireless headsets. Next year, we expect more convergence between mobile phones and media players- why carry two devices when you can have one? As the price of memory has come down, phones can store more audio and video on memory chips without pricing themselves out of the market. Meanwhile portable and in-car DVD players have hit the mass market in the last 2 years as panel prices made them affordable. You need a headset for all these products.
Also, the second wave of Bluetooth is breaking. Until now, Bluetooth has mainly been used for low-quality mono audio for making and receiving hands-free calls on mobile phones, but next year we should see a lot more CD-quality stereo Bluetooth headphones. Expect to see portable music and video players, mobile phones and laptop computers which include Bluetooth stereo transmitters, and expect Fujikon to be on the receiving end in the headset market.
In the annual report for the year to 31-Mar-05, Fujikon recorded net profit of HK$70.5m (up 223%) on turnover of $932m (up 55%), and EPS was $0.191. On 30-Nov-05, Fujikon announced its interim results for the six months to 30-Sep-05, with turnover up 0.7% and net profit up 2.8% to $29.5m, after amortising share option costs of $1.0m. basic EPS was $0.0794, and the interim dividend was raised to $0.03 from $0.025. Although some orders were delayed into the second half, management wrote that "the second half, and hence the full year, remains very positive". Fujikon's headcount supports this, rising to 10,700 at 30-Sep-05 from 9,100 in March and 6,800 a year ago.
For the year to 31-Mar-06, we expect Fujikon to make EPS of about $0.24. The shares closed on Friday at $1.40 and ex-dividend that would be $1.37 (they go ex-dividend on 14-Dec-05), which puts them on a prospective P/E of only 5.7. Last year, they paid dividends of 10 cents, including a 2 cent special dividend. They've raised the interim by a half cent and, given the bullish outlook for the second half, we hope they will pay at least 11 cents for the year, putting the stock on a yield of about 8%.
So there you have it, our 7th Christmas pick.
© Webb-site.com, 2005
---
Organisations in this story
Topics in this story
---
Sign up for our free newsletter
Recommend Webb-site to a friend
Copyright & disclaimer, Privacy policy
---