Season's greetings to all our readers - time for Santa's annual stock pick. Last year's pick, Sino Golf (0361), under-performed, recording our first ever loss of 6.7% overall. Even so, over 8 years of picks, we've gained 669%, a compound average of 29.1% per year, while the HSI, despite the current bubble, has averaged 11.3%. So what are we putting under the Christmas tree this year? Read on...
The 2007 Christmas Pick

3 December 2007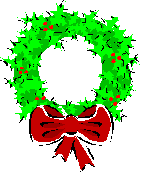 Webb-site.com is celebrating its 9th birthday, and loyal readers will know that we only publish one stock recommendation per year - something nice to say in the season of goodwill to make up for the campaign against bad corporate and economic governance in the rest of the year. We get to play Santa, rummaging in our sack of investments and picking the stock that we think is most likely to perform over the next year. It is a seasonal gift to readers, a free ride on our research - you don't have to buy it, but if you followed us in the past, then you made good money.
Apart from devoting about half his time to public causes, your editor is also a private investor who specialises in smaller companies, panning the riverbed of the bottom 85% of listed companies that make up 10% of the market value, and looking for specks of gold - undervalued companies with trustworthy, competent management. He more often finds the opposite - over-valued and/or badly governed stocks, and these horror stories sometimes end up as case studies on Webb-site.com. We never deliberately read fiction, but sometimes can't avoid it in annual reports. By avoiding most of the crooks and finding the nuggets, an investor can make exceptional returns over a long period.
Before we tell you about this year's pick, a note of caution. Our annual pick also earns us annual criticism (usually from the same people) who say we have a conflict of interest. We look at it the other way: our money is where our mouth is, and if we are wrong, then we will lose money too, which is more than you can say for most analysts. Readers will also know that if there are any future corporate governance failures in the company we pick, then we have a strong financial interest in fighting for the interests of minority shareholders. That's not a conflict of interest, that's a common interest. Having said that, here are some ground rules:
We only make one pick a year, because Webb-site.com is not a tip sheet, it is a corporate and economic governance site.
We're not a licensed investment adviser, and you're not paying us for advice, so you have no right to rely on it. All we are doing is exercising our right of free speech, one of the great competitive advantages of Hong Kong.
We don't normally comment on the stock we picked until the next Christmas, when we review how it went. In the meantime, you are on your own, so don't write in asking us whether it is time to sell or buy some more. The only time we would break this silence is if there was a major corporate event at the subject company.
We reserve the right to increase and decrease our holdings at any time, according to market circumstances and our own risk management.
Stocks can go down as well as up. Don't put all your eggs in one basket. We don't either.
Before we tell you what we've picked this year, first we'll do something you seldom see the professional analysts do - look back at how our previous recommendations performed.
Last year's Pick
Las year our pick was Sino Golf Holdings Ltd (Sino Golf, 0361), a manufacturer of golf clubs and golf bags. As we noted a year ago, Sino Golf is building a new factory in Shandong Province, which was due for completion "towards the end of" 2006, so we expected it to be in operation in 2007. Unfortunately, this has been delayed, and the latest information in the Jun-07 interim report is that the new factory will be ready to meet peak season requirements in 2008.
A second problem was that in the first half of 2007, sales to the largest customer of the golf equipment (clubs) segment dropped 43% from a year earlier "due to non-compromise...on certain product models". In other words, Sino Golf decided to turn away business rather than cut its prices. This strategy has apparently paid off as it says it has "gained back orders on the forfeited models for the season ahead, production of which will commence during the second half of 2007" although they didn't say whether they cut prices to achieve that. Meanwhile it has diversified its customer base with growth from other customers, but the overall result was that sales in the golf equipment segment dropped 25% in the first half of 2007.
The group's other business segment, golf bags and accessories, is doing well, with sales up 72% in the first half of the year compared with a year earlier. The segment accounted for 31% of group turnover, offsetting the decline of the golf equipment segment. However, golf bags are a lower-margin business, so overall, group turnover dropped 8.4% for the 6 months, while net profit dropped 38%.
Sino Golf, like most companies in HK, still does not produce quarterly results, but we can see from the quarterly results of its largest customer that sales by Sino Golf are recovering. Each quarter, the customer discloses the percentage of its purchases from its largest supplier (Sino Golf) and we've been tracking it long enough to know that this is well correlated with Sino Golf's reported sales to that customer, but not a perfect match, probably because of factors such as shipping and insurance. So here is the table: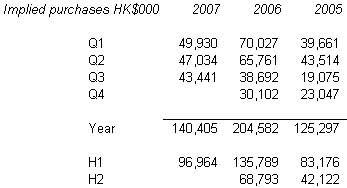 As you can see, after the drop in purchases in Q1 and Q2, the purchases in Q3 were up 12% on a year earlier. Your editor still holds over 6% of Sino Golf.
On 1-Dec-06, the last day before our pick, Sino Golf closed at $0.87. During the year, the stock traded between an intra-day high of $1.24 on 4-Dec-06 and a low of $0.68 on 5-Oct-07, and closed at $0.77 on 3-Dec-07. Investors received dividends of $0.042 during the year, for a total return of -6.7%, the first loss in 8 years of picks.
The eight year history
Doesn't time fly? We've been running this series for 8 years now, and our pick has made money in 7 out of 8 years, out-performing the total return on the Hang Seng Index 6 years out of 8. Here's the track record:
Ref date
Stock
HSI
1-year return
Stock 1-year return
03-Dec-99
Boto (0585)
-6.1%
23.3%
04-Dec-00
Kingmaker (1170)
-21.3%
53.2%
03-Dec-01
Tungtex (0518)
-5.4%
56.3%
03-Dec-02
Arts Optical (1120)
26.5%
42.0%
03-Dec-03
Allan (0684)
19.0%
4.7%
03-Dec-04
Karrie (1050)
10.9%
30.8%
02-Dec-05
Fujikon (0927)
27.3%
43.6%
01-Dec-06
Sino Golf (0361)
57.9%
-6.7%
03-Dec-07
8-year compound
134.7%
669.3%
Compound average
11.3%
29.1%
What this table shows is that if you put $1,000 into the first pick, and rotated into the next one each year, you would have made 669.3% and would have about $7,693 by now, a compound average gain of 29.1% per year. By comparison, if you invested the same amount in the Hang Seng Index 8 years ago, and reinvested the dividends, you would now have about $2,347, a compound average gain of 11.3% per year, even with the bubble which took it to record highs this year. So our picks have out-performed the index by 227.8% over 8 years. Both the stock and index calculations exclude transaction costs.
Market overview
On 16-Sep-07, we published an article called Incredibubble, commenting on the bubbles in Chinese stock markets, both in the mainland and HK. With the Hang Seng Index (HSI) then at 24,898 and the Shanghai Composite Index (SCI) then at 5,312, we asked our readers in an opinion poll, what is the lowest level at which the two indices will ever trade at again? We closed that poll at the end of 24-Sep-07, and more than 59% of responses said the SCI would trade below 2,000, while more than 50% said the HSI would trade below 14,000.
As we said at the time, it is impossible to call the top of a bubble, and after that article was published, the HSI went on to a daily peak of 31,638 on 30-Oct-07, while the SCI peaked at 6,092 on 16-Oct. Since then, the HSI has fallen 9.4% to 28,658, while the SCI has fallen 20.1% to 4,869 tonight. Still bags of downside risk there.
The only sector of the market in which we currently find good value is, once again, small companies which actually make things, broadly known as "industrials".
The Pick
Readers may recall that two years ago we picked Fujikon (0927), which turned in a respectable 43.6% gain in its first year. The stock continues to do well, on the back of strong demand for its headphones which are bundled with mobile phones, which increasingly play music, and on a stand-alone basis for the higher-end market. The stock rose from $1.93 on 1-Dec-06 to $3.45 on 3-Dec-07 and has paid dividends of $0.12, for a second-year gain of 85.0% and a 2-year return of 165.6%. Thanks to earnings growth, the stock is still cheap, on a P/E of 7.4 times trailing 12 months earnings to Sep-07. Your editor holds more than 6% of this company.
Now as it happens, this year's pick is in a similar sector. So without further ado, here it is...
The 2007 Christmas Pick is Shinhint Acoustic Link Holdings Ltd (Shinhint, 2728), a maker of speaker systems for PCs and for digital audio players such as iPods, headsets, and more recently, speakers for flat panel TVs and cars. Customers include Logitech, Altec Lansing and Sennheiser. The stock closed today (3-Dec-07) at HK$1.01, with a market capitalisation of $333.8m. At 30-Jun-07, it had net cash of $140m, or about $0.42 per share.
Because of the product profile, business is seasonal with sales and profits stronger in the second half. For the year to 31-Dec-06, it reported revenue growth of 15.5% to $1,174m and net profit of $50.3m, but we add back a loss on the disposal of an associate of $3.9m to make $54.2m. For the six months to 30-Jun-07, it reported a net profit of $12.1m, compared with $11.8m a year earlier (after adding back the one-time loss). with sales up 1.9% on a year earlier. So on a trailing 12-months basis, earnings are $54.5m and the P/E is 6.1. If you deduct the net cash from market cap and the interest it could earn (at about 4% p.a.) from earnings, then the core trailing P/E is about 3.9.
In 2006 the largest customer accounted for 69.7% of sales, and the top 5 were 95.5%, so there is a need to diversify that, and they appear to be working on it.
Outlook
What the historic figures don't show is that Shinhint is on an expansion path. It opened a new factory in ChangAn, Dongguan in May-07, dedicated to the production of speakers for flat-panel TVs and the automotive sector. The plant can make up to 20m speakers per year. These would include conventional speakers as well as the thinner "Balanced Mode Radiator" (BMR) speakers from its technology agreement with NXT plc of the UK. Shinhint recently announced a quality award from Ford Motor Company.
The employee headcount at 30-Jun-07 was 5,200, up from 4,300 at 31-Dec-06 and 4,100 at 30-Jun-06. Unless productivity is falling, this points to stronger sales growth in the coming year. Management's statements are also bullish - they said in the interim report that the group has "reached a new agreement with a European top-tier customer for the provision of wireless and corded headsets, with shipments expected to start in 2008", and for the BMR technology, "the Group was awarded with a complete acoustic solution order from a renowned television manufacturer, and shipments are expected to commence by the end of 2007."
Capital structure and ownership
Shinhint listed on 14-Jul-05 after an IPO and placing of 75m shares (then 25% of the company) at $0.80 per share. 3,397,500 pre-IPO options were exercised in 2006 and we are pleased to note that the company has not used its post-IPO option scheme.
Note: If companies wish to incentivise staff with equity then we would much rather they use shares purchased in the market with cash, held in a non-voting trust and released when vested over several years. This keeps staff incentivised when options might be underwater, eliminates equity dilution, and makes boards focus on the real cost of the incentive. HKEx (0388), of which your editor is an INED, set up such a plan in 2005.
The one blot on Shinhint's corporate governance record is that on 27-Mar-07, they announced a placing involving 27,120,064 new shares at $0.7477 each, equivalent to about 8.9% of the existing shares, raising about $20m at a time when they didn't need the cash, and diluting earnings per share. This was part of a deal in which one of its minority holders also sold a 4.8% block of shares to the same buyers, funds managed by Martin Currie, which together hold 12.73% of the company at 12-Nov-07. While it is always nice to have institutional shareholders, companies should not win them at the expense of unnecessary dilution to existing shareholders. If an institution likes the company, then it should buy the shares in the market at prices which existing shareholders find acceptable.
The Chairman, Jacky Cheung Wah Keung, holds about 47.6% after recent purchases up to 4-Oct-07. Executive Director Ernest Ip Wai Cheong owns 1.4%. All 3 executive directors are in their mid-to-late 40s so they should still have plenty of mileage left in them. Your editor, David Webb, holds over 5% of the company.
Christmas wrap
So there you have it, our 9th Christmas pick. Have a happy holiday season. There are still 15 shopping days till Christmas, so don't go panic-buying. Last year, our pick shot up 37% on day one as day-traders had their fun. Unless you enjoy the thrill of gambling, we suggest you take your time. The Webb-site.com Christmas Picks are meant for a one-year horizon, not one-day.
© Webb-site.com, 2007
---
Organisations in this story
Topics in this story
---
Sign up for our free newsletter
Recommend Webb-site to a friend
Copyright & disclaimer, Privacy policy
---