We look at the evaporating puddle of liquidity in the dual-primary HK listing of Prudential Plc, now down to 0.08% of the company. 95% of it has drained away since last year's listing. Meanwhile, the much-trumpeted secondary listing of Brazilian iron ore giant Vale has almost dried up too, now down to 0.02% of the company.
Prudential's de facto delisting

15 February 2011
What's that sucking sound coming from the general direction of 13th Floor, IFC One? That would be the sound of liquidity gradually draining away and the de facto delisting of Prudential Plc (Pru, 2378) from Hong Kong.
Pru listed here on 25-May-2010 in connection with the proposed over-priced acquisition of AIA Group Ltd last year, which was eventually cancelled on 3-Jun-2010 in the face of opposition from its shareholders, as was the rights issue to fund it. The dual primary listing in HK (the other primary listing is in London) was accompanied by a secondary listing in Singapore. So Pru has to comply with HK main board Listing Rules as well as UK Listing Rules.
Maybe it seemed like a good idea at the time, given the millions of AIA policyholders and hundreds of thousands of insurance agents in Asia (Pru has a decent-sized business too), but it was doomed from the start, with no existing shareholder base in HK, no public offering, and no common trading platform between UK and HK. Even if a few Asian employees of Prudential get some stock from company share schemes, that wasn't going to create a market, and they will more happily sell their shares in the UK, where there is a ready market.
Perhaps Pru had hoped that AIG would sell some of the Pru shares it would have received in return for AIA into the HK and Singapore market rather than the UK, but that prospect fell away. In any case, AIG would have been subject to a 12-month lock-up on the Pru shares it would receive - and after the lock-up, why would AIG have sold into Asia when there was a liquid market in the UK?
It takes some 11 business days to move stock between the 2 registers, or 3 business days if you pay a premium. That's one reason why cross-border mergers of stock exchange owners won't produce much synergy - they remain two separate markets unless they have a common trading platform, common currency and supranational securities legislation (as EuroNext and the European Union have). If you can't buy in Singapore from an investor in Australia, or sell in Toronto to an investor in London, then merging these pairs of exchanges does not make much sense. But we digress - back to Pru's HK listing.
In a contrivance to generate liquidity, Pru organised some "Designated Dealers...with a view to seeking to provide liquidity" for a "Designated Period" in HK. Note the get-out words "with a view to seeking". The Designated Dealers were Credit Suisse Securities (Hong Kong) Ltd, HSBC Securities Brokers (Asia) Ltd and J.P. Morgan Broking (Hong Kong) Ltd. Credit Suisse was also the listing sponsor. The Designated Period was from the date of listing until the date on which the rights issue shares began trading (fully paid) or one month after the HK listing, whichever was later. As the rights issue was cancelled, the Designated Period ran out on 25-Jun-2010.
The Designated Dealers arranged to borrow some shares from the UK register and transfer them to the HK register, so that they could be traded in HK. If there was enough local demand, then they could eventually close the stock borrowing by buying back shares in the UK and leaving the inventory in HK.
At the start of trading in HK, 50,974,150 shares (2.01% of Pru) had been moved from the UK to HK register, but there was no public offering. This was never going to be enough. Liquidity always gravitates towards the centre, because buyers and sellers want to meet sellers and buyers, and with 98% of the stock still registered in the UK, it was clear what the centre was. That's the classic "network effect" in economics. You are only going to overcome that with a new market if you can establish a second, self-sustaining network where the number of participants is large enough that the incremental benefits of migrating back to the original market would not overcome the inertia of remaining separate.
Take a look at the Webb-site CCASS Analysis service, which shows how many shares Pru were in CCASS each day since the listing. CCASS is the Central Clearing and Automated Settlement System owned by HKEx. Shares must be in CCASS in order to settle transactions on the Stock Exchange of Hong Kong. The number of Pru shares in CCASS declined rapidly from a high of 40,404,718 the day after listing (26-May-2010) to 13,601,893 at the end of the Designated Period, to just 2,028,611 shares on the latest date, 11-Feb-2011. That's about 0.08% of Pru, leaving 99.92% in the UK. So more than 95% of the initial puddle of potential liquidity has drained out of the HK market. Oh and by the way, that total in CCASS includes shares held by Citibank on behalf of the Central Depository (CDP) in Singapore, where there is no share register.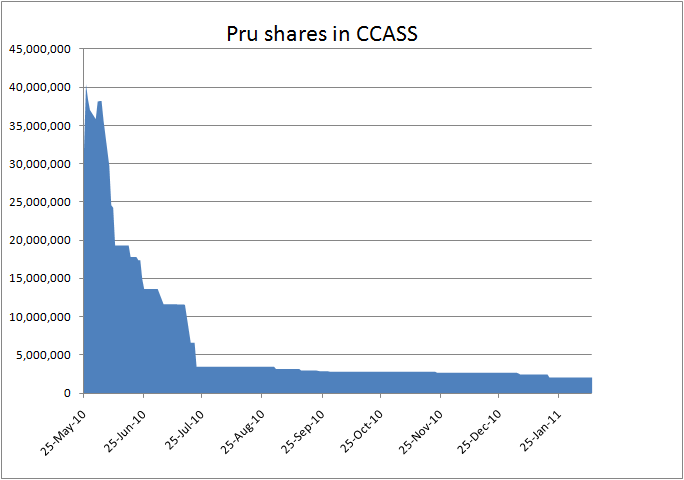 They can keep paying the listing fees as long as they like, but unless they launch a local public offering of the stock (and why should they - that would dilute existing UK holders), or acquire a company with a large number of HK shareholders for stock, then the liquidity isn't coming back, and it is a listing only in name.
A Brazilian gimmick
We should also note that the much-trumpeted secondary listing of the ordinary and preferred-share HK depository receipts of Brazilian iron ore giant Vale S.A. (in two classes, codes 6210 and 6230) has also decayed rapidly and is heading into obscurity. It listed on 8-Dec-2010 and the number of common HDRs in CCASS peaked at 5,935,000 on 17-Dec-2010. It is now down to 959,100 HDRs at 11-Feb-2011, or about 0.03% of the shares in issue. Similarly, there are now only 363,450 preferred HDRs in CCASS, or about 0.02% of the shares in issue at listing. That's down from an initial 2,503,000. The "Designated Period" for the only Designated Dealer, J.P. Morgan, which also sponsored the listing, expired on 8-Feb-2011.
© Webb-site.com, 2011
---
Organisations in this story
---
Sign up for our free newsletter
Recommend Webb-site to a friend
Copyright & disclaimer, Privacy policy
---