HK-listed cellphone operator Sunday Communications (NASDAQ:SDAY) had a surprise up its sleeve in the annual report. Shareholders attending next week's AGM may want to know why boardroom pay increased 297% last year in the face of continued losses and a share price down 87% since the IPO. In fact, the vast bulk of it went to one director, who earned over 3 times the combined pay of the entire board of competitor SmarTone Telecommunications - guess who?
Sunday Payday

8 May 2001
Just over two weeks ago, HK-listed cellphone operator Sunday Communications Ltd proudly issued a press release citing a CLSA survey of corporate governance which ranked it 9th overall out of 38 HK companies assessed by the brokerage.
To be sure, Sunday is one of the more active groups in terms of press releases, analysts briefings and presentations, and that top-quartile governance ranking (all is relative in a badly governed market) did not look out of place until we read this year's annual report. But sometimes all that glitters is not gold. Eyebrows raised and jaws dropped as we read the financial statements. Take a look at this table: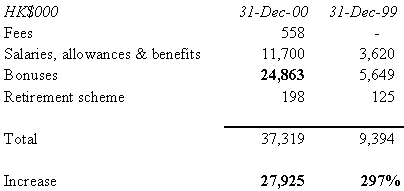 As you can see, total pay was up $27.9m or 297% on the previous year, of which bonuses increased by $19.2m. The number of directors who served during the year increased from 12 to 17.
Individual directors' pay is still not required to be disclosed in Hong Kong, but a table is given of the ranges in which they fall by number of directors. This shows that the highest paid director saw his total pay increase by some 254% from $8-8.5m to $29-29.5m. Again, HK disclosure rules do not require a breakdown of that package, but of the $21m increase, a large part of it must have been bonuses.
By comparison, HK-listed competitor SmarTone Telecommunications Ltd paid its entire board just HK$8.14m in the year to 30-Jun-00. Of the top 5 individuals' pay in SmarTone, 2 were directors and the other 3 earned $7.67m. That brings the top 5 to a total of $15.81m. In other words, the top person at Sunday earned 85% more than the top 5 people at Smartone combined.
No warning in prospectus
Now cast your mind back to the 6-Mar-00 IPO prospectus. It stated:
"It is expected that an aggregate sum of approximately HK$16,000,000 will be paid to the Directors as remuneration, other than discretionary bonus, and benefits in kind by the Group in respect of the year ending 31 December 2000"
If that statement is still true, then of the total $37.3m of board pay, $21.3m must be "discretionary bonus". The word "discretionary" normally means that it is up to the board to determine the award in their discretion. It excludes guaranteed bonuses, and if there were any conditional contractual bonuses then we believe these should have been disclosed in the prospectus since they are non-discretionary and subject only to the conditions (such as financial targets) being reached.
Remuneration Committee
Now unlike many companies in HK, Sunday does have a "remuneration committee" comprising three directors. Two of them are executive directors (Co-chairmen Rick Siemens and Edward Cheng Wai-sun) and the other one is an independent non-executive director (INED) Michael Miles, former taipan of Swire Pacific. So even assuming Mr Miles objects to anything, he can be voted down by the two executive directors. The company does not state why the other INED, Robert Owen (who is Chairman of Techpacific.com), is not on the remuneration committee.
The annual report contains just one paragraph about the remuneration committee and the only disclosure about their work is that it is:
"to review the remuneration of the Directors and officers and such other relevant matters as directed by the Board from time to time. The remuneration committee meets at least once a year."
The report contains no comment on the huge increase in boardroom pay, or on what basis the discretionary bonus was awarded.
Unjustified
Such increase seems hard to justify when you look at the financial performance. At the operating level (excluding capital expenditure) the net cash outflow from operations was HK$219m last year, compared with $272m in 1999. So they made a little progress, but the $28m increase in boardroom pay accounts for 12.8% of that outflow.
Or look at it in terms of market capitalisation - this is not a large company, valued at just HK$1,435m. The boardroom pay cost 2.60% of this figure last year, of which one person cost 2.06%. By comparison, Smartone is valued at $5,965m and its top 5 staff cost just 0.27% of market cap.
Sunday owes its shareholders an explanation, one which should have been given in the prospectus (if the bonus was planned) or in the annual report (if it was discretionary). When the company went public in Mar-00, 159,062 people applied for the shares, which were priced at $3.78. With the stock now trading at $0.48, shareholders must be wondering what kind of "discretion" rewards an 87% negative return with such a hefty bonus.
Guess Who?
Of Sunday's 17 directors who served at some time during 2000, it is safe to eliminate the non-executives, because by definition they don't get paid that much for their occasional input. That leaves 6 executive directors, 2 of whom are the Co-Chairmen and serve on the remuneration committee, so we'll count them out. They have other jobs anyway - Rick Siemens is Chairman of private Distacom Communications Ltd as well as HK-listed e-Kong Group Ltd, and Edward Cheng is the CEO of HK-listed USI Holdings Ltd. Both companies are shareholders of Sunday.
Of the remaining four, two have other jobs at Distacom, and one oversees the investments of USI, including its stake in Sunday. And that just leaves one titled director - Group MD Craig Ehrlich. So let's hear it for Craig, and let's hear what he has to say about the big Sunday Payday.
© Webb-site.com, 2001
---
Organisations in this story
Topics in this story
---
Sign up for our free newsletter
Recommend Webb-site to a friend
Copyright & disclaimer, Privacy policy
---