How do you get the Government to endorse your 175th anniversary of founding? Start by revising your company history. Webb-site reveals the inconvenient truth.
A.S. Watson: not its 175th anniversary

15 December 2015
A.S. Watson & Co Ltd, wholly-owned by CK Hutchison Holdings Ltd (0001) celebrated yesterday what it claimed is its forthcoming 175th anniversary. The company says it was founded in HK in 1841 as the Hong Kong Dispensary. Chief Secretary Carrie Lam Cheng Yuet Ngor officiated at the cocktails and gave a speech (with video).
There is a problem with that claim though, and the company knows it. The Google cache shows that until at least 30-Nov-2015, the history page of their web site, aswatson.com, looked like this, claiming a group history which begins in Canton (Guangzhou) in 1828, not 1841: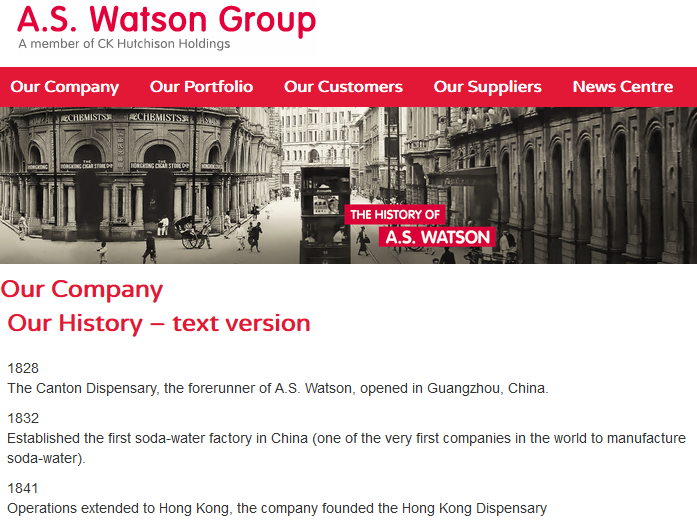 The inconvenient truth is that the group operated as the Canton Dispensary until the First Opium War. After the UK took possession of Hong Kong, the dispensary moved down to HK. Too awkward. A made-in-Hong-Kong origin myth sounds much more politically correct. The web site has now been, shall we say, "revised", to look like this, and gives them an excuse for a Government-endorsed celebration as part of the "Appreciate HK" thing: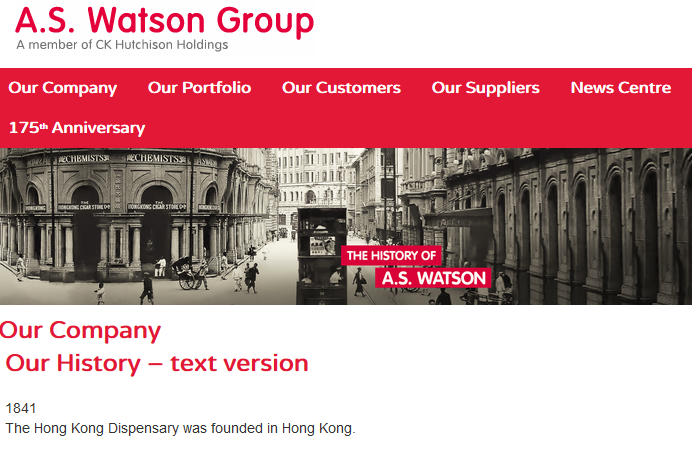 The British took possession of HK on 26-Jan-1841 after the Convention of Chuenpee 6 days earlier. The convention, which was never ratified, was followed by the Treaty of Nanking, signed on 29-Aug-1842. Webb-site Reports can reveal that the actual date on which the "Canton Dispensary and Soda Water Establishment" was officially removed to HK was 1-Jan-1843, as announced by its proprietors, Alexander Anderson and Peter Young (both medical doctors), in the "Friend of China and Hong Kong Gazette" on Thursday 5-Jan-1843. Here's our press clipping: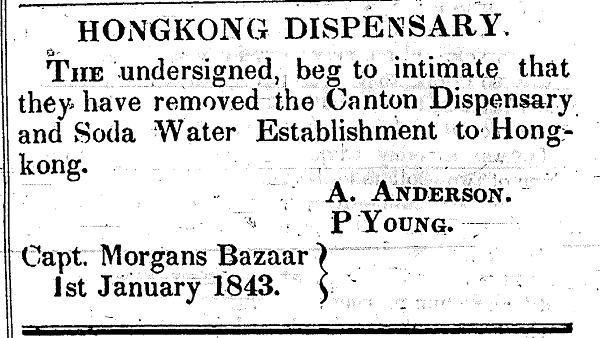 As the notice shows, the Hong Kong Dispensary operated in a bazaar owned by Captain William Morgan, who was a Jardine Matheson ship captain and later their agent in HK. He died on 14-Jul-1843 in Macau, where he is buried. Ironically, Jardine Matheson, via subsidiary The Dairy Farm Co Ltd, is now the main "competitor" in the duopolistic HK drugstore market, operating Mannings.
In effect then, what the Chief Secretary was celebrating last night was the 175th anniversary of the British occupation of Hong Kong, which actually began on 26-Jan-1841. So mark your diaries for 26-Jan-2016. If A.S. Watson wishes to celebrate the 175th anniversary of the move of the Canton Dispensary to HK, then that would be 1-Jan-2018.
© Webb-site.com, 2015
---
Organisations in this story
People in this story
---
Sign up for our free newsletter
Recommend Webb-site to a friend
Copyright & disclaimer, Privacy policy
---