It appears that the FRC and HKICPA, in its recent action against Leslie Cheng & Co, missed the elephant in the accounts of Luxey (8041). 6 listed companies are keeping him on board, 3 as chairman of their audit committees. And then there's his doctorate...
Leslie Cheng, Burkes and Turks

16 January 2016
It's not been a good month for accountant Leslie Cheng Chi Pang (Mr Cheng), proprietor of Leslie Cheng & Co. On 8-Jan-2016, the HKICPA announced, in its own leisurely way, that 3 weeks earlier a Disciplinary Committee fined him and his firm HK$100k and HK$200k respectively in relation to bad work on the 2009 audit of the firm's first and only HK-listed audit client, Luxey International (Holdings) Ltd (Luxey, 8041), formerly known as China-Post E-Commerce (Holdings) Ltd. They must also pay costs of $280,788.70, taking the total to $580,788.70. The audit fee was HK$500k by the way, so as long as they don't screw up too often, they can afford it. HKICPA fines in general, capped at $500k and often just a few thousand dollars, are far too small to act as a deterrent.
We wrote a lot about Luxey under its old name in "Raking muck, Part 2", 27-Feb-2012, questioning the huge valuations on acquisitions of 53% of iKanTV Ltd (now Luxey Online Solutions Ltd) and 20% of Info-Source Media Ltd.
According to the HKICPA, a complaint was filed with the Financial Reporting Council (possibly by the SFC or SEHK). The FRC's Audit Investigation Board issued a report dated 8-Aug-2013 which was sent to the HKICPA on 17-Sep-2013. Incidentally, that FRC/AIB report, like many others, has still not been published. Both of the acquisitions are mentioned in the HKICPA disciplinary committee's reasons statement, although the case focuses on accounting treatment of the shares issued for the deals, rather than the ludicrous valuations of the assets acquired.
Impossible valuation
The 2009 goodwill impairment test for the acquisitions adopted a 5-year cash flow budget followed by a 50% growth rate and a discount rate of just 1% p.a.. Simple maths: if you extrapolate indefinitely with a discount rate less than the growth rate, then you get an infinite valuation - each successive year's cash flow has a net present value greater than the previous year. Even if the extrapolation was not perpetual, the discount rate was not realistic as it was less than the risk-free long-term interest rate at the time. Apparently the auditor thought this was reasonable, and the FRC/AIB did not question it either. So here's the humongous grey mammoth in that room, which we call on the FRC to investigate: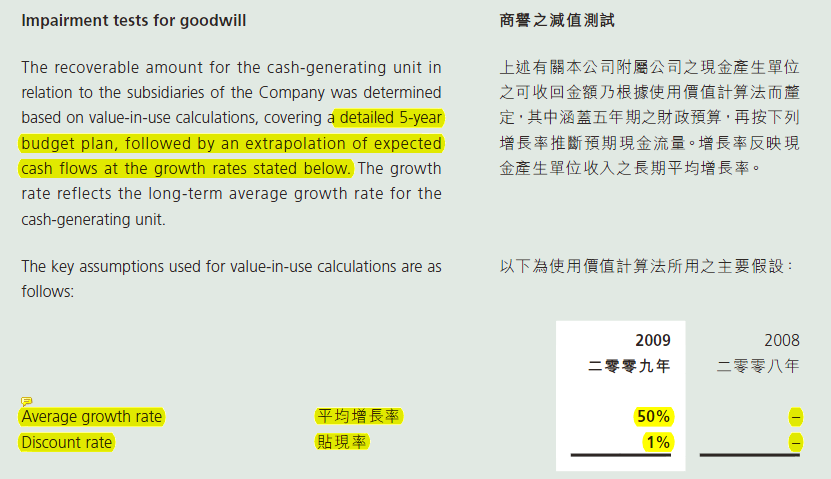 Mr Cheng was the "engagement quality control reviewer" on the audit, while the engagement partner was Wong Wing Hong (Mr Wong), who in December 2013 was removed from the HKICPA register for 6 months following his conviction for defrauding Toys R Us in a refund scam. So Mr Wong was not involved in the latest sanctions.
Carry on, Mr Cheng
According to the 2003 annual report of NWS Holdings Ltd (0659), Mr Cheng joined the New World Group in 1992. On 3-Mar-2003, following a group reorganisation, he and another person, Tommy Cheung Chin Cheung, were both appointed as Chief Executives (but not directors) of NWS Holdings Ltd (NWSH, 0659). Somewhat confusingly though, there was a third simultaneous Chief Executive, Chan Kam Ling, who was appointed as Executive Director and CEO on 29-Jan-2003. Three Chief Executives, seriously? The 2005 directors' report records that Mr Cheng ceased to be a Chief Executive of NWSH with effect from 12-Mar-2005. His biography no longer appeared in the report. Nowadays he holds himself out as having been "The" definitive Chief Executive of NWSH, but it is clear that he was "a" chief executive, one of 2 or 3 concurrently serving.
Mr Cheng has no less than 6 current directorships of HK-listed companies. Two of them are as NED - Build King Holdings Ltd (Build King, 0240) and Wai Kee Holdings Ltd (Wai Kee, 0610). Those are a legacy of his New World role, representing their shareholding. The other 4 are as INED. He is Chairman of the audit committees of Fortune Sun (China) Holdings Ltd (Fortune Sun, 0352), Nine Dragons Paper (Holdings) Ltd (NDP, 2689) and Tianjin Port Development Holdings Ltd (TPD, 3382). He is a member of the audit committee of China Ting Group Holdings Ltd (China Ting, 3398).
In the latest year, he was paid HK$168k by Build King, $368k by Wai Kee, $153k by Fortune Sun, $487k by NDP, $545k by TPD and $240k by China Ting. Even an accountant of his ability will be able to add that up to $1.961m. All six companies have now made announcements that they see no impact on Mr Cheng's duties from the fact that the HKICPA has fined him and his firm for auditing problems. Four of them are apparently happy to keep him chairing or serving on their audit committees, despite his adjudged incompetence. As the Disciplinary Committee put it, "it is not alleged that anybody suffered any actual loss as a result of the incompetent work of the Respondents". So that's alright then!
Doctor who?
We've saved the best for last though. You will notice that we've been calling him Mr Cheng, but in all 6 companies' reports, he calls himself "Dr Cheng". Build King, Wai Kee and NDP each say in their annual reports that he:
"holds...a doctorate degree of philosophy in Business Management"
But it doesn't say where from. So we look at TPD, which says in its annual reports that he:
"obtained... a Doctorate degree of Philosophy in Business Management and a master's degree in business administration from Burkes University and Heriot-Watt University in the United Kingdom in 2003 and 1997 respectively."
Fortune Sun makes a similar claim. Only China Ting discloses that the purported doctorate was an "honorary" one, but it doesn't say where from.
There has never been a "Burkes University" in the UK, nor a university for berks. Perhaps the operators of this outfit were inspired by Burke's Peerage, the book of British toffs. However, there was an entity claiming to operate from the Turks and Caicos Islands (T&C), a British Overseas Territory in the Caribbean with a resident population small enough to fit into Hong Kong Stadium. "Burkes University" once had a web site, captured in the Internet Archive starting 16-Dec-2002, claiming that it was founded in the T&C in 1977 and was a "State-Approved Open and Distance Learning University". The "Chancellor" was a "Prof. Dr. Solomon Heineken", who probably doesn't exist but we'll buy him a beer if he does.
The T&C companies registry is not online so we have been unable to check whether a company by that name ever existed. According to Section 3(2) of the Universities and Colleges Ordinance of the T&C, 1998 edition, no institution shall operate as a university in T&C without a license issued by the Minister of Education. Under Section 4(2), anyone who claims to have received a degree from such an institution while it was unlicensed is guilty of an offence and liable to a fine of $1,000 and imprisonment for 6 months, if they happen to visit the T&C, one presumes. Looking at the web archive, we cannot find any claim on the site that "Burkes University" had such a licence.
On the web site, "Burkes University" also claimed to be accredited by the "Association of Open and Distance Education". You guessed it - that too has a defunct web site, the earliest capture in the Internet Archive is on 20-Dec-2003. The last capture is on 31-Aug-2004. We cannot find any other trace of it.
So who else holds a doctorate from "Burkes University"? Well, there's "Dr" Lo Kou Hong, Co-Chairman and founder of Lo's Enviro-Pro Holdings Ltd, now known as Xinhua News Media Holdings Ltd (0309) who claims to have been awarded an honorary doctorate degree in Business Management in 2003 by Burkes University, the same year as Mr Cheng. There is also "Dr" Angela Ng Wai Yung, a senior manager of Neway Group Holdings Ltd (0055) and wife of the founder. The 2014 annual report claims that she has an "Honorary doctor of philosophy degree in Business Management from Burkes University, the British West Indies, United Kingdom". She too has been claiming that since 2003.
There are also a handful of Burkes' Honorary Doctors in India - you know who you are. Take them off your web site before we identify you.
© Webb-site.com, 2016
---
Organisations in this story
People in this story
Topics in this story
---
Sign up for our free newsletter
Recommend Webb-site to a friend
Copyright & disclaimer, Privacy policy
---