Continuing our series, we look at a set of over-priced acquisitions and questionable transactions by China Post e-Commerce and others, building a matrix which demonstrates the close connections between the persons involved. We call on the SFC to investigate.
Raking muck, Part 2

27 February 2012
As you will recall from Part 1, this series will cover at least the following 8 listed companies:
In part 1, we told you the amazing story of how Xinhua has done a deal to inject TV distribution rights into a GEM-listed company, CNC, and given Alan Lee Yuk Lun (YL Lee) 25% of the deal, a windfall worth HK$973m (at the bubble price for the stock), for no obvious reason. A reader provided us with his English forename name, which allowed us to find this page on the "Chinese Who's Who Society", which tells us that YL Lee was in the insurance industry "for 15 years, from ordinary salesman to a regional director". This may or may not explain why CK Hui, a 29 year-old with over 5 years in insurance sales at AIA, was appointed as an Executive Director of CNC on 2-Jun-2011, nearly 2 months before its investment in China New Media (HK) Co Ltd (CNMHK) and 3 months before the drainage contractor did its megadeal with Xinhua and YL Lee.
We also explained in Part 1 how in 2011 Vicky Yu Wai Yin (Vicky Yu) sold a total of 43% of CNMHK, to three listed companies, Inno-Tech, Railsmedia and CNC, for HK$176.84m, while COMG held 51% of the HK outdoor advertising start-up, which had net liabilities at 31-Dec-2010 of HK$1m. We don't know how she had the good fortune to invest in it, but her dealings with COMG go back further than that, as we will show. First, let's introduce CPEC.
CPEC and Info-Source Media
On 12-Jan-2009, CPEC announced that it would buy 10% of Info-Source Media Limited (ISM) from Info-source International Development Ltd, 100%-owned by the Guangdong Postal Bureau, for $28.8m, satisfied by 72m shares (5.09%) of CPEC @$0.40 (adjusted for a 5:1 consolidation). CPEC would receive an option on a further 40% of ISM, potentially making it a 50:50 venture. ISM was:
"principally engaged in the provision of state-of-the-art E-commerce platform through Guangdong Postal's powerful physical network, sophisticated information network and strong post bank capital support with a broad portfolio of media advertising platforms including bank location network, in-store network, post outlets network, commercial location network, direct mail network, magazine distribution network, wireless and outdoor light-emitting diode (LED) network..."
"[ISM] has obtained the 15-year exclusive right to operate electronic video in outlets of Guangdong Postal and has also established liquid crystal display (LCD) network in three major cities in the Pearl River Delta Region".
Which all sounds pretty impressive until you get to the following:
"[ISM] has not commenced business".
So "engaged in" is something of an aspirational statement. ISM, which the transaction valued at $288m, was incorporated on 23-Nov-2007, had $10,000 of share capital, no turnover, and net liabilities of $3.92m at 30-Nov-2008. The deal completed on 3-Feb-2009, and we suspect the 72m consolidated shares were deposited into CCASS via CITIC Securities Brokerage (HK) Ltd on 17-Jun-2011.
On 19-Aug-2009, CPEC partly exercised the option to increase its stake in ISM from 10% to 20%, paying $28.8m of which $14.4m was cash and the rest as 35,820,895 shares valued at $0.402 each. The deal completed on 3-Sep-2009. Due to a fall in the market price of CPEC by the time the shares were allotted, the original combined $57.6m price for the 20% stake was restated to $43.325m in the 2010 accounts, and the entire value of the investment was written off, "due to the changes in market condition", constituting most of CPEC's $57.27m loss for 2010. You will find that in note 21 of the accounts, but in the Management Discussion and Analysis section the company does not bother to mention this huge item.
iKanTV
At lunchtime on 13-Jan-2009 (but dated 12-Jan-2009), COMG announced that iKanTV Limited (iKanTV), a partly-owned (they didn't say how much) BVI subsidiary, had agreed with ISM to invest HK$7m to acquire:
"exclusive rights...to procure advertising clients to place advertisements through the LCD TVs located in all retail outlets of [Guangdong Postal Bureau] and the relevant broadcasting rights".
The HK$7m would be used "for the upgrade and improvement of the current and future network and the update of the hardware and software of the LCD TVs". ISM would be responsible for installing the LCD TVs and would get 50% of iKanTV's profits from its commercial advertisements, including "all advertisements of the new LCD network in Hong Kong and Macau of the Group" - i.e. COMG group's screens other than ISM's.
COMG didn't disclose its percentage stake in iKanTV. Note that this was described as an agency agreement, not an outright purchase of advertising rights. COMG did not disclose what the agency fee would be, relative to the actual advertising fees. Both the agency agreement and the acquisition of 10% of ISM were dated the same day, 9-Jan-2012, but the two listed companies made no reference to each other's deals in their announcements. In particular, CPEC didn't mention that ISM had on the same day agreed to farm out the advertising agency rights to COMG via iKanTV. At the time, Joseph Lau Chi Yuen (Joseph Lau) owned 52.81% of CPEC and 24.89% of COMG and was a director of both.
By 30-Jun-2009, iKanTV owned 51% of HD Production Ltd, a company incorporated in HK on 10-Dec-2007, engaged in the production of advertising videos. We don't know who owned the rest of that. By 31-Dec-2010, HD Production Ltd was listed in CPEC's accounts as "inactive".
CPEC buys 9% of iKanTV from Kwok Ming Fai
On 6-Apr-2009, CPEC agreed to buy 9% of iKanTV from Get Profit Holdings Ltd (Get Profit), owned by one Mr Kwok Ming Fai (Mr Kwok) for $39.84m, satisfied by 830m new shares (10.51%) of CPEC @$0.048 each (a significant premium to the market price of $0.031). That was before a 5:1 consolidation, so they are equivalent to 166m shares @$0.24. The sale was his entire stake in iKanTV, which was a partly-owned subsidiary of COMG, but again COMG's percentage stake was not disclosed.
As the announcement said nothing about him, we don't know which Kwok Ming Fai he is. There are two in our database: Allan Kwok Ming Fai, who is an INED of CYTM (covered in Part 1) and of several other companies that we wouldn't touch with a barge pole, and Kwok Ming Fai, a former representative of Messis Capital Ltd (formerly named Menlo Capital Ltd), an "independent financial adviser" the opinions of which we do not value. They may or may not be the same person.
Regulatory note: names of listed company counterparties are often insufficient to identify them. You might as well say "The Vendor is John Doe". Vague descriptions such as "Mr Chan is a merchant" don't help either - they are equivalent to saying "Mr Chan would rather not say what he does". Names of companies, without saying where they are incorporated, are not unique either, and are meaningless when they are private companies and their beneficial shareholders are not disclosed.

The Listing Rules should be tightened - for people, either publish a unique, permanent and verifiable ID number, or sufficient biographical information to almost uniquely identify the person, such as a date of birth. For companies, require the name and domicile of the company, and identification of all beneficial human owners owning 10% or more. This is not a privacy issue - if you deal with a public company, you should be deemed to accept the transparency that goes with it, and if you are hiding behind a nominee, then that nominee will have to take the risk of being identified and criminally liable for lying to the Stock Exchange and the SFC by claiming to be the beneficial owner.
From incorporation on 23-Nov-2007 until 28-Feb-2009, iKanTV had turnover of $343k and net liabilities of $1.327m, equal to its net loss, but the deal valued iKanTV at a massive $443m. The deal completed on 29-Apr-2009. The Webb-site CCASS Analysis shows that on 5-May-2009, 830m shares were deposited into the CCASS account of Tanrich Securities Co Ltd (Tanrich Securities), which features a lot in this story. Later the 166m consolidated shares moved to Standard Chartered Bank (HK) Ltd and they subsequently moved to HSBC on 14-Oct-2009.
Joseph Lau grants options over CPEC shares
On 26-May-2009, Joseph Lau granted 18-month options to Galaxy Asset Management (H.K.) Ltd (Galaxy) and Provenance Place Co Ltd (Provenance Place) for 78m (4.94%) and 122m (7.73%) existing CPEC shares respectively, a total of 200m (12.67%) at an exercise price of $0.18 per share, a 29% discount to the closing price of $0.255 that day (all figures after consolidation). No price for the grant of the options was disclosed in the announcement or in dealing filings, so we assume it was nominal, as a reward for some kind of service, but no reason was given.
The announcement did not disclose who owned Provenance Place, but a subsequent disclosure of interest shows that the owner is Eric Chan Man Hon (Eric Chan), who is a solicitor and consultant of Vincent T.K. Cheung, Yap & Co, which was legal adviser to CPEC from 2007-2010.
The announcement did not disclose who owned Galaxy, but we can tell you that it is owned by Joe Chan Man Fai (Joe Chan), who is the brother of Eric Chan. So the two option grantees are related. Galaxy advises several funds, including Galaxy China Deep Value Fund and Galaxy China Special Situations Fund SPC. They subscribed for shares in Inno-Tech on 13-Jan-2010, and on the same day Galaxy Capital Ltd (now known as Odysseus Capital Asia Ltd), also then owned by Joe Chan, was awarded a consultancy contract whereby it would receive 10.74% of Inno-Tech if it introduced an acquisition of at least HK$500m, as detailed here. The consultant was also granted options to subscribe Inno-Tech shares.
Of the 200m CPEC options granted by Joseph Lau, Eric Chan's Provenance Place exercised 44m options on 6-Jul-2009 and sold the shares the same day at $0.353, cutting below 5% and making about $7.61m of gain (we assume the options were granted for a nominal amount). The shares were delivered by Oriental Patron Securities Ltd (Oriental Patron).
Another 58m options were exercised before the remaining 98m expired on 26-Nov-2010, of which 5m were exercised on 26-Nov-2009, 38m on 5-Aug-2010 and 15m on 13-Oct-2010. We can't tell you whether Galaxy or Provenance Place was the exercising holder, or both, as they each held less than 5% of CPEC.
Placing
On 21-Jul-2009, CPEC launched a top-up placing of 106m shares (6.29%) @$0.42 via Oriental Patron to raise $38.6m net, with Joseph Lau as vendor and subscriber. The placing was completed on 24-Jul-2009 and the subscription on 3-Aug-2009. The new shares were deposited with HSBC on 5-Aug-2009.
CPEC buys 4% of iKanTV from COMG
You can never have too much of a good thing. On 27-Aug-2009, CPEC agreed to buy 4% of iKanTV from COMG for HK$9.2m, by offsetting part of the balance on a loan it had quietly made to COMG under a loan agreement dated 16-Feb-2009, of $9m for 2 years at 15% p.a.. It was finally disclosed that prior to the sale, if not earlier, iKanTV was 51%-owned by COMG. A simultaneous announcement by COMG, regarding the sale of 4% of iKanTV to CPEC, disclosed that it had invested a grand total of $31.20 (about US$4) in the shares it was selling, implying that iKanTV started with US$100 of share capital. The COMG accounts show that by 30-Sep-2009, the net liabilities of iKanTV had increased to $5.78m.
Technical note: This was a connected transaction for COMG, because its CEO Joseph Lau was controlling shareholder (owning 39.42%) of CPEC, so CPEC was his "associate". However, the amount involved was less than $10m so it was exempt from independent shareholders' approval. If the loan balance (including accrued interest) had grown beyond $10m, then it would have become a non-exempt connected transaction. On the other side, Joseph Lau was Chairman of CPEC but he owned less than 30% (in fact 24.23%) of COMG so it was not his "associate" and this was not a connected transaction for CPEC.
CPEC buys 40% of iKanTV from Vicky Yu
Now, if you have been following closely, then you will wonder, who owned the other 40% of iKanTV? At the same time as buying 4% from COMG, CPEC agreed to buy 40% of iKanTV from Win Today for $92m, to be satisfied by the issue of 139,393,939 shares valued at $0.66 each (after a 5:1 consolidation on 1-Jun-2009). This was about twice the market price of CPEC, but keep in mind that it was paying $9.2m to COMG for 4%, so it had to be seen to be paying Win Today on the same valuation of iKanTV, that is $230m, or about 33 times what iKanTV paid (HK$7m) to get the advertising agency rights from ISM. The CPEC announcement said that from incorporation on 23-Nov-2007 until 30-Jun-2009, iKanTV recorded a net loss after tax of $4.26m and had net liabilities of the same amount.
The announcement didn't say who owned Win Today. Initially it was a case of Win Today, lose tomorrow: the next day, that deal was terminated because it would have violated GEM Listing rule 13.12 against issuing shares within 30 days after repurchasing them. CPEC had repurchased shares on 25-Aug-2009. So one month later, on 25-Sep-2009, CPEC came back and announced almost the same deal, to buy 40% of iKanTV from Win Today in return for 140m shares (7.52%) of CPEC, although these were now valued at $0.55 each, pricing the deal at HK$77m. Again, the owner of Win Today was not disclosed, but a later disclose of interests shows that the owner was Vicky Yu when the deal completed on 30-Sep-2009.
So in summary, CPEC bought 4% of iKanTV from COMG for $9.2m cash, and 49% from Mr Kwok and Vicky Yu, for a total of HK$116.84m, satisfied with 306m consolidated shares. Vicky Yu deposited her 140m shares with Tanrich Securities on 13-Oct-2009. On 21-Jan-2010, she sold 60m shares on-market at $0.25, a total of $15m, cutting below 5%, and you can see the shares leaving Tanrich on settlement day. A week later, Mr Kwok sold 90m shares off-market on 28-Jan-2010 at $0.275, a total of $24.75m, cutting below 5%, and you can see those shares probably moving from HSBC to Enlighten Securities Ltd that day.
The 2009 CPEC accounts show in note 31 that in the 3 months from the acquisition date to the year end, iKanTV had revenue of $0.759m and net loss of $1.370m.
So now we have two transactions involving substantial payments to Vicky Yu, both involving the sale of minority stakes in partly-owned subsidiaries of COMG, namely CNMHK in 2011 and iKanTV in 2009. Yet nothing has been said about how she came to own such large shareholdings in these companies, presumably at nominal cost given that they had no material assets at the time. So, like a good corporate archaeologist, let's keep excavating.
The creation of CPEC
CPEC was originally named "Intcera High Tech Group Limited" and made ceramic ferrules, a component of optical fibre connectors. It was listed on 7-Jul-2000, and suspended on 6-Oct-2003 after running into financial difficulties. Skipping forward to 2007, in connection with a final appeal against delisting, there was a set of recapitalisation proposals. On 7-Sep-2007, Joseph Lau agreed to subscribe $35.42m for 3542m shares (75%) of CPEC @$0.01 and on the same date President Securities (HK) Ltd agreed to place 458m shares (9.7%) at $0.01, a total of 4,000m shares. Then on 25-Oct-2007, there was another placing of 1,000m shares at the same price through the same agent. These issues were priced at a 90.2% discount to the net asset value of $0.102 at 31-Dec-2006 and would dilute existing shareholders' stakes by a factor of about 7.9.
On 14-Nov-2007 the Listings Appeal Committee approved resumption but listed several conditions, including a requirement that the company conduct a 1:1 non-underwritten rights issue which would allow existing shareholders some modicum of participation, and that Tanrich Capital Ltd (Tanrich Capital) be appointed as compliance adviser. Yes, really. Don't laugh. Just because sister firm Tanrich Futures Ltd has a regulatory history longer than the Titanic doesn't mean that Tanrich Capital would not be a good compliance adviser.
So on 18-Dec-2007 the rights issue was announced. Tanrich Capital was appointed as compliance adviser on 5-Nov-2007 and that role continued until 20-Mar-2008. Another condition of resumption was that the previous public shareholders would hold not less than 9.5% of the company after the placings and subscription (but before the rights issue). To ensure that this was the case, on 27-Feb-2008 CPEC announced a 1:20 bonus issue of 36,154,365 shares, and the financial advisers took 223,845,635 shares as partial remuneration (3.74% of the company), rounding this neatly up to a further 260,000,000 shares.
The circular went out on 29-Feb-2008, the placings and subscription were completed on 2-Apr-2008 and the rights issue prospectus was then posted. After 4.5 years in the deep freeze, trading resumed the next day. On 2-Apr-2008, the two placings were deposited to CCASS, of which 1,158m shares went into President Securities and 300m into Tanrich Securities. On 3-Apr-2008, Joseph Lau's 3,542m shares were deposited into CCASS via HSBC.
On the penultimate day for acceptance, the shares closed at $0.084, so it was a no-brainer that existing shareholders should take up the issue at $0.01, but the rights issue was only 91.9% taken up and the holders of the other 8.1% lost about 47% (0.074/0.158) of their investment instantly. The remaining shares were of course massively over-subscribed in "excess applications", by 336.3 times. The deal closed on 25-Apr-2008, and Joseph Lau then had 52.8% of CPEC.
Regulatory note: there are always some shareholders who can't or don't react in time or lack the cash to take up. They get massively diluted, because in HK rights issues, if you snooze, you lose. Unlike developed markets, there is no requirement for the company to sell the rights shares (if a surplus can be obtained) and give you the surplus over the subscription price. We call again for SEHK to fix this.
The creation of COMG
COMG was once known as "eCyberChina Holdings Limited", although the core business was property investment and development in HK and the PRC. The stock was suspended for 4 years from 2003 to 2007. To justify its continued listing, on 5-Mar-2007 COMG agreed via 100%-subsidiary First Union Limited (First Union) to buy a shopping centre in Hohhot City, Inner Mongolia, PRC for RMB58m (then HK$59.33m), all but HK$13m of which was deferred until 2 years after completion - what generous terms. This deal was struck just 4 days before a final appeal against the decision to delist the stock. The acquisition circular was dated 12-Jun-2007, the EGM was held on 20-Jun-2007 and the acquisition completed on 30-Jun-2007.
To raise the funds necessary to resume listing, COMG was recapitalised with a massive open offer of 30 new shares for ever share held at $0.12 each. Involved in this was an "Arranger", Executive Talent Limited (Executive Talent), the owner(s) of which were not disclosed, but we'll come back to that below. Conditional upon completion of the open offer, the Arranger received 44m new shares. The Arranger was introduced to COMG by LPD Consultants & Associates Ltd. We don't know who owned that, but it was dissolved by striking off on 23-Nov-2007. The arranger in turn introduced the underwriter, Tanrich Capital, with which it had "over three years business relationship". The underwriter arranged 3 unnamed sub-underwriters to take up any shares not subscribed by existing shareholders.
When the open offer was completed on 5-Oct-2007, it was not surprisingly undersubscribed, with shareholders only taking up 42.4% of the available shares. The underwriter lined up 4 (not 3) placees to take up the shares, as follows:
| Owner | Holder | Shares | Stake |
| --- | --- | --- | --- |
| Joseph Lau | Joseph Lau | 262,536,900 | 29.53% |
| Vicky Yu | Win Today | 100,000,000 | 11.25% |
| Frankie Ma Hoi Cheuk (Frankie Ma) | Big Good Management Ltd | 88,800,000 | 9.99% |
| Wu Ka Cheung | Wu Ka Cheung | 44,203,850 | 4.97% |
| Total | | 495,540,750 | 55.74% |
We know nothing about Mr Wu Ka Cheung, other than that he is "an employee of a pharmaceutical company". We will tell you more about Frankie Ma below. All four owners claimed to be independent of each other, so there was no controlling shareholder and no general offer obligation. They each said they had no intention of joining the board. That's important, because directors of a company are presumed under the Takeover Code to be acting in concert with each other. 53 days later, Joseph Lau was appointed as CEO. The others have not joined the board. Most of the above stock was in custody of Tanrich Securities, which held 69.56% of the company on 5-Oct-2007.
So there, again, we have Vicky Yu. She is said to be independent of Joseph Lau and COMG, but not only did she invest in iKanTV and CNMHK, two start-up subsidiaries of COMG, but she was also one of the original investors in COMG.
Vicky Yu and Frankie Ma held their stakes in COMG for over 2.5 years. Frankie Ma's first sale was 40m shares @$0.18 on 9-Apr-2010, cutting below 5%. Vicky Yu's first sale was 11m shares @$0.255 on 19-Apr-2010, followed by 30m shares @$0.265 on 6-Aug-2010, cutting below 5%.
Sale of the Inner Mongolian shopping centre to Target Smart
On 26-Nov-2008, COMG agreed to sell First Union, the purchaser of the shopping centre property in Inner Mongolia, PRC, to Target Smart Ltd (Target Smart, BVI), for HK$35m of which $30m was deferred for 12 months after the date of the EGM to approve it. Of the original purchase price of RMB58m, RMB18.88m had not yet been paid, so the new owner would pay that, and overall, COMG expected to book a loss of HK$14.2m on the sale. The circular was dated 29-Dec-2008, the EGM was held on 19-Jan-2009 and completion of the disposal took place on 3-Apr-2009. COMG did not say who owned Target Smart, but we can tell you soon.
COMG issues warrants to Target Smart and Get Profit
On 6-May-2009, less than 5 weeks after completing the sale of First Union to Target Smart, on which $30m was still owing, COMG announced that it would issue unlisted 2-year warrants to subscribe 210m new shares (16.04% of COMG) at $0.20 per share. The price per warrant was only $0.0025, raising just $450k. There were 2 subscribers: Get Profit for 150m warrants and Target Smart for 60m warrants. This time, the owners were disclosed. Target Smart was owned by Mr Huang Gui Dong. We know nothing else about him. And if you have been paying attention, then you will recall that Get Profit was owned by Mr Kwok, and that via Get Profit, he sold 9% of iKanTV to CPEC a month earlier.
At the time of both transactions involving Mr Kwok, Joseph Lau was the largest shareholder and CEO of COMG, and was the controlling shareholder and Chairman of CPEC, but Mr Kwok was said to be an independent third party.
The announcement of the warrant issue made no mention of Get Smart's ongoing obligation to pay COMG for the disposal of First Union.
On 8-Jan-2010, a year after the EGM to approve the sale of First Union, COMG agreed that Get Smart would have another 15 months to pay the $30m it still owed out of the $35m purchase price, until 31-Mar-2010, without saying why or receiving any compensation. On 31-Mar-2010 they delayed it again to 30-Jun-2010, and on that day, having received only $1m by then, the remaining $29m was delayed again to 31-Dec-2010. By that date, another $3.04m had been received, and the remaining $25.96m was delayed again until 30-Jun-2011. Finally on 4-Jul-2011 COMG announced that it had received full payment on 30-Jun-2011, almost 18 months late.
From various disclosures, we can tell you that the warrants were exercised and the shares deposited into CCASS as follows:
On 8-Jun-2010, Get Profit apparently sold 50m warrants at about $0.003 each. We don't know who bought them. On 23-Aug-2010 Target Smart went short 10m shares and dropped below the 5% radar screen due to dilution. So we can't be sure who exercised the last 50m of the warrants, but it appears to be a client of GF Securities (Hong Kong) Brokerage Ltd. Bizarrely, 100m warrants lapsed on expiry on 17-May-2011, despite the market price ($0.42) being well above the exercise price ($0.20) by then.
Looking at the share price graph, we wonder whether the eventual settlement by Target Smart of the overdue payment for First Union was only made possible by the exercise of the warrants and sale of the shares at a profit. The shares surged in early 2011 and reached a daily high of $0.60 on 14-Mar-2011. If the share price had not risen, would Target Smart have ever paid what it owed for the purchase of First Union?
COMG issues warrants and bonds to So Ka Yan
On 19-Feb-2010, COMG agreed to issue to a BVI company owned by Ms So Ka Yan (KY So) 2-year warrants to subscribe 64m shares at $0.16 per share, a 3.9% discount to the 5-day average, for an issue price of just $0.003125 per warrant. The net proceeds from the warrant issue were only HK$75k. She also subscribed $9.8m of 4% 2-year notes convertible at the same price into 61.25m shares. Together, these would give her a 9.83% stake in the enlarged company. The announcement states that she "became acquainted with the management of [COMG] at a social function and she is an investor who has been investing in the securities market in Hong Kong for years." We know nothing else about KY So.
The loan notes were issued on 26-Feb-2010 and were fully converted on 12-Apr-2011. The resulting shares were probably deposited into CCASS with Tanrich Securities on 14-Apr-2011. On 20-May-2011 20m warrants were exercised, and these were probably deposited with CNI Securities Group Ltd on 25-May-2011. The remaining 44m warrants were not yet exercised at 31-Jan-2012 and were due to expire on 25-Feb-2012. KY So do not appear to have filed proper disclosures of interest. She filed an interest in the 64m shares under warrants as at 19-Feb-2010 and an interest in the shares under the convertible notes at the same date, but has never aggregated the two.
Senrigan Capital invests in CPEC
On 7-Oct-2010, CPEC agreed to issue 180m shares (8.83%) @$0.20 each, a 19.7% discount to market, in a top-up placing to the Senrigan Master Fund managed by Senrigan Capital Group Ltd. Joseph Lau was the vendor and subscriber. We can see 180m shares being transferred from HSBC to Emperor Securities on 7-Oct-2010 and then transferred to Credit Suisse on 12-Oct-2010. The replacement shares were deposited with HSBC on 26-Oct-2010. So it is clear that Joseph Lau keeps or kept his shares with HSBC.
3 weeks later, on 29-Oct-2010, Senrigan increased its stake to 300m shares (14.72%) in an off-market purchase of 120m shares at $0.10, a 49.8% discount to the market VWAP of $0.201 that day. We can see 120m shares moving on the same day from Tanrich Securities to Goldman Sachs, and then 4 days later on 2-Nov-2010, 120m shares moved from Goldman Sachs to HSBC. The shares kept bouncing between the two accounts, suggesting that HSBC is the fund's master custodian and Goldman Sachs is a prime broker. The fund still owns 292m shares (9.43%) of CPEC.
So overall, Senrigan purchased 300m shares at an average of $0.16. Given the proximity of the transactions and the very large discount on the second one, it is a reasonable inference that they were part of the same arrangement. Looking at the history of Tanrich's custody holding in CPEC, the 120m shares transferred by Tanrich to Senrigan's broker probably included the remaining 80m shares originally held by Vicky Yu (we don't know whether she still owned them at that time) and another 40m which were transferred from HSBC to Tanrich on 29-Jan-2010. We don't know who sold Senrigan 120m shares at a 49.8% discount to market, or why.
Ratio Knitting
On 6-Jan-2011, CPEC agreed to buy Easy Time Trading Ltd (Easy Time) from Big Good Management Ltd, owned by Frankie Ma, for HK$390m, of which $260m was in irredeemable convertible preference shares, $50m in zero-interest 5-year notes and $80m in shares. The shares and preference shares were issued at $0.15 each. The preference shares are entitled to the same dividend as ordinary shares (if any) but have no votes, keeping him below the takeover threshold - indeed, the deal is structured to keep him below 20% of the voting rights, even though he will have 52.66% of the enlarged equity.
Easy Time is a shell which owns 99% of Ratio Knitting Factory Ltd (Ratio Knitting), which was incorporated in HK in 1982. Frankie Ma owns the other 1% directly. It is "principally engaged in the manufacturing for and trading of high-end swimwear and related garment products to some international brands". In the year to 31-Mar-2010, it had turnover of $84.0m and a net profit of $15.4m, with consolidated net assets of just $7.55m at 30-Sep-2010. That's presumably because it doesn't own much but outsources its knitting. Turnover and profit declined substantially from the previous year.
On 20-Oct-2010, after Frankie Ma acquired Ratio Knitting, it incorporated a new subsidiary, Yofiel International Group Ltd (Yofiel), which the next day "entered into a license agreement to obtain the exclusive right in using the underwear brand 'Angevil' in the PRC, Hong Kong and Macau for a term of 50 years." This only cost HK$1.
The circular dated 11-Mar-2011 gives more information, including that Mr Ma only paid $50.08m to acquire Ratio Knitting in Sep-2010 - so 3 months later, he was flipping it to CPEC at about 8 times the price. Perhaps that's why there are $50m of promissory notes in the deal - so that even if the shares collapse, he breaks even as long as CPEC redeems the notes. To justify the deal, the vendor guaranteed a profit of $20m in the year to 30-Sep-2011, implying a P/E ratio of 19.5, and adjusting by 19.5x any shortfall subject to a cap of $130m (using the notes and then the shares), so even if there were zero profit, he would still get $130m of convertible preference shares.
Reporting accountants RSM Nelson Wheeler qualified their report "owing to the incompleteness of Ratio Knitting's records" regarding the inventory balances. The circular also states that the licensor of Angevil, Guangzhou Jin Pin E-Commerce Co Ltd, acquired the trademark "by chance" and as it has limited experience in the lingerie business, the owners agreed to licence the use of the trademark to Mr Ma for $1.
Now guess who one of the executive directors of Ratio Knitting is? The one and only Vicky Yu. Take a bow. The 31-year-old is a director of Ratio Knitting and Yofiel "since 2010", the year in which Frankie Ma bought it. So this deal involves the 3 main people who recapitalised COMG in 2007: Joseph Lau (the Chairman who still owned 29.75% of CPEC), Frankie Ma, and Vicky Yu.
The deal completed on 31-Mar-2011, by which time Easy Time had net assets of $27.6m, and because the share price had gone up, the deal was then worth $673.2m, so there was an impairment charge of $278.2m to bring it back down to $395m at that date. The $80m of shares were later issued on 28-Dec-2011 after the profit guarantee had apparently been satisfied and a tax issue had been resolved.
Before that, Frankie Ma dealt with the CPEC preference shares as follows:
On 15-Apr-2011, he disposed of 380m preference shares for an undisclosed price to unknown person(s). 3 days later, these preference shares were converted into 15.72% of the enlarged ordinary shares. 3 blocks of shares totalling 380m were deposited into Phillip Securities (HK) Ltd: 50m on 21-Apr-2011, 270m on 28-Apr-2011 and 60m the next day.
On 19-Jul-2011, he disposed of 200m preference shares for an undisclosed price. These have not yet been converted.
On 5-Sep-2011, he converted 50m preference shares into 50m shares. On 8-Sep-2011, 50m shares, probably his, were deposited with Celestial Securities.
On 28-Dec-2011, the 533,333,333 consideration shares were issued to him. The same number of shares was deposited with Tanrich Securities on 12-Jan-2012.
He still owns 563,333,333 shares (18.19%) and about 1,103m preference shares.
Joint Fortune Group Ltd
We pause to note that a substantial shareholder in CPEC, Joint Fortune Group Ltd (Joint Fortune, BVI) appeared on 26-Jan-2011, with a holding increased by 26.8m shares from 6.77% to 8.08%. This implies that they went through 5% earlier but failed to disclose it. Nobody has declared an interest in Joint Fortune, implying either a failure to disclose or that nobody owned 1/3 or more of Joint Fortune. It gave a HK address in the first filing but not in later filings. A corresponding 26.8m shares moved to Kingston Securities on settlement day, and they bought another 15.1m the next day, also through via Kingston Securities. On 7-Mar-2011, Joint Fortune increased its holding to 9.29%, its highest known point. That was before the EGM on 28-Mar-2011 to approve the purchase of Easy Time.
On 7-Dec-2011 Joint Fortune sold 50.5m shares through Kingston Securities, reducing its holding from 8.76% to 4.99%, below the radar. We will probably never know who owned it.
Domains connect Frankie Ma to Joseph Lau
The domain record for CPECH.COM.HK, registered to China Post E-Commerce Group Ltd (100% owned by CPEC) gives its administrative contact as "FRANKIE MA" and his e-mail address at COMG.COM.HK, which of course is the domain of COMG. So it appears that while Frankie Ma was never a COMG director, he had some kind of relationship with COMG. The CPECH.COM.HK domain was registered on 18-Mar-2009, a long time before he sold ratio knitting to CPEC in early 2011, although it could have been updated afterwards.
In turn, the domain record of COMG.COM.HK gives "FRANKIE MA" as the contact, and it is registered to COMG's old name of "ECYBERCHINA HOLDINGS LIMITED", suggesting that he was involved early in the process. Frankie Ma's e-mail address in that record is at JLIC.COM.HK, which (hit the link) takes you to the web site of, wait for it: JL Investments Capital Limited (JLIC) (snapshot here), the company owned by Joseph Lau that controlled CPEC. Frankie Ma's same e-mail address is also listed on the JLIC contact page (snapshot here), below what is presumably Joseph Lau's (joe@). Of course it is possible, though unlikely, that there are two different people called Frankie Ma, one who sold Easy Time to CPEC, and one who appears with Joseph Lau at JLIC.
In turn, the domain record of JLIC.COM.HK is registered to "AMPLETEX TRADING LIMITED", and the administrative contract is "FRANKIE MA". A company by that name was incorporated in HK on 21-Aug-2006 but we can find nothing else about it.
KH Investment (fka Satellite Devices)
Vicky Yu's market history goes back further. She was an Executive Director of KH Investment Holdings Ltd (KHIH, 8172) from 26-Aug-2005 to 3-Apr-2007, when she became non-executive, stepping down on 28-May-2008. When she joined, the company was called "Satellite Devices Corporation". Then aged 26, she already had "over 8 years of experience in sales and merchandising in the textiles trading and fashion retailing business", so she had been at it since at least the age of 18. Her remuneration as Executive Director at KHIH for the 9 months to 31-Dec-2006 was HK$40,000, or about $4,444 per month.
You might wonder, how does someone who has been involved in the textile and garment industry all her adult life come to invest in so many advertising media ventures, including COMG, CNMHK and iKanTV? So do we.
In a restructuring advised by Kingston Corporate Finance Ltd, on 10-Oct-2005 KHIH entered into a "Loan Capitalisation Deed" with "the Creditor". And guess who the Creditor was? Executive Talent, which had loaned the company $6,758,586.32, and this was converted into shares at $0.10 each, or 10.2% of the enlarged company. Given their subsequent involvement in the creation of COMG, when the Arranger was Executive Talent, it seems at least possible that Vicky Yu's appointment was related to the loan from Executive Talent.
As far as we can tell, this was the only time that the owner of Executive Talent has been disclosed - a Ms Wu Ling Yee. We know nothing else about her, except for a residential address given for Executive Talent in a disclosure of interests.
Research tip: in a world with so much data, when you search for a name on the web for someone purportedly involved in large financial transactions, and find no matches other than the transaction you are looking at, there's a higher probability that the name is just a front for someone else, a borrowed identity. It's rather like trying to find black holes - you can't see them directly, but the absence of light emanating from that region of space, and the activity around it, points to their existence.
The KHIH restructuring deal involved a 3:1 open offer, and a circular dated 27-Mar-2006 gave more information on the underwriting arrangements. One of the sub-underwriters was Alex Fung Chan Man. He has been an INED of CPEC since 30-Apr-2008, soon after Joseph Lau became its controlling shareholder.
Building the matrix
Here's a little table of connections (past or present) so far.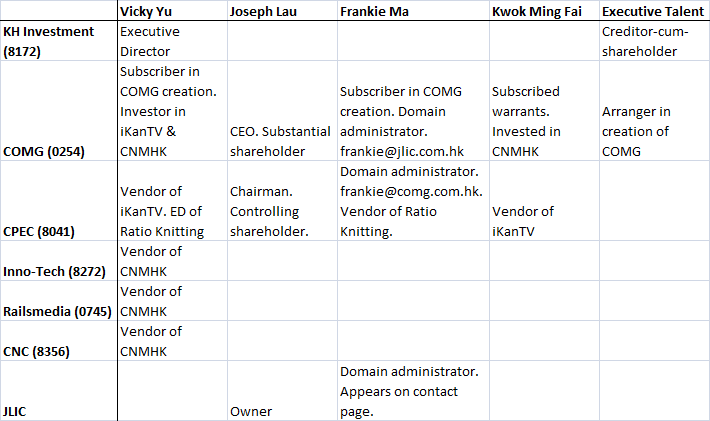 We call on the SFC to investigate the connections between these parties. The areas they should investigate include, but are not limited to:
Were Joseph Lau, Vicky Yu, Frankie Ma and Kwok Ming Fai really independent of each other when they took a combined majority of COMG after the open offer in 2007, without a whitewash waiver under the Takeover Code?
Was Vicky Yu really independent when she invested nominal amounts in two start-up subsidiaries of COMG, namely iKanTV and CNMHK?
Was Vicky Yu really independent when she sold stakes in the start-ups to CPEC, Inno-Tech, Railsmedia and CNC, probably at a huge profit?
Was Kwok Ming Fai really independent when he sold a stake in iKanTV to CPEC?
Was Frankie Ma really independent when he sold Easy Time, owner of Ratio Knitting, to CPEC, for almost 8 times what he paid for it? Are he and Joseph Lau, both listed as contacts at JLIC, acting in concert to control CPEC?
Why is Tanrich Securities so often the broker of choice for depositing shares received by "independent third parties" in consideration for these acquisitions?
Who really owns or owned Executive Talent?
Who really are Wu Ka Cheung (subscriber in the COMG creation), So Ka Yan (unlisted warrant subscriber), Wu Ling Yee (owner of Executive Talent) and Huang Gui Dong (owner of Target Smart). Were they really independent?
Who owned Joint Fortune?
We'll tell you more about Executive Talent's dealings in Part 3, when we will introduce Hycomm and Wo Kee Hong, amongst others.
© Webb-site.com, 2012
---
Organisations in this story
People in this story
---
Sign up for our free newsletter
Recommend Webb-site to a friend
Copyright & disclaimer, Privacy policy
---