Webb-site reveals that 2015 saw the slowest net growth in HK companies since the recession of 2003 and record levels of dissolution. Market forces may still be alive though, with about half of 2007's companies already closed, despite the Government's increasing intervention. We don't need an Innovation and Technology Bureau, but we do need removal of Government barriers to information and competition - and they could start by removing the paywall on public registries.
HK companies see record closures, slowest growth since 2003

2 January 2016
It is that time of year when the media roll out stories about the first babies of the new year, born just after midnight, looking just like the first babies of the previous year. So we thought for a change we should do the same for companies while looking back at 2015. So congratulations to the proud shareholders of COLORANGE TECHNOLOGY LIMITED, the first HK-incorporated company of 2016, number 2325849.
Webb-site can reveal that only 139,209 companies were incorporated in HK in 2015, down 16.8% from 2014 (167,290) and the lowest incorporation rate since 2009 when 109,424 were incorporated. We are still finalising data collection for the existing companies to check for dissolutions in the last few days of the year, but we can tell you that 2015 was a record year for dissolution of companies, with at least 121,963 dissolved, up 111% from 57,685 in 2014 and easily beating the previous record of 61,982 in 2012.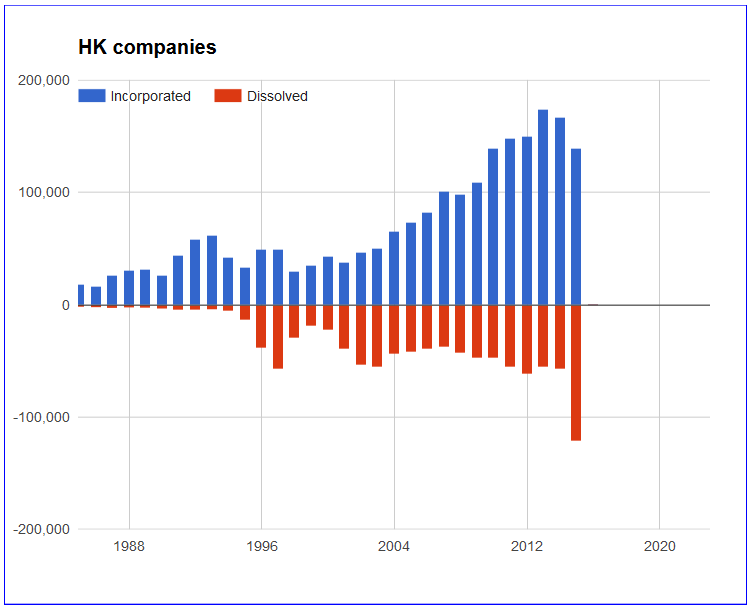 Consequently, the net increase in companies was not more than 17,246, the slowest rate of growth in company population since the last recession in 2003, when we lost a net 5,641 companies. For the latest charts and data click here. So in summary, HK ended the year with about 1.290m live companies, up 1.4% on 2014. That measure includes companies which have begun dissolving but have not yet completed the process.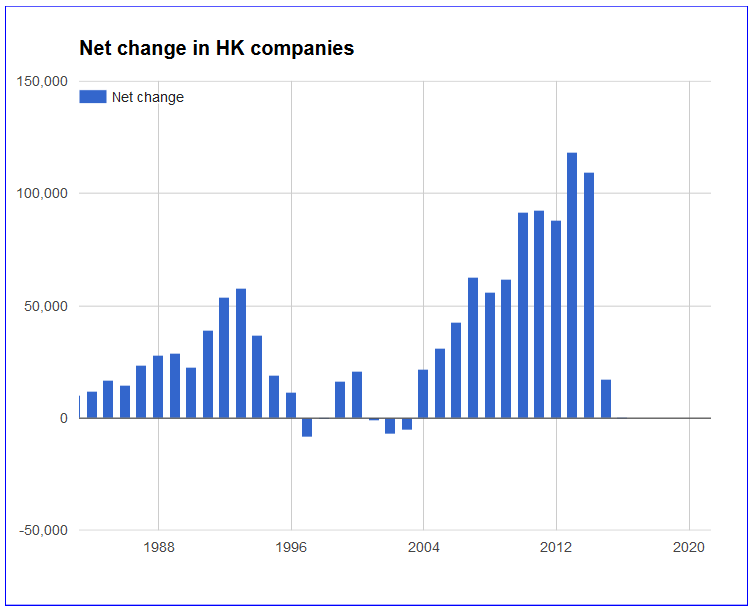 Meanwhile, looking at our survival analysis, at the end of 2015, over a quarter of the companies incorporated in 2011 are now dissolved, with 74.8% surviving, and nearly half the companies incorporated in 2007 are dissolved, with only 50.9% surviving, after an average of 8.5 years since they were incorporated. One could say that the median life expectancy of companies born in 2007 was about 8.5 years. Unlike people, this high rate of infant mortality for companies is not necessarily a bad thing. It rather testifies that despite increasingly interventionist government policies (including propping up businesses with loan guarantees and handouts like the BUD Fund) , companies are still allowed to fail, freeing up resources in the process of Schumpeter's creative destruction.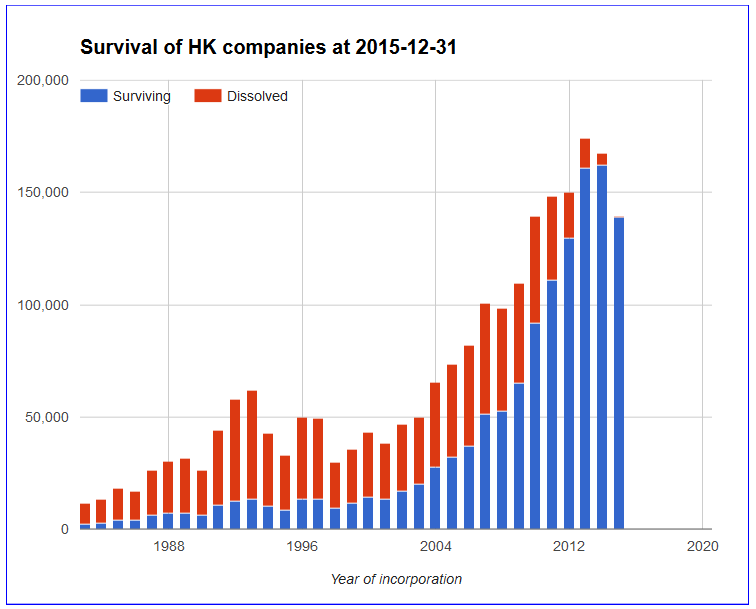 For companies limited by guarantee (which cannot distribute profits, such as members' clubs, professional, sports and alumni associations, political parties, think tanks, churches and some charities), there was a record number of 946 new incorporations, but also a record number of dissolutions of at least 718, resulting in a net increase of not more than 228. There were about 12,724 at the year end. For the latest charts and data click here. The net number of such companies has grown every year since 1998 inclusive. Incidentally, the oldest surviving company limited by guarantee is The Hong Kong Club, incorporated 31-Dec-1885, so it was 130 years old on New Year's Eve, although it has a history before incorporation.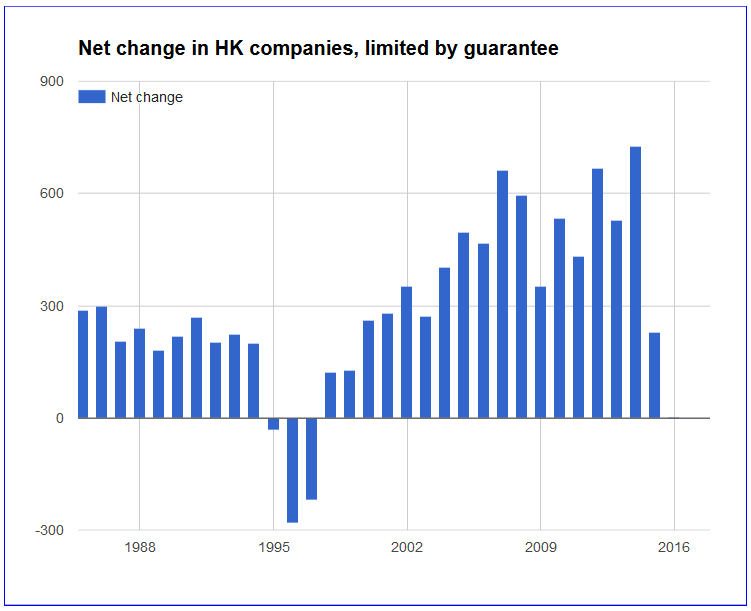 Turning to overseas companies, 894 were registered in HK during 2015, while at least 452 were deregistered or dissolved, for a net increase of about 442. That takes the total still here and not dissolved to a provisional 10,029, a growth of 4.6% and over 10,000 for the first time. Of these, 1,647 have a primary listing on The Stock Exchange of Hong Kong Ltd (SEHK). There are only 211 HK-listed HK-incorporated companies. Don't assume that non-HK companies are ultimately owned by non-HK residents. Many of them are not.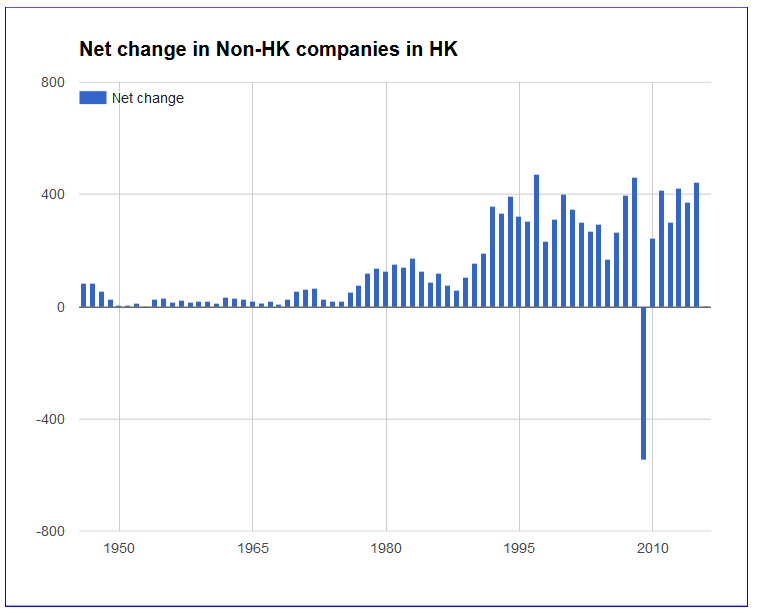 The most popular domicile for HK registration is the BVI with 4,391 (only 8 of which are HK-listed), then Cayman Islands with 1,488 (of which 875 are HK-listed) and Bermuda with 667 (of which 517 are HK-listed). Click here for a complete list of domiciles.
Footnote
All our HK-incorporation and registration data is sourced from the Companies Registry. The CR does not provide any daily data dump or API, so we collect it the hard way by scraping web pages. Some years ago they throttled the access to only 39 pages per minute, so updating 1.3 million live companies (and occasionally checking the dead ones for restoration) takes longer than it used to. The HK Government is not really committed to open data. This is evidenced by the fact that there is still a paywall on digital documents at the Companies Registry and Land Registry, despite the fact that both of them would make a handsome profit from filing fees alone. As monopoly Government-owned services, they shouldn't be in it for profit. We suspect the policy is more driven by misguided privacy concerns about the data, so they make it harder to get by charging for it.
Kudos to UK Companies House, which in the Summer set the standard by opening its digital documents to free public access. Try it here. When will HK do this?
The Government has recently set up an Innovation and Technology Bureau, but it will be hard to innovate when so many Government barriers stand in the way. The last time we had such a bureau (the former Information Technology and Broadcasting Bureau), the result was the Cyberport - the Government-owned hotel, cinema, shopping mall and offices, and guess what - the former CEO of the Cyberport from 2003-2010, Nicholas Yang Wei Hsiung is now the Secretary for Innovation and Technology. He joined the Cyberport after 20 years at his father-in-law's company, electrical appliance-maker Shell Electric Mfg. (Holdings) Co Ltd (now China Overseas Grand Oceans Group Ltd).
All that HK really needs for economic innovation is for the Government to get out of the way, remove barriers to information and competition (see our transport cartels article for starters), provide a decent education for HK's children and let the market function. That would be the single biggest innovation it could achieve - and they could start by removing the paywall on public registries.
© Webb-site.com, 2016
---
Organisations in this story
People in this story
Topics in this story
---
Sign up for our free newsletter
Recommend Webb-site to a friend
Copyright & disclaimer, Privacy policy
---