Following this week's charges by the ICAC against certain directors of Upbest (0335), Webb-site.com looks at the connections between EganaGoldpfeil (0048) and Upbest, and we don't like what we see. There's a mixture of out-and-back profit-generating transactions, innovative accounting policies, investments in closed-end funds, interest-free "deposits", rolling promissory notes and yes, an aborted gas transaction in the PRC. Are we looking at the next Moulin here?
Egana and Upbest

26 July 2007
Loyal readers of Webb-site.com will recall that on 4-Mar-04, we published a story called Cooking with Gas, questioning a purported investment in a piped gas project in Chongqing by Grand Field Group Holdings Ltd (Grand Field, 0115). We are pleased to note that on Monday (25-Jul-07), the Independent Commission Against Corruption brought charges against the then Chairman and a then executive director for alleged conspiracy to defraud Grand Field's shareholders and the Stock Exchange.
Also charged were two executive directors of Upbest Group Ltd (Upbest, 0335) Charles Cheng Kai Ming (Mr Cheng, its founder) and George Li Kwok Cheung, and an independent non-executive director (INED) of Upbest, David Wong Wai Kwong (Mr Wong). It turns out that, according to the ICAC announcement, Upbest (or one of its subsidiaries) was advising Grand Field on the acquisition of the gas project. You might wonder why an INED would be charged, since by definition, they don't perform executive functions, but it probably relates to his work in another capacity. He was a director of another firm, International Taxation Advisory Services Ltd (ITA).
They are all, of course, innocent unless and until proven guilty.
Now that we have your attention, put a big pot of coffee on and let's take a look at the extensive connections between Upbest and EganaGoldpfeil (Holdings) Ltd (Egana, 0048), and at transactions by Egana and questionable accounting policies which together have flattered their earnings and in at least two years prevented them reporting a net loss. Readers may recall we last criticised Egana, amongst several other companies, in relation to its issuance of toxic convertibles.
For starters, we note that Mr Wong has been an executive director of Egana since 4-Jan-05 and until then served as a non-executive director from Jul-92, before Egana's Jan-93 IPO. However, he was never an independent NED, because his firm ITA had long-standing dealings with Egana, providing "taxation and corporate advisory services" at least since the IPO, booking fees of $7.34m in the year to May-03 and $7.40m in the year to May-04, declining to $2.31m in the year to May-05 because he switched to being an executive director and went on the payroll instead. As a director, he was paid $1.93m in the year to May-06 and $0.91m in the previous part-year since his appointment.
Incutech
Before we go back to Egana, let's build a few connections. Mr Wong has also been, since 28-May-04, an executive director of Incutech Investments Ltd (Incutech, 0356) a closed-end investment company listed under Chapter 21 of the Listing Rules on 7-Jun-02 and sponsored by Upbest Securities Co Ltd (Upbest Securities), a wholly-owned subsidiary of Upbest.
Like most investment companies, Incutech had no track record before listing, and raised its funds at the time of the IPO, issuing 60m shares at $1 each. Incutech's investment manager was and is Upbest Assets Management Ltd (UAM), a wholly-owned subsidiary of Upbest. On 14-Nov-03, Incutech placed 12m new shares at $1.10 each through Upbest Securities, raising $13.0m net. There have been no other share issues by Incutech since then.
Reviewing the Incutech annual reports from 2002 to 2006, we find that Incutech has consistently held shares in Upbest, and also in UBA Investments Ltd (UBA, 0768), another Chapter 21 investment company which is also managed by UAM, which was listed on 18-Jan-00. Mr Wong has served as an INED of UBA since 23-Nov-99 (before its Jan-00 listing).
Not only that, but Incutech has a consistent affinity for the Egana group, investing in Egana and its 1998 spin-off Egana Jewellery & Pearls Ltd (Egana J&P), which was delisted on 24-Oct-06 after Egana took it private again. In 2002 Incutech also had a holding in Tonic Industries Holdings Ltd (Tonic, 0978), which was and is an associated company of Egana (Egana owns about 20%). In recent years, Incutech's listed investments have been exclusively in Upbest/UBA and the Egana group. Here's a table of Incutech's only listed investments in all the annual reports since it was listed: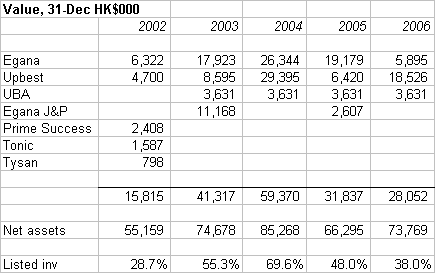 As you can see, at one stage at the end of 2004, the investments in Egana, Upbest and UBA amounted to almost 70% of Incutech's net assets. As of 31-Mar-06, UBA also holds shares in Egana, Tonic and Grand Field, accounting for a combined 30% of UBA's net assets at 31-Mar-06.
Co-investments
Apart from Incutech's listed investments in the Upbest and Egana groups, Incutech and Egana have also invested in at least two of the same companies.
According to note 17 of Egana's 2000 annual report, in Dec-00, Egana acquired an 18.75% stake in Super Plus Investments Ltd (Super Plus), "whose subsidiary is principally engaged in distribution and trading of fashion accessory products", for HK$23.4m. In 2003, Incutech acquired (see note 13) 4,500 shares, or 9%, of Super Plus from unnamed parties at a cost of $11.25m. Incutech now described Super Plus as "investing in a diversified portfolio...in listed and unlisted companies involving in distribution of consumer products in Greater China."
Also in Dec-00, Egana subscribed US$14.2m (HK$110.76m) in 3-year 8% convertible notes issued by Tonga Group Holdings Ltd (Tonga), a BVI company which intends to "invest in forestry business for the exploitation of forest, processing of wood as well as trading of wood products and to establish a leading B2B building material exchange platform with global coverage". US$10m of the note was convertible into 15% of Tonga. The notes were redeemed at par in 2001.
According to note 31(a) of the Dec-00 accounts, In Feb-01 and Mar-01, Egana subscribed for 15% of Tonga for HK$46.8m (US$6m). It also said that Tonga "intends to participate in a forestry project in Suriname to process wood in an environmentally manner...". Note 27(b) of subsidiary Egana J&P's 2000 annual report states that it subscribed 12.5% of Tonga for US$5m (HK$39m) in Feb-01, so the other 2.5% was by its parent for US$1m. Super Plus also subscribed for 6.25% of Tonga.
Ah, Suriname, lovely place. No, we've never been there, but the name invokes memories of a transaction by delisted Luen Cheong Tai International Ltd (LCT), which on 31-Aug-00 announced that it was buying a forest concession in Suriname for $125m from two anonymous vendors. LCT was later renamed Baker Group International Holdings Ltd. Provisional liquidators were appointed on 5-Sep-02 and it was delisted on 16-Mar-05. Is there any connection between this project and Tonga's project in Suriname? Quite possibly. We note that liquidators of Baker Group are now suing several defendants, including Upbest Securities, ITA and Mr Wong. On 17-May-00, Upbest Securities arranged the issue of HK$24m in convertible notes by Luen Cheong Tai Engineering Ltd (LCTE), a newly-incorporated wholly-owned subsidiary of LCT, "to expand the building materials activities...which includes the possibility of extending it on-line and marketing the same through the internet...". The notes were convertible either into shares of LCTE or LCT. We wonder who subscribed for those notes.
In 2002, Egana changed its year-end to May, resulting in a 17-month financial period. Looking at Egana J&P, note 16(a) of its May-02 report shows that it held 25% of Tonga at a valuation of $71.4m, including a revaluation surplus of $32.4m. This implies a book cost of $39m, which is puzzling because the previous report said that they were paying that much for 12.5%, not 25%. Did the price halve, or did Tonga reduce the number of shares in issue by a half? Note 17(a) of Egana's May-02 report puts the investment at $85.6m (US$11m). This implies that the parent Egana held 5% of Tonga, for a total of 30%, but did not treat it as an associate. According to note 30(a) of Egana's report, in Jul-02 it subscribed for an additional 4.75% of Tonga at a price of $14.82m (US$1.9m), increasing its interest from 30% to 34.75% and implying a valuation for Tonga of US$40m.
In 2003, Incutech invested HK$11.1m in 75 shares, or 3.75%, of Tonga, by then described as involved in "distribution of building material and commodity products in China and Indonesia."
In subsequent annual reports, Egana avoids naming either Super Plus or Tonga, referring to them only as "two third party private companies" so it is harder to track exactly what happened to them, but the May-03 report states in note 18(a)(ii) that during the year, it "fully divested its equity interest in one of the private companies and partially disposed of...its equity interest in the other...for a total consideration of approximately $102 million, resulting in a gain on disposal of $35,980,000".
Now Note 17(b) of subsidiary Egana J&P's May-03 report states that it sold "certain of its equity interests in an unlisted company" for a "consideration" of $35m, booking a gain on disposal of $15.5m. That implies a book cost of $19.5m, which implies that they sold half of their 25% stake in Tonga. However, the consideration was not in cash, as the sale proceeds do not show up in the cash flow statement. It valued the remaining 12.5% stake at $37.1m.
Deducting Egana J&P's sale of half its Tonga stake, this means that the parent Egana sold its own 9.75% stake in Tonga and all of its shares in Super Plus for a total consideration of $67m and a total gain of $20.48m. Assuming it got the same price per share of Tonga, then it sold 9.75% for $27.3m, for a gain of $4.68m. So we infer that the stake in Super Plus was sold for a gain of $15.8m (US$2m) which implies a sale price of $39.2m.
In Egana's May-04 report, Tonga was described as being involved in "investment holding, trading of consumer products and rendering of marketing promotion service." No mention of wood. Also, note 18(a)(i) mentions a new unnamed strategic investment. Its principal activities are "investment holding, distribution and trading of fashion accessory products." That sounds a lot like Super Plus again, using the same description as the Dec-00 report, but we don't know, as the investment wasn't named.
In 2004, Incutech increased (note 12) its investment in Super Plus from 9% to 12% at an additional cost of $5m. It also increased its investment in Tonga from 3.75% to 5% at an additional cost of $3.7m.
Egana J&P's remaining 12.5% stake in Tonga was disposed of in the year to May-06 for a gain of $1.8m. In 2006, Incutech again increased (note 12) its stake in Super Plus from 12% to 20%, at an additional cost of $14.6m, and disposed of its investment in Tonga.
Investment funds, deposits, ELNs and gas!
Now, let's take a closer look at the Egana balance sheet. To follow along, you'll need the annual reports we linked to above.
May-02
Note 17(b) of Egana's May-02 report discloses that during the period, Egana invested about $168.6m "as strategic shareholder in five private closed-end funds for medium-term capital appreciation potential...under the management of a third party Hong Kong listed investment banking group ("LISTED CO")." These funds were valued at 31-May-02 at $169.4m. Note 18(c)(ii) shows that Egana's current assets also included unsecured interest-bearing promissory notes of $112m due from the five funds and $76m from an "independent third party". That took the total invested in the funds to $281.4m.
Furthermore, note 18(c)(iii) shows that Egana held unsecured interest-free "short term deposits" (you might regard them as loans) of $135.2m with LISTED CO in relation to the "proposed acquisitions of two target companies". It remains unclear why it was necessary to make such advances to LISTED CO or whether the acquisitions were eventually made by Egana. Note 18(c)(i) also shows investments in $120.5m of equity-linked notes issued by a private company "in which the controlling shareholder of the LISTED CO...has a beneficial interest".
If you add all that up - the investment funds, the promissory notes they issued, the interest-free deposits (or loans) with LISTED CO, and the equity-linked notes, then you've got a total exposure of $537.1m related to the unnamed LISTED CO or its controlling shareholder. Egana's net tangible assets at 31-May-02 were only $880.0m, so that's about 61% of Egana's net tangible assets. That figure doesn't include one more project related to LISTED CO which we haven't mentioned - but we'll get to that in a moment. You'll love it.
Despite the extent of the exposure, Egana has never named any of these funds or explained what they actually invest in, and despite the frequency of mentions, the name of that listed group has never been disclosed in Egana's accounts, but could it by any chance be Upbest? The investments of Incutech in Egana, the fact that they both made investments in Super Plus and Tonga, the fact that Incutech's investment manager is Upbest, and the fact that Mr Wong is a director of both Incutech and Egana as well as an INED of Upbest, strongly suggest that LISTED CO is Upbest, which is controlled by Mr Cheng.
May-03
In its May-03 annual report, Egana was now describing its investments in the context of its Junghans watch business. It said in note 18(a)(iii) that the "five private closed-end funds...provided opportunity for the Group to explore Junghans systems watch program extension in Asia and to exploit distribution alliance partners for the Group's branded products in Greater China markets". The funds were valued at $204.1m.
The ELNs had been reduced to $7.0m, and Egana had $79.2m (including $42.9m through Egana J&P) of unsecured interest-free deposits with (or loans to) LISTED CO in connection with the "proposed acquisitions of three target companies" (two through Egana J&P) which were unsecured and not interest-bearing. Again, why was it necessary to advance money to LISTED CO, and where these acquisitions ever completed?
Egana also held $60.5m of promissory notes issued by "two independent third parties".
Gas - deja vu?
Note 17(b)(ii) of the May-02 annual report discloses that in May-02 Egana, "through a private closed-end fund managed by the LISTED CO, secured the investment of a 3% interest of an in-house gas supply project in the [PRC] and paid the full consideration of $70 million". Oooh. Now we are beginning to wonder. Where was that gas project? May-02 was the same month in which Grand Field claimed to have invested in the now-infamous piped gas project in Chongqing, PRC, which led to this week's ICAC charges against its then-directors.
In Egana's May-03 report, note 18(a)(iv) stated that the gas project was "with a view to introducing Junghans systems watch program to public utility facilities." Apparently, gas pipes wear watches. It added that in November 2002, Egana "disposed of the investment at cost due to delay by the project operator to obtain necessary government approval of the gas supply project". That was about three months after Grand Field purportedly withdrew from its gas project in Chongqing. Could these be the same project? One thing doesn't match though - Egana's project was $70m for 3%, implying a total valuation of $2,333m, whereas Grand Field's investment in 75% of a company which had the rights 80% of a JV was only $63m.
May-04
In Egana's May-04 report, note 18(a) shows holdings in four closed-end LISTED CO funds valued at $191.1m, note 21(a) shows ELNs of $118.8m, and there were no short-term deposits with LISTED CO. However, note 30(f) shows the promissory notes receivable from "independent third parties" had increased from $210.0m to $359.8m. The balance sheet also contained unexplained "long-term receivables" of $30m.
May-05
In Egana's May-05 report, note 18(a) shows the four closed-end LISTED CO funds now valued at $195.8m, note 21(a) shows ELNs of $83m, and note 30(f) shows the promissory notes from "independent third parties" had increased to $476.7m. There were no long-term receivables.
May-06
In the May-06 report, there was one closed-end fund valued at $71.3m and no ELNs, but promissory notes had increased to a whopping $986.3m.
Promises, promises
Since May-04, Egana has presented a line of "cash and cash equivalents" in its balance sheet. In its May-06 balance sheet, this amounted to $1,385m, an impressive figure indeed. The management discussion and analysis even called it a "net cash position of HK$1,385 million".
In reality, Egana is heavily geared. If you dig down to note 34(e), you will find that $986.3m of the "cash and cash equivalents" is "promissory notes with maturity within three months" which were unsecured and bore interest at commercial rates. Of these, $693.7m was rolled over upon maturity for another one to three months. As noted above, the promissory notes have been building up for years. This begs the question of how many times some of these notes have been rolled over, who the borrowers are, and what ability they have to repay.
We know that in May-02, promissory notes included amounts due from the closed-end investment companies related to LISTED CO. How much of the current notes are still investments in disguise, being loans to investee companies, which have nothing to do with Egana's commercial business? Alternatively, if the promissory notes in fact originate from commercial transactions with Egana's customers, then why is Egana financing its customers, and is it actually being paid for its goods, or simply rolling over IOUs?
This is not, in our view, a healthy state of affairs, and we don't regard promissory notes as being equivalent to cash.
As of the 30-Nov-06 unaudited interim report (the latest accounts we have), the promissory notes were reduced to $821m. The net assets were $2,434m, but that includes intangible assets (goodwill, trademarks and so on) of $857m and net deferred tax assets (which generally can only be used if you make future profits) of $152m. So excluding those, net tangible assets were $1,425m. The promissory notes represent about 58% of this. Egana had bank borrowings totalling $2,248m, and cash (not promissory notes) of $428m. So its net bank debt was $1,820m, or about 128% of net tangible assets.
Converting receivables to goodwill
On at least one occasion, Egana has acquired a distributor in exchange for cancelling accounts receivable, and booking the set-off as goodwill. As shown in note 30(d) of the May-04 report, Egana acquired a German distribution business which had net assets of $19.3m for $22.4m in cash. It also set off $78.8m against accounts receivable, and $46.4m against "other receivable", making a total consideration of $147.5m and booking $128.2m of goodwill while reducing receivables by $125.2m. That's one way to recover your debts.
Trademark sale in Dec-00 boosted 2000 earnings
Note 13(a) of the May-02 report belatedly reveals that in Dec-00, just before the previous year-end, Egana sold the rights to the Goldpfeil brand name for menswear in Greater China to an "independent third party" for an income of $75m, which was a substantial part of its 2000 net profit of $91.75m (as restated). We cannot find any mention of that sale in the Dec-00 report - the income was just included in turnover under its accounting policy, making Egana look far more profitable than the rest of its business was.
Eight months later, in Aug-01, "prior to the imminent change in shareholders and management" of the owner of the buyer, Egana "was given the opportunity" to reacquire the trademark, and did so for $75m, holding it at cost in the balance sheet, so it did not have any impact on P&L. The note also stated that "the controlling shareholder of LISTED CO...was a director" of the vendor's owner. If LISTED CO was Upbest, then the controlling shareholder was Mr Cheng.
Junghans Asia 10% sale saves Egana 2002 profit
In the May-02 report, note 4(a) states that during the period, Egana established Junghans Asia (Holdings) Ltd (Junghans Asia) in the BVI "to act as the marketing, sourcing and manufacturing agent in Asia for Junghans Germany". It then sold a 10% interest in Junghans Asia for a total of $80m to two unnamed private investors in equal shares. One of those was a "private third party company in which the controlling shareholder of the LISTED CO...has beneficial interests". If LISTED CO was Upbest, then its controlling shareholder was Mr Cheng.
As a result of the sale, Egana booked a gain of $79.973m in its results for that period, without which, it would not have made the reported profit for the period of $52.102m, but would have made a loss. The profit on the sale implies that Junghans Asia had negligible net assets and nearly all of the price represented goodwill.
In the year to May-05, Egana bought back the 10% stake in Junghans Asia, because note 16 of the annual report shows that it is 100%-owned. We don't know how much they paid, but note 14(a) states "In June 2004, the Group acquired additional 10% equity interest in a subsidiary and the resultant goodwill is attributable to the potential of radio-controlled business." The goodwill generated is precisely $86m, and we presume this refers to Junghans Asia, since Junghans is a brand of radio-controlled clocks and watches. Given that it had no material net assets to start with, we'll estimate a repurchase price of $86m, which gives the private companies a profit of $6m for holding it for about 3 years. In any case, it cannot be more than the line in the cash flow statement of "purchase of additional interest in subsidiaries" which cost $107.142m. That could include purchases of interests in other subsidiaries.
So what we have here is something very similar to the Goldpfeil trademark sale in the Dec-00 year. Both deals involved the sale of an intangible asset (in Junghans Asia's case, it was practically all goodwill), both deals involved the controlling shareholder of the secretive LISTED CO, and both deals were reversed when Egana bought back the asset, after booking a profit on the sale.
Incidentally, in a circular dated 5-Jul-02, Upbest Securities acted as "independent financial adviser" to Tonic on continuing connected transactions with Egana, particularly sales of watch parts to and from Junghans Asia Limited, incorporated in HK, which was described as a "wholly-owned subsidiary" of Egana. How can this be, when 10% of its holding company had been sold, partly to an Upbest-related company? You might think that Upbest had a conflict of interest giving that advice, but they obviously didn't think so.
Accounting change saves Egana 2003 profit
In its May-03 accounts in note 2(b)(iii), Egana changed its accounting policy for translation of foreign currencies. It decided that, even though intra-group transactions normally disappear on consolidation, it would treat intra-group balances denominated in foreign currencies as a "commitment to convert one currency into another". Conveniently, this meant that part of its acquisition cost of Junghans Germany in 2000, amounting to EUR62m, it would now regard as having appreciated by $136.4m, which it booked to the profit and loss account. Without this, Egana would not have made the net profit of $105.9m in the year to May-03, but would have made a loss.
We strongly disagree with this accounting treatment and have never seen anything like it. A group should not be able to generate a consolidated profit (or loss) simply by denominating intra-group balances in foreign currencies. It is the external assets and liabilities, and only these, which matter.
In the May-04 year, Egana booked a $11.2m gain under the accounting policy we question, and in the May-05 year, a gain of $5.0m. In the May-06 year, the accounting policy was changed and it appears that they will no longer treat intra-group balances in this way.
3 auditors in 3 years
PriceWaterhouseCoopers gave Egana a clean audit for the May-03 year, but resigned on 28-May-04, just 3 days before the next year end. Egana said it had asked them to resign in order to cut costs, and the board appointed RSM Nelson Wheeler, who gave a clean report for the May-04 year. RSM Nelson Wheeler resigned on 11-Apr-05, "solely for audit fee competitiveness reason, which is in line with [Egana]'s policy to control and reduce the operating costs." The board appointed Baker Tilly instead, who gave a clean report on the May-05 and May-06 accounts.
Research promotion
Back in the dark age before annual reports were online (pre-2001), Webb-site.com gathered reports by asking all the listed companies or their registrars to put us on their non-shareholder mailing lists. Most did. Unusually, in Egana's case, this also resulted in us being bombarded with research reports, usually from tiny brokerage houses, including Upbest, under covering letters from Egana's directors. Even Tonic, Egana's associate, was distributing positive research on Egana. Subtle it wasn't. We've uploaded a couple of examples of such letters to show you what we mean.
Other directorships
Mr Wong also served, until he resigned today, as an INED of 4 companies in the Yugang group - Yugang International Ltd (0613), Y.T. Realty Group Ltd (0075), C C Land Holdings Ltd (1224) and Cross-Harbour Holdings Ltd (0032).
Apart from Mr Wong, another common director is Andy Ng Yick Man, a teaching fellow at CUHK, who is an INED of Incutech (since 28-May-04) and Egana (since 1-Jun-04) and has now joined Upbest (16-Jul-07) and UBA (17-Jul-07) as an INED. This obviously conflicts him out of advising on transactions between Upbest and UBA or between Upbest and Incutech, since he would be on both sides.
Richemont terminates investment
On 16-Aug-06, Egana announced that Swiss-based luxury goods firm Compagnie Financiere Richemont SA would buy a 30% stake in Joint Asset Ltd, which would own 33.33% of Egana, to be transferred from the family trust of Egana's Chairman and Chief Executive Hans-Joerg Seeberger in Egana. The trust would retain the other 70% of Joint Asset Ltd. In effect, Richemont was buying an 11.11% stake in Egana from Mr Seeberger. Less than a year later, on 11-Jul-07, Egana announced that Mr Seeberger had bought back the stake from Richemont. Financial terms in both cases were not disclosed.
Conclusions
Reading through the accounts, we get a similar sensation to what we felt when reading the accounts of Moulin Global Eyecare Holdings Ltd or Ocean Grand Holdings Ltd (1220) and its subsidiary Ocean Grand Chemicals Holdings Ltd (2882) a few years ago, before they blew up, and a weird sense of deja vu about that gas transaction. Of course, we could be proven wrong, but if Egana was the last stock in the market, we wouldn't own it or lend to it. Upbest, Incutech and UBA should also be avoided, of course.
© Webb-site.com, 2007
---
Organisations in this story
Topics in this story
---
Sign up for our free newsletter
Recommend Webb-site to a friend
Copyright & disclaimer, Privacy policy
---