An interesting speech from the Consul-General at last night's celebrations of German Unity Day.
Germany shows unity with HK protesters

8 October 2014
Your humble editor was at the official cocktails for German Unity Day at the Island Shangri-La Hotel yesterday, celebrating the 24th anniversary of the reunification of Germany on 3-Oct-1990 after the fall of the Berlin Wall in 1989, a year that of course has other significance to those behind the great firewall of China, if they know about it. Representing HK at the celebrations was Chief Secretary Carrie Lam Cheng Yuet Ngor.
After the usual national anthems, the German Consul-General Nikolaus Graf Lambsdorff spoke, and the the text of his speech has been provided to Webb-site. Also in attendance was his cousin Alexander Graf Lambsdorff, Vice-President of the European Parliament. The most interesting part to us, despite our rusty German, was when the Consul-General switched from English to German and, after thanking the sponsors, said:
"Für uns alle waren die vergangenen Tage spannend und aufregend. Es steht mir nicht zu, über politische Entwicklungen in Hongkong öffentlich zu urteilen. Aber gerade vor dem Hintergrund unserer eigenen jüngeren deutschen Geschichte glaube ich, dass Hongkong auf seine Jugend stolz sein kann. Ich bin mir sicher, dass die Bemühungen um mehr Demokratie Hongkong politisch, aber auch wirtschaftlich gut tun werden."
Which, translated, means:
"For all of us the last few days were exciting and thrilling. It is not for me to publicly judge political developments in Hong Kong. But especially in the light of our own recent German History, I believe that Hong Kong can be proud of its youth. I am sure that the efforts to make Hong Kong more democratic will be good for Hong Kong politically, but also economically."
The Chief Secretary stood there smiling, probably unaware of what he said, before she delivered the usual blather about trade statistics and the number of German companies doing business in Hong Kong. She opened her remarks be complaining that it used to take only 5 minutes in her chauffer-driven car to get to the Island Shangri-la Hotel in Pacific Place from her office in Tamar, but now it takes 30 minutes because of the protests. Even before the protests, has she ever considered walking, we wonder, to reduce the air pollution and traffic congestion? Ironically we had just finished an interview with German TV at Tamar Park, and it took us 5 minutes to walk to the hotel.
To provide balance and accuracy, we asked the HK Information Services Department for a copy of her speech, but unlike the transparency of Germany, Hong Kong replied:
"Please note that we do not issue or publish speeches delivered in closed door events. Thank you."
So we will leave you with a picture of her official car instead, noting that the number plate denotes the kind of gas used against protesters on 28-Sep-2014. Meanwhile, for her driver, we have updated our Highway guide to the Umbrella Revolution/Movement/Incident of 2014.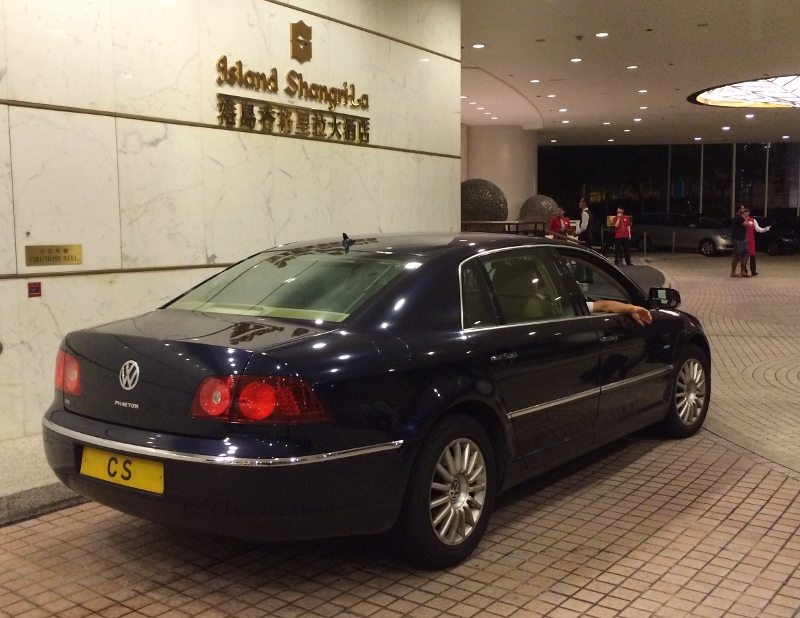 © Webb-site.com, 2014
---
People in this story
Topics in this story
---
Sign up for our free newsletter
Recommend Webb-site to a friend
Copyright & disclaimer, Privacy policy
---