Continuing our series on the Styland network, we take you through the wheeling and dealing surrounding Inworld, most of whose flimsy track record came from companies in the network - including Digital World, Rainbow, Renren, Riverhill and Styland itself. You will also see an incredible set of pre-IPO transactions in the stock. Is Hong Kong really Asia's World City?
StyNet, Part 2: Asia's Inworld City

24 July 2002
Before we start, a word of warning: read Part 1 first, or this won't make sense!
The story of Inworld Group Ltd (Inworld, 8100) begins less than 3 years ago, on 3-Nov-99, when Kevin Ngai Kwok Kin (Mr Ngai) and Chan Wai Lun (Mr W L Chan) established the first operating subsidiary of the group, to provide:
"IT consulting and infrastructure services, banner design and web page design and development services in Hong Kong"
Mr Ngai, 26, and Mr W L Chan, 25, are now the Chairman and Chief Executive respectively of Inworld. The only other executive director is Mr Mak Chee Yeong, Chief Operating Officer, who is the old man of the team at 30, although he gets a salary of just HK$12,528 (US$1,606) per year and is based in Singapore, where the group's local portal, inworld.com.sg, is currently out of action.
Capital
The original holding company of the group was a BVI company called Inworld Holdings Ltd (IHL). The initial share capital was 50 shares issued to Mr Ngai and 14 to Mr W L Chan, probably at par value of US$1 each.
On 5-Jul-99, Styland Holdings Ltd (Styland, 0211) agreed to subscribe HK$20m for 36 shares of IHL, giving them 36% of the company, subject to "due diligence" to be completed by 15-May-00. By 31-Mar-00, Styland had advanced $14.5m as a deposit. On the deadline of 15-May-00, when Styland finally became a shareholder, it transferred 9 shares to Mr W L Chan and 1 to Mr Ngai at $555,555 per share, the same as Styland had paid.
Six weeks later on 26-Jun-00, presumably without objection from Styland, Mr Ngai and Mr W L Chan subscribed for 50 and 14 shares respectively at par of US$1 each, diluting Styland to 15.85%. The next day, Digital World Holdings Ltd (Digital World, 0109) bought 5 shares (3.05%) from Mr W L Chan for $14m, or $2.8m per share, 404% more than the previous trade on 15-May-00, valuing IHL at $459.2m.
On 31-Aug-00, Styland acquired 45 shares from Mr Ngai for $107.8m, or about $2.40m per share, increasing its stake to 43.29%.
On 12-Jun-01, renren Holdings Limited (Renren, 0059) bought 4 shares from Mr Ngai for $10m.
On 15-Aug-01, Digital World swapped its stake in IHL with Mr Ngai in return for a 10% stake in West Marton Group Ltd (West Marton), 90% of which had been acquired by Styland for $120m cash on 31-Oct-00, as we explained in more detail in Part 1. West Marton's subsidiary operates a mainland portal called Chineseyes.com. The administrative contact of the domain record is Mr Ngai. Sources tell us that Mr Fu Tsin Man, who sold 90% of West Marton to Styland, was employed by Inworld as a web designer.
So that leaves the final ownership of IHL as follows:
| Name | Stake % | Cost HK$m |
| --- | --- | --- |
| Styland | 43.29 | 122.22 |
| Mr Ngai | 34.76 | -117.22 |
| Mr W L Chan | 19.51 | -9.00 |
| Renren | 2.44 | 10.00 |
| Total | 100.00 | 6.00 |
Note: the above table excludes any cost of Mr Ngai's 10% of West Marton swapped with Digital World.
As the above narrative shows, despite all the external dealings, only HK$20m was ever injected into IHL. However, IHL never made it into the listed group; it was removed in the pre-IPO reorganisation, along with the $20m of capital purportedly injected on 15-May-00.
For the technically minded, on 27-Jun-01, 3 days before the track record ended, IHL's 3 wholly-owned operating subsidiaries each issued another share to IHL to capitalise all outstanding loans in a total of $12.20m. On 19-Sep-01, the shareholders swapped all the 164 shares in IHL for 164 shares in a new holding company, Inworld International Ltd (IIL). The next day, IHL moved its 3 subsidiaries up to its new parent IIL, and IIL issued 164 new shares to its shareholders pro rata, in return for Styland offsetting $12.20m being "part of the outstanding indebtedness...owing from [IHL]." The next day, completing a two-day round trip, IIL transferred IHL, without the subsidiaries, back to the original 4 shareholders.
Mr Ngai, Mr W L Chan and Renren each agreed to reimburse Styland with their share of the $12.20m capitalised loan 7 days after the listing date or on 31-Dec-02, whichever came first.
The net result of all this at the end of the track record is as follows:
| | HK$ |
| --- | --- |
| Capitalised shareholder loans | 12,195,029 |
| Share capital of 3 subsidiaries | 461 |
| Accumulated losses | -4,165,548 |
| Net assets at 30-Jun-01 | 8,029,935 |
This begs the question, what did IHL do with the $20m purportedly invested in it, if it found it necessary to borrow from Styland to fund its subsidiaries? We have no way of knowing.
IPO
Inworld published its prospectus on 18-Dec-01, in an IPO sponsored by Sun Hung Kai International Ltd. Inworld's financial adviser, surprise surprise, was International Capital Network Ltd (ICN), and the 3 joint lead managers included Styland's own Ever-Long Securities Co Ltd (Ever-Long). We'll cover ICN in a future article.
The IPO was made at an offer range of $0.25-0.40 and finally priced at $0.32. Inworld issued 96m new shares and existing shareholders sold 48m old shares, with the expenses split pro rata, leaving $24m of net proceeds for Inworld and about $12m for the shareholders. The resulting holdings were: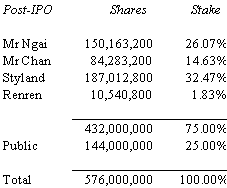 Shares held by Mr Ngai, Mr W L Chan and Styland are locked up for 12 months after listing, to 31-Dec-02, while Renren, holding less than 5%, is free to sell.
Additionally, before the IPO 10-year options were granted over 57.6m new shares (equivalent to 10% of the existing shares) at $0.01 per share, a 97.5% discount to the offer price, of which 19.58m went to Mr Ngai, 19.23m to Mr W L Chan and the rest to 16 staff. There is also a standard post-IPO option scheme.
The offer price implied a pre-IPO valuation of $153.6m, or about 12.6x the $12.20m of capital invested. So what kind of track record justifies that valuation? Not much, it turns out.
Track record: first period to 30-Jun-00
Inworld listed on 31-Dec-01, the last day on which a waiver was available of the requirement for a 2-year track record.
Regulatory note
After that, the GEM rules changed to require small companies (those with a market cap, turnover and total assets each less than HK$500m) to have a 2-year track record. Apparently the GEM Listing Committee thought large companies would be safer. Go tell that to Enron or WorldCom. The new rule basically says, "if you want to float a scam, make it a big one".
Inworld's first contract came on 19-Nov-99 when an "independent third party" ordered a banner advertisement to be placed at the group's portal, inworld.com.hk, at a cost of HK$30k for 3 months till Mar-00. No doubt much celebration ensued, but the contract was not renewed. The next order came from Styland, on 26-Apr-00 for consultation of $65k, infrastructure of $49k and web page design and development of $65k, a total of $179k. Those were the only two services contracts in the first accounting period to 30-Jun-00.
Inworld also charged membership fees for its portal and "between May and June 2000... organised social activities such as ice-skating activities, make-up class, bowling competition and video show for registered members", recording subscription fees of $145k in the first period to 30-Jun-00. By then, it claimed 2,415 members but an average of only 800 page views per day.
Inworld's accounting policy for membership fees was to recognise them as revenue "when the rights to receive payment have been established" but it is not clear whether all of these membership fees were eventually received. Another accounting policy states that "provision is made against trade receivable to the extent that they are considered to be doubtful. Trade receivable in the balance sheet is stated net of such provision."
The net loss for the period was $4.216m.
Comstar
The accountants' report by Charles Chan, Ip & Fung CPA Ltd shows that during the period, Inworld paid $426k to Comstar Hong Kong Ltd (Comstar), of which Mr Ngai and Mr Chan were directors, for "printing material charge, advertising and design fee for web page". It doesn't say who owned Comstar at the time, but we found that on 23-Aug-01, Renren bought it for $15m cash, by which time it was involved in "provision of wireless services application".
Track record: year to 30-Jun-01
In the year to Jun-01, portal membership fees collapsed to just $12k from 326 members, as Inworld abandoned charging membership fees during the year. $5k was booked in the first quarter and $7k in the second.
Although prospectuses don't provide quarterly breakdowns, we can figure these out after the fact by looking at the comparative year in published quarterly reports. So the turnover from services in the year to 30-Jun-01 was:
Quarter
Ended
Turnover
HK$k
Q1
30-Sep-01
13
Q2
31-Dec-01
3,250
Q3
31-Mar-01
1,973
Q4
30-Jun-01
1,250
Total
6,486
Not exactly stellar growth, is it? On these sales, Inworld booked a net profit of $51k.
Rainbow's shares-for-services
Now things get interesting. In a contract dated 19-Oct-00 and amended 8-Jun-01, Inworld agreed to develop the website of Rainbow International Holdings Ltd (Rainbow, 8079) for a nominal price of $3m, of which only $0.1m was in cash and the balance was 7,250 shares (14.5%) in Rainbow Cosmetic (BVI) Ltd (Rainbow BVI), allotted on 14-Jun-01. These shares were converted into 39,629,125 shares (11.32%) of Rainbow at the IPO in Oct-01, when Inworld sold 15m of these shares at $0.50 each, raising $5.56m net of its share of listing expenses. The remaining 7.04% of Rainbow was subject to a 6-month lock-up from the listing date of 15-Oct-01.
The prospectus of Rainbow shows that a company called E-Teck Business Ltd (E-Teck) agreed on 19-Oct-00, the same day as the website contract, to invest $3.5m in 7 convertible loan notes issued by Rainbow BVI, of which 5 notes worth $3m were issued on 19-Oct-00 and the other 2 on 4-Dec-00. The conversion price of the notes was amended on 8-Jun-01, the same day that Inworld's website contract was amended.
According to a Styland circular dated 5-Jul-02, E-Teck was acquired by Styland on 14-Jun-01 from someone called Marilyn Tavares Ka Wai. We don't know anything about Ms/Mr Tavares. The Rainbow prospectus doesn't mention her/him, just stating the current ownership of E-Teck rather than its history. On 14-Sep-01, E-Teck converted its loan notes into 8,750 shares of Rainbow BVI (17.5%) and after selling 5m shares in the IPO, it retained 12.24% of Rainbow.
Although the nominal price on the website contract was $3m, the back pages of Inworld's prospectus reveal that on the day of the contract, Rainbow's Chairman, Ms Aldy Li Ngar Kwan, granted for $10 a put option giving Inworld the right to sell her its shares in Rainbow BVI for $900k. The option expiry date was not specified, but it was terminated when Rainbow was listed. If Rainbow had not listed, then Inworld might be looking at exercising the put and getting a total contract value of $1m (including $0.1m cash) rather than $3m.
Rainbow's $3m contract made it Inworld's largest customer, accounting for 46.2% of the total turnover of $6.486m for the year. So what we have here is one GEM candidate (Inworld) booking non-cash revenue from another GEM candidate (Rainbow), both of which eventually had Styland as a shareholder. And yet, Inworld's prospectus states that customers in which shareholders of Inworld (holding over 5% of Inworld) "had interests" accounted for only 5.6% of turnover - we guess it depends on when you mean by "had".
Renren
Another big customer was shareholder Renren, for which Inworld booked $420k in the year to 30-Jun-01 and a further $1.68m in the period up to 14-Dec-01 before the prospectus was finalised. Subsequent interim results for the 6 months to 31-Dec-01 show total turnover of $2.657m, so Renren accounted for 63.2% of that.
As we explained in Part 1, at different times, billions of shares in Renren have been pledged to the lending arms of Styland and Digital World by a company owned by Mr Mak Chi Yeung, the Chairman of Renren.
Styland
In the year to Jun-01, Inworld booked sales to Styland comprising $200k for banner advertisements, $173k for computer software and $3k for consultation, together with sales to its subsidiary Ever-Long of $12k, a total of $388k, or 6.0% of turnover. The accountants' report says the sale of software "was conducted as handling income with a 2.39% gross profit margin" - which we presume means Inworld was reselling software.
Riverhill
A subsidiary of Riverhill Holdings Ltd (Riverhill, 8127), which is 28.63% owned by Styland, bought $100k of banner advertisements. We will cover Riverhill in a future article.
Digital World
The total of all banner ad sales in the year to 30-Jun-01 was $1.050m. The prospectus records just 6 contracts, 5 of which were signed in Nov-00, of which 4 were for three months and 1 (Styland) was for four months. Based on their expiry dates, it appears that they were all signed between 16-20-Nov-00. The sixth (Renren) was signed in Jun-01 covering 11 months to 30-May-02, so it presumably didn't contribute much to revenue in the year.
So apart form Styland and Riverhill, it seems that 3 banner contracts, from Digital World and two of its subsidiaries, probably contributed the other $750k of banner ad sales.
In addition, Inworld booked services to "design and construct a WAP system using the technology of the Inworld WAP system" in a contract in Jan-01 to CWAP (HK) Ltd, wholly-owned by Digital World. As you might recall from Part 1, this portal was sold to Digital World by Mr Ngai and others in Aug-00, at which point the WAP portal was purportedly already in operation, so it is not clear what "design and construct" means in this context.
Other customer(s)
After all that, there are only 3 contracts unaccounted for, of which 1 was signed in Jan-01 and 2 in May-01. In each case, the customer was described as "a software house" and an "Independent Third Party". It is not clear whether these were the same customer.
The Jan-01 contract was for another "Inworld WAP System" completed in Mar-01, while the May-01 contracts were for a stock brokerage ordering system using the "Inworld e-Stock System" and an online shopping system using the "Inworld Marketplace System", both completed that month. The accountants' report itemises sales by product, so we know that the e-Stock System contributed $670k and the Marketplace System contributed $450k, for a total of $1.020m. The brokerage system was presumably for use by a licensed broker and not for the software house's own use. We don't know which broker.
The price of the WAP system we can't tell, because it is combined with the contract for the Digital World cwap.com portal, at a total of $1.47m. But lets allocate 50% to each contract.
That means, by simple estimate, that these 3 contracts from one or more "Independent Third Party" contributed just $1.755m, or 27.0% of sales. The rest were all related in the ways described.
Accounts receivable
At 30-Jun-01, accounts receivable were $2.720m. Assuming that was all less than one year old, and remembering that $2.9m of the year's turnover was in shares received from Rainbow, that leaves turnover of only $866k for which payment had been received by year-end.
Post-IPO results
In case you think our concerns about lack of substance are over-stated, take a look at the results since then. In the first 9 months ended 31-Mar-02, Inworld booked turnover down 29% at just $3.713m and excluding the $4.46m gain on sale of shares in Rainbow's IPO, it made a net loss of $3.744m.
IPO Allotment
Inworld announced on 28-Dec-01 that its IPO was 50.8x subscribed in the retail tranche, comprising only 14.4m shares or 10% of the offer, and 10.3x subscribed in the placing. The public offer applicants included 50 who each applied for more than half the shares available. Despite this apparently ecstatic reception, the offer price was set at $0.32, in the middle of the wide $0.25-0.40 range.
The placing was sufficiently narrow to require a concentration warning in the announcement, with the top 25 placees taking 88.2% of the placing, and the top 10 getting 61.4%. The top placee got 20%, and another of the top 4 placees was "Cyber World Technology Limited, a customer of the group". That's owned by Riverhill, which floated in Jun-01, and sunk HK$4m into Inworld stock for 7.6% of the placing.
Another placee, taking 3.33% of the placing, was "an initial management shareholder... of International Capital Network Holdings Ltd" which owns the financial adviser to Inworld. ICN itself took 0.77% and Styland's Ever-Long Asset Management Ltd took 0.37%. ICNH was itself floated on GEM a month before Inworld.
After an initial flurry of trading, the stock quickly dried up, reaching a daily high of $0.46 on 14-Jan-02 and closing today at $0.245, with a market cap of $141m which is still about 4.3x its net tangible assets of $0.057 per share at 31-Mar-02.
Post-IPO Acquisition
On 10-May-02 in its latest quarterly report, Inworld disclosed that in Mar-02 it acquired "a local company which business is mainly focus on cyber cafe, online hotel booking service and hotel online station service." No financial details were disclosed, but it's a fair bet that the acquired company is the operator of www.echotelbooking.com, which advertises on Inworld's website and has a collection of Macau hotels. The name just trips off the tongue, doesn't it?
INEDs
The independent non-executive directors of Inworld at the IPO were Mr Cheng Koon Cheung (Mr Cheng) and Mr Steve Loo Chung Keung (Mr Loo). A month after listing, on 31-Jan-02, Mr Loo resigned without giving any reason publicly, and was replaced that day by Mr Leung Chun Cheng (Mr Leung).
Mr Cheng is a director of various private companies which are principally engaged in the advertisement, design, printing and other investment business in Hong Kong. Mr Loo is or was a director and senior vice president of Asia Television Ltd, one of Hong Kong's two terrestrial TV broadcasters. We know nothing about Mr Leung, because the Listing Rules still don't require biographies upon appointment, only if the director survives in office until the next annual report.
What does this tell you?
Today, the GEM market index closed at a record daily low of 156.13, down 84.7% from its high. For sure, some of it was due to the technology bubble bursting, but a lot of it has to do with the ability to get the flimsiest of track records past the noses of the Stock Exchange and its Listing Committee and degrade the quality of the market in this, what the Government would have you believe, is Asia's World City.
© Webb-site.com, 2002
---
Organisations in this story
People in this story
---
Sign up for our free newsletter
Recommend Webb-site to a friend
Copyright & disclaimer, Privacy policy
---