Sheltered by the immunity of the Legislative Council last week, Legislator for concrete Abraham Shek asked rhetorically whether the HKEx Head of Listings is working for David Webb. Well of course, he isn't, but we'll tell you whom Mr Shek is working for. Listed companies pay him as a director about 5 times what he earns as a legislator.
Pay-Shek

5 January 2009
Thanks to all our readers who contributed to an opinion poll last spring on the blackout period for directors dealings. That poll was quoted in the Legislative Council by HKEx Head of Listings Richard Williams last week as evidence of public support for the rule change, along with another submission by your editor David Webb pointing out that in the last full week before Christmas, directors' dealings accounted for just 0.06% of market turnover - not the "important source of market liquidity" that opponents claimed.
Lacking any substantive arguments against the new rule, and sheltered by the immunity of the Powers and Privileges Ordinance, the Legislator for Real Estate and Construction, Abraham Shek Lai-him (alias Abraham Razack), asked rhetorically whether Mr Williams is working for David Webb. Well of course Mr Williams works for HKEx, not your editor, but if Mr Shek is going to make allegations like that, then its only fair to look at whom he works for. He holds the second-highest number of HK-listed company directorships (all non-executive), at 15 (including the managers of 2 Real Estate Investment Trusts).
Here's a list of his remuneration as director of 12 of these companies, and estimates for the other 3 (all in HK$):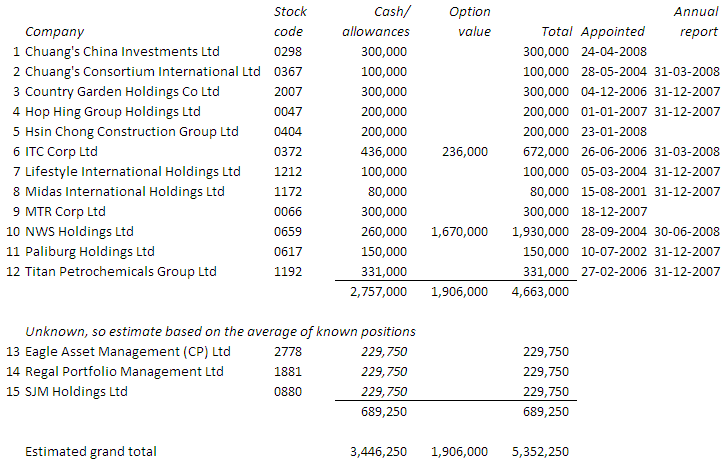 These fees are taken from the latest available annual reports, or if he was appointed after the year-end, from the announcements appointing him.
Eagle Asset Management (CP) Ltd is the manager of Champion REIT, and Regal Portfolio Management Ltd is the manager of Regal REIT. The fees of a REIT manager's directors are paid by the manager (which in turn charges a management fee to the REIT) so the directors' fees are not disclosed in the annual reports. SJM Holdings Ltd has not yet published its first annual report since listing, and the Listing Rules do not require IPO prospectuses to say what directors fees will be (except in aggregate). So for these three companies, we have just made an estimate as the average of Mr Shek's fees for the other 12.
So the table shows that Mr Shek's total fees and allowances are estimated at HK$3.45m per year. In addition, he was granted options during the latest reported financial year of 2 companies which were valued at about $1.91m at the time of grant, making a total remuneration of $5.35m. That's more than 5 times what he gets as a Legislator:

On top of that, his LegCo filings show that he is a paid consultant of a private company he calls "Sino Administrative Services Ltd" in an undisclosed amount. No such company, local or foreign, is found in Hong Kong's companies registry, so we suspect he means "Sino Administration Services Limited". That's a wholly-owned subsidiary of Sino Land Co Ltd (0083). Incidentally, in another sloppy filing, he claims to have "attended Boeing plant and maiden return voyage flight from Toulouse". A Boeing made in Toulouse? Airbus will be impressed! [Update: Mr Shek filed a correction on 13-Jan-09.]
Mr Shek's LegCo filing also shows that he was an INED of Hong Kong Hotel Asset Management Ltd, manager of the proposed HK Hotel REIT, a spin-off from Far East Consortium International Ltd (0035), which was shelved in Mar-08.
So Mr Shek, before you go questioning the motives of regulators, who are you working for?
© Webb-site.com, 2009
---
People in this story
Topics in this story
---
Sign up for our free newsletter
Recommend Webb-site to a friend
Copyright & disclaimer, Privacy policy
---