Season's greetings to all our readers - time for Santa Webb's annual stock pick. Last year's pick, Shinhint (2728), out-performed the HSI by 6.5% and, of course, lost money. Even so, over 9 years of picks, we've gained 358%, a compound average of 18.4% per year, while the HSI has averaged just 3.1%. So what are we putting under the Christmas tree this year? Read on...
The 2008 Christmas Pick

17 December 2008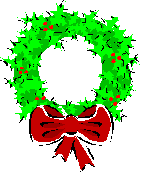 What, you thought we'd forgotten? No, we just decided to wait till nearer Christmas than before, so that we can see more companies' interim results for 30-Sep-08 before making our pick.
Webb-site.com is celebrating its 10th birthday! Loyal readers will know that we only publish one stock recommendation per year - something nice to say in the season of goodwill to make up for the campaign against bad corporate and economic governance in the rest of the year. We get to play Santa, rummaging in our sack of investments and picking the stock that we think is most likely to perform over the next year. It is a seasonal gift to readers, a free ride on our research - you don't have to buy it, but if you followed our picks in the past, then you made good money in the long run. Last year, of course, you would have been better off just putting it in the bank (assuming your bank didn't go bust).
Apart from devoting about half his time to public causes, your editor is also a private investor who specialises in smaller companies, panning the riverbed of the bottom 90% of HK-listed companies that make up 10% of the market value, and looking for specks of gold - undervalued companies with trustworthy, competent management. He more often finds the opposite - over-valued and/or badly governed stocks, and these horror stories sometimes end up as case studies on Webb-site.com. We never deliberately read fiction, but sometimes can't avoid it in annual reports. By avoiding most of the crooks and finding the nuggets, an investor can make exceptional returns over a long period.
Before we tell you about this year's pick, a note of caution. Our annual pick also earns us annual criticism (usually from the same people) who say we have a conflict of interest. We look at it the other way: our money is where our mouth is, and if we are wrong, then we will lose money too, which is more than you can say for most analysts. Readers will also know that if there are any future corporate governance failures in the company we pick, then we have a strong financial interest in fighting for the interests of minority shareholders. That's not a conflict of interest, that's a common interest. Having said that, here are some ground rules:
We only make one pick a year, because Webb-site.com is not a tip sheet, it is a corporate and economic governance site.
We're not a licensed investment adviser, and you're not paying us for advice, so you have no right to rely on it. All we are doing is exercising our right of free speech, one of the great competitive advantages of Hong Kong's economy.
We don't normally comment on the stock we picked until the next Christmas, when we review how it went. In the meantime, you are on your own, so don't write in asking us whether it is time to sell or buy some more. The only time we would break this silence is if there was a major corporate event at the subject company.
We reserve the right to increase and decrease our holdings at any time, according to market circumstances and our own risk management.
Stocks can go down as well as up. Don't put all your eggs in one basket. We don't either.
Before we tell you what we've picked this year, first we'll do something you seldom see the professional analysts do - look back at how our previous recommendations performed.
Last year's Pick
Last year our pick was Shinhint Acoustic Link Holdings Ltd (Shinhint, 2728), a maker of speaker systems for PCs and for digital audio players such as iPods, headsets, and more recently, speakers for flat panel TVs and cars. Sales for the year ended 31-Dec-07 were up 16% and net profit was up 15%, with EPS of $0.179, up 8%. Like many manufacturers, the company was subsequently hit by rises in raw material prices, labour costs and the Renminbi, causing it to put out a profit warning on 25-Jul-08. The interim results followed on 19-Sep-08, showing sales for the 6 months to 30-Jun-08 up 4% but profit dropped to a near-breakeven $0.95m compared to $12.15m a year earlier. However, Shinhint said "While most customers agreed to absorb a portion of the increased costs, the impact will only be reflected in the second half of the year." Historically, about two-thirds of Shinhint's sales are in the second half of the year. Headcount at 30-Jun-08 was 5,900, compared with 5,200 a year earlier, so it looks like they were prepared for higher volume.
As readers will know, the commodities bubble has burst in the second half of 2008, the RMB has stabilised, and the Chinese labour market is significantly weaker, partly as a result of self-inflicted damage from interventionist PRC government policies, as well as weaker exports. All of these factors favour the surviving manufacturers, particularly in sectors with technology growth histories. Meanwhile, Shinhint has been investing in greater automation to reduce labour needs. Incidentally, Shinhint has also invested HK$12.2m (including a loan of $7.8m) in 51% of Tommyca Hong Kong Ltd, which is producing an MP3 player with speakers for bicycle handlebars.
On 3-Dec-07, the last day before our pick, Shinhint closed at $1.01. During the year, the stock traded between an intra-day high of $1.19 on 4-Dec-07 and a low of $0.385 on 30-Sep-08, and closed at $0.55 on 17-Dec-08 (today). Investors received dividends of $0.051 during the year, for a total return of $0.601 and a loss of 40.5%. By comparison, in the same period, the Hang Seng Total Return Index (which includes dividends) lost 44.1%, so Shinhint out-performed the index by 6.5%.
During the year, your editor David Webb increased his holding in Shinhint, going through the 6% disclosure boundary on 4-Jun-08 at $0.89. We've bought more since then. We weren't the only ones to see value in the stock; Shinhint itself began share buybacks on 6-Oct-08, buying back 7.38m shares (about 2.23% of the company) up to 9-Dec-08 at an average price of $0.458. We encourage them to do more. At 30-Jun-08, the group had net cash of $79.3m, or about $0.24 per share, so they can afford it.
The 9-year history
Doesn't time fly? We've been running this series for 9 years now, and our pick has made money in 7 out of 9 years, out-performing the total return on the Hang Seng Index 7 years out of 9. Here's the track record: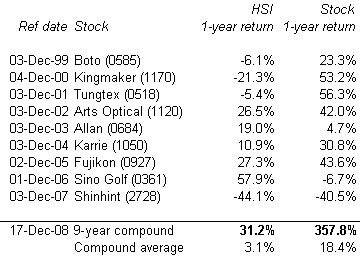 What this table shows is that if you put $1,000 into the first pick, and rotated into the next one each year, you would have made 357.8% and would have about $4,578 by now, a compound average gain of 18.4% per year. By comparison, if you invested the same amount in the Hang Seng Index 9 years ago, and reinvested the dividends, you would now have about $1,312, a compound average gain of 3.1% per year. So our picks have out-performed the index by 248.9% over 9 years. Both the stock and index calculations exclude transaction costs.
Market overview
On 16-Sep-07, we published an article called Incredibubble, commenting on the bubbles in Chinese stock markets, both in the mainland and HK. With the Hang Seng Index (HSI) then at 24,898 and the Shanghai Composite Index (SCI) then at 5,312, we asked our readers in an opinion poll, what is the lowest level at which the two indices will ever trade at again? We closed that poll at the end of 24-Sep-07, and more than 59% of responses said the SCI would trade below 2,000, while more than 50% said the HSI would trade below 14,000.
Well as we now know, the SCI reached a daily low (so far) of 1,707 on 4-Nov-08, and the HSI reached a daily low (so far) of 11,015 on 27-Oct-08, as 28% of our readers said it would (only 14% said it could ever go below 10,000). Appearing on local radio on 28-Oct-08, the morning after the HSI hit its daily low, we remarked that on valuation measures, the HSI was getting near historic lows and would probably bottom out in the 10,000-12,000 range. We still hold that view, although the subsequent 40% rebound has been irrational and we would expect the market to revisit that range as the recession bites in the first half of 2009.
Spoilt for choice - honourable mentions
Meanwhile, in our fishing ground of small-caps, valuations are at least as cheap as in 1998. We are spoilt for choice, with some companies trading at close to their net cash, at steep discounts to net asset value, with consistent dividends yielding in the teens, and with P/Es below 4. Indeed, your editor's entire portfolio is tonight on a trailing 12-month P/E of 3.67 and a price/book of 0.41. The metaphoric glass is not half-empty, it is one-third full. If you understand the businesses you are investing in, and if you trust the management, then you probably won't get such attractive valuations for another 10 years. So making our 2008 Christmas Pick has been a difficult choice with so many deserving stocks to choose from. Before announcing our pick, we give "honourable mentions" to a couple of stocks, in no particular order:
We were tempted to repeat one of our earlier Christmas Picks, Fujikon Industrial Holdings Ltd (0927) which is now on a trailing P/E of 3.16, P/B of 0.52, and a dividend yield of 14.7%. At 30-Sep-08, it had net cash of $313m, or about $0.78 per share. It closed tonight at $1.02, so excluding the cash, you get the business for less than 1x earnings. However, we've never repeated a Christmas Pick before, and we are not going to start now. You want something new, don't you? Your editor holds over 7% of that stock, having increased through the 7% disclosure threshold on 18-Sep-08 at $1.104.
We also give an honourable mention to optical frames maker Sun Hing Vision Group Holdings Ltd (0125), which announced its interim results for the six months to 30-Sep-08 this evening. Turnover grew 5% but margins were squeezed and earnings dropped 17% for the half-year, a pretty respectable outcome. The company has net cash and time deposits of $255.3m, or about $0.97 per share, and post-results at $1.25 it is on a trailing P/E of 2.54, P/B of 0.43 and a dividend yield of 15.2%. The company has weathered economic down-turns well before, and although we would expect sector sales and profits to be under pressure in the second half of its financial year, this company should do well in the longer run and we are happy to wait for that. We invest in businesses for the long-run earnings and ignore the short term hiccups. Your editor holds over 5% of the stock, having increased through the 5% disclosure threshold on 28-Oct-08 at $1.60 after cutting below 5% on 17-Jul-08 at $3.98.
In the cases of both Fujikon and Sun Hing Vision, although they have consistent dividend pay-outs, they have accumulated too much cash and should distribute the excess as a one-time special dividend. Cash in corporate balance sheets is always heavily discounted in market share prices, so distributions eliminate the discount and realise value for all shareholders, including controlling shareholders, and a slimmer balance sheet boosts return on equity. Like people, slim companies can run faster than fat ones.
The 2008 Christmas Pick
Now without further ado, here it is...
The 2008 Christmas Pick is Alco Holdings Limited (Alco, 0328), a maker of consumer electronics, including portable DVD players, flat panel TVs, iPod/iPhone-ready audio systems and set-top boxes. It deals with top-tier retailers in the US and Europe, with the largest customer (believed to be Walmart) accounting for 26% of sales in the year to 31-Mar-08, and the top 5 customers accounting for 74%. Alco has its own Venturer brand, and also produces ODM products for stores' own-brands and licensed brands. Recently, Alco has been producing digital-to-analogue converter boxes for sale in the USA, ahead of the national switch-off of the analogue TV signal on 17-Feb-09.
Alco was founded in 1968 as a maker of transistor radios, and listed on 27-Nov-92, so it has been through several economic cycles as well as huge changes in the technology of its industry, and remained successful. It has run a lean balance sheet, paying out consistent dividends which amount to $1.29 in the last 5 years, which is more than the current share price. It has also placed emphasis on investment in automation, reducing labour needs through high speed SMT (Surface Mount Technology) and other equipment.
On 11-Dec-08, Alco announced its results for the 6 months to 30-Sep-08. Sales grew 47% to $2,826m, helped by a low base for comparison in the prior year, but still up 16% on the second half of the year to 31-Mar-08. Net profit for the half-year dropped 11.8% to $90.2m compared to a year earlier, but that is after taking a loss this year of $16.4m on loans which form part of an investment in 10.45% of panel-maker Hydis, which Alco invested in May-08 in a consortium with Varitronix (0710), which also holds 10.45%, and Taiwan-based Prime View Display Inc, which owns 74.1%. The loans from shareholders and the investment are denominated in Korean Won, so when the Won depreciated, Alco had to take a provision through its income statement. Regarding that as a non-recurrent and non-core item, Alco's adjusted earnings increased by about 4.2% for the half-year. Like other manufacturers, its margins were under pressure from raw materials, labour and the RMB, but these pressures have now abated. The interim dividend was maintained at $0.09, and last year's final dividend was $0.14.
The stock closed today (17-Dec-08) at HK$1.21, with a market capitalisation of HK$673.6m. It is on a trailing P/E of 3.42 (adjusted for one-time items), a Price/Book of 0.46, and a dividend yield of 19.0%. It starts trading ex-dividend on 22-Dec-08, when the P/E would drop to 3.16 based on tonight's price. In the last year, the stock has ranged from $3.90 to $0.63 intra-day.
The object of the investment in Hydis, which was purchased from court receivership, was to cement relationships with Prime View (which supplies panels used in Alco products) at a time when panels were in short supply. We regard that as a risky and unnecessary use of capital, but it is a relatively small investment which does not substantially detract from the main Alco story. Since the investment, small panel prices have dropped 20-30%, and Hydis may struggle to turn around.
At 30-Sep-08, Alco had net debt (including trade finance) of $408m, or about 28% of net tangible assets. The half-year end is the seasonal peak of working capital requirements as they have to build inventory for Christmas shipments, so the year-end gearing is a lot lower. In the last year or two, retailers in the US have pushed suppliers to hold inventory while it crosses the ocean and provide domestic delivery in North America, which means it stays on Alco's books for longer, and sales are shifted more towards the second half of the year. However, Alco's North American distribution system and after-sales support can also be regarded as a competitive advantage.
Ownership
Alco's Chairman and Founder, Kimen Leung Kai-ching, owns about 43.9% of Alco, including a family trust in which his son Wilson Leung Wai-sing, the CEO, is a beneficiary. Wilson holds 8.0% and another son, David Leung Wai-lap, holds over 6%, making a total family holding of about 58%. Your editor David Webb currently holds over 5% of Alco. He went above the 5% disclosure threshold on 17-Jul-08 at $1.833, having cut below 5% on 18-Dec-07 (a year ago) at $3.394. Commonwealth Bank of Australia, through its First State Investments arm, holds between 5% and 6% in funds under management.
Outlook
While the global recession is bound to impact the electronics sector, Alco is at the mass-market end of it, supplying TVs and other products in the low and middle price ranges, with smaller screen sizes, rather than the high-end branded market. Alco's major supermarket customers such as Walmart have been winning an increasing market share in electronics relative to struggling specialist retailers such as Circuit City, as consumers trade down. We believe the consumer slow-down is more than reflected in the price, and Alco will weather the storm well.
Christmas wrap
So there you have it, our 10th Christmas pick. Have a happy holiday season. There are still a few shopping days till Christmas, so don't go panic-buying. Let the day-traders have their their fun first. Unless you enjoy the thrill of gambling, we suggest you take your time. The Webb-site.com Christmas Picks are meant for a one-year horizon, not one-day.
© Webb-site.com, 2008
---
Organisations in this story
Topics in this story
---
Sign up for our free newsletter
Recommend Webb-site to a friend
Copyright & disclaimer, Privacy policy
---