In the past few days, it has become clear how Beijing plans to rig the 2020 LegCo elections to claim "universal suffrage" without losing control. This gives even less reason for legislators to approve Beijing's proposal for the 2017 Chief Executive election.
Beijing's 2020 vision for LegCo

3 February 2015
Over the last few days, some clarity has emerged over what Beijing has in mind for the "universal suffrage" HK Legislative Council elections which, under the 29-Dec-2007 decision of the National People's Congress Standing Committee (NPCSC), could happen in 2020 if the Chief Executive has been elected by "universal suffrage" in 2017. And the 2020 vision is not pretty. Chief Executive Leung Chun Ying has said that he cannot promise the abolition of functional constituencies (FCs) in 2020, even if there is universal suffrage then. Legislative Council President Jasper Tsang Yok Sing has said that the suggestion of abolishing the FCs "requires further discussion".
Given that Beijing seems determined to maintain control while creating the illusion of choice, as it has done with its proposals for 2017, it must also wish to maintain control of LegCo via the tycoon-united front coalition in LegCo, comprising the small-circle FCs, the pro-Beijing DAB/FTU and assorted hangers-on like Regina Ip's 2-legislator not-so-New People's Party. So this begs the question, if FCs are not abolished, then how does Beijing plan to rig the 2020 elections, in order to claim that "universal suffrage" has been achieved? Based on the approach taken by Beijing with the Chief Executive election in 2017 and the recent comments, we can now see clearly how this will be done. Before we present the solution, some background.
Background
Excluding the territory-wide District Council (2nd) sector, there are 28 FCs which elect 30 legislators. Each FC has 1 seat except the Labour Sector, comprising trade unions, which elects 3 seats. Of these 28 FCs, 18 have voters who are "bodies": corporations, trade associations and trade unions (including the Labour sector). Of these 18 FCs, 10 have no individual voters and the other 8 are mixed bodies and individuals. Ranked by number of electors, the smallest circle is Finance, where 128 banks were registered electors in 2012, then Insurance, where 135 insurers were registered, then the Heung Yee Kuk, where all its 147 councillors are electors, including New Territories Justices of the Peace who are appointed by the Government.
Incidentally, most of the banks and insurers are foreign-owned, including mainland and Taiwan banks - perhaps this is what C Y Leung means by "foreign influences".
Although it is often said that the FCs are elected by "about a quarter of a million voters", this vastly overstates the reality. As shown in the table below, ranked by size of electorate, the 13 smallest FCs elect half (15) of the seats with a total electorate in 2012 of just 6,870, and often there is no election as the seats are not contested. Keep in mind that corporate voters often have the same owners, reducing the circles to an even smaller size, so they can often just privately agree who will be their legislator without a public contest.
The quarter-million elector figure is reached by including the professional sectors, where every licensed or registered human has a vote. The 5 largest FCs had 180,668 electors or 75% of the total FC electorate in 2012, and each of those sectors elected a pan-democrat (although the Medical Sector legislator is currently wavering on that).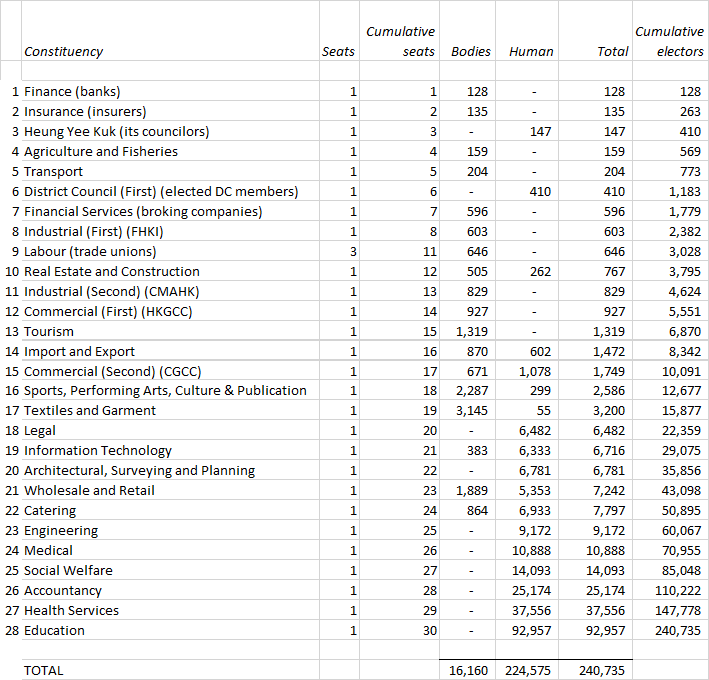 The 2020 vision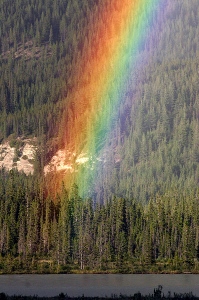 What Beijing must be planning is that, to maintain control while claiming universal suffrage, the existing FC electorates will be reconstituted as de facto "nominating committees" for their sectors. There will be a "primary" round in which the current FC electors select 1 or more candidates for their sector, and then the general public will get to vote on those candidates by universal suffrage. Each citizen will have 1 vote in each sector, probably including the "Super" District Council (2nd) territory-wide sector, together with 1 vote in the geographic constituency in which they reside. So each citizen could have up to 30 votes. However, if only 1 candidate is nominated in a sector, then that person will either be deemed elected uncontested or will go through the formality of a vote in which people can either vote for him/her or abstain.
This will rightly be dismissed by those who want universal and equal suffrage as a sham, fake democracy, due to the way the candidates are screened. Now that the plan is becoming clear, there is even less reason to support the 2017 package for the CE on the vague promise of "universal suffrage" for LegCo in 2020. There is no pot of gold at the end of the rainbow, and like all rainbows, you cannot reach the end of it. Every time you try to go there, it moves further away.
There is a second reason that FCs will not be abolished in 2020. To do so requires amendment to Annex II of the Basic Law, which requires a two-thirds majority of LegCo. Therefore 24 legislators can block it. Look at the table above and keep in mind that Beijing has ruled out any changes to LegCo in 2016. If the FC electorates are not broadened in 2016, then it seems unlikely that small-circle legislators will vote to abolish their own seats, as it is hard to see what Beijing can offer them in return. Perhaps a few of them can be bought off with policy decisions (such as maintaining the Small House policy for the Heung Yee Kuk) but many represent tycoons (Real Estate and Construction, Transport, chambers of commerce) who would not dance to Bejing's tune if it meant giving up their influence. So without changes to the FC electorates in 2016, there is no real prospect of FC abolition in 2020.
© Webb-site.com, 2015
---
Organisations in this story
People in this story
Topics in this story
---
Sign up for our free newsletter
Recommend Webb-site to a friend
Copyright & disclaimer, Privacy policy
---