In Part 3 of our series on the Styland network, we look at Riverhill, a stock in which Styland and Digital World made early acquisitions at stratospheric prices. Riverhill's turnover collapsed after the IPO, which was based on a 9-project track record, part of which was sub-contracted and part of which came from a company sold to Digital World for a similarly stratospheric price.
StyNet, Part 3: Riverhill

8 August 2002
Before you read this article, read Part 1 and Part 2, or this will not make sense!
Continuing our story on the Styland network, this Part 3 covers Riverhill Holdings Ltd (Riverhill, 8127), which is a systems integrator of software and hardware for applications of Geographical Information Systems (GIS), Remote Sensing (RS) and Global Positioning Systems (GPS), which the group collectively calls "3S". In other words, systems using digital maps, aerial and satellite images and location-sensing devices.
The group is a distributor of 3S software from Intergraph and MicroImages as well as hardware from Silicon Graphics.
The story of Riverhill begins on 12-May-99, when five founders, Prof He Xiao Feng (Prof He), Prof Liu Wei (Prof Liu), Prof Wu Lun (Prof Wu), Prof Yang Kai Zhong (Prof Yang), , and Mr Yick Chong San (Mr Yick) set up Cyber World Technology Ltd (Cyber World) in the BVI, with 100 shares of US$1 each, 80% held by Cyber Town Co Ltd (Cyber Town, formerly known as Zelma's Co Ltd) and 20% by Cyber City Technology Ltd (Cyber City). Yes, cyber-everything was the name of the game. In fact, when Riverhill was incorporated in the Caymans on 14-Sep-00, it was originally named Cyber World Group Ltd, but they thought better of it by the May-01 IPO.
Founders
The ownership of Cyber Town and Cyber City, and the implied effective stake in Cyber World in the beginning, is as follows:
Name
Cyber Town
Cyber City
Stake in
Cyber World
Prof He
35%
30%
34%
Prof Liu
35%
28%
Mr Yick
30%
24%
Prof Wu
35%
7%
Prof Yang
35%
7%
Total
100%
100%
100%
The 4 professors are all based at Peking University, while Mr Yick is a director and Chief Financial Officer of Riverhill based in HK. Prof He is in the School of Economics, of which Prof Liu is deputy chairman. Prof Wu is in the Urban and Environmental Sciences Department, of which Prof Yang is chairman. So as the table shows, the economists got a bigger stake than the geographers.
At the IPO, Prof He was the only one of the 4 professors on the board, as Chairman, while Prof Wu and Prof Yang are listed in senior management, and Prof Liu is on the "technological and management advisory board".
On 15-Jul-99 Cyber World's 100% subsidiary, Beijing Spatial Port Network Technology Ltd (BSPN) was incorporated in the PRC.
Styland invests
On 13-Jan-00, Styland Holdings Ltd (Styland, 0211) announced it was acquiring 40% of Cyber World from Cyber Town for HK$148m, based on a valuation for BSPN of HK$370m by LCH (Asia-Pacific) Surveyors Ltd (LCH) as at 30-Nov-99. The deal was completed on 16-Mar-00.
The consideration included $131.6m for 40% of Cyber World and $16.4m for 100% of the shareholder loan due from Cyber World to Cyber Town. The total of $148m was to be satisfied by the allotment of 400m Styland shares or payment of $24m cash, plus $124m of 7.5% 3-year promissory notes. In the end, Styland must have chosen cash, as no shares were issued. The promissory notes did not show up in the Styland accounts at 31-Mar-00 so presumably they had already been redeemed for cash. It was not stated whether the notes were transferable.
The announcement stated:
"As at the date hereof, [Cyber World] has entered into project agreement of approximately HK$27 million....As [at] the date hereof, [Cyber World] has entered into letter of intent with contract value of approximately HK$218 million" (emphasis added)
You might think that $218m potential revenue figure was rather impressive, but almost none of it showed up in the subsequent track record and the IPO prospectus did not mention the above statement or discuss why those letters of intent did not get converted into revenue.
Digital World invests
On 27-Jun-00, Digital World Holdings Ltd (Digital World, 0109) acquired 5 shares (5%) of Cyber World for $30m, again from Cyber Town, based on a valuation of RMB720m (HK$673m) by Sallmanns (Far East) Ltd on 5-Jun-00. Apparently, in six months the value of Cyber World had increased 82%!
The deal was belatedly announced on 7-Sep-00. So after two deals, Cyber Town's holding was now reduced from an original 80% to 35%, in return for a total of HK$161.6m in cash.
Capital
Up to the end of the track record on 31-Dec-00, the total equity invested in Riverhill was just US$100. The rest was financed by shareholder loans, and at the year end Riverhill owed HK$13.59m to Styland and $7.92m to Cyber Town, or a total of only $21.51m. Perhaps by coincidence, Riverhill also had cash of $13.59m, so the net debt was only $7.92m.
Styland's loan became interest-bearing at Prime rate from 1-Jul-01 and was repayable thereafter in 12 equal monthly instalments, while Cyber Town capitalised its loan on 2-May-01, receiving 2 new shares in Cyber Town.
All the 102 Cyber Town shares were swapped for shares in Riverhill. On 2-May-01, just prior to the IPO, the group paid a bonus of HK$800,000 which was then used to pay up the par value of 8m shares in Riverhill at $0.10 each, allotted to 2 directors, 10 senior management and 6 members of the "technological and management advisory board", who cannot sell for 2 years. So the cash went around in a circle but should show up as an expense.
As a result, the ownership before and after the IPO can be analysed as follows: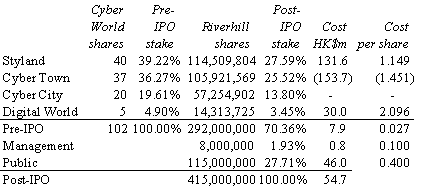 The above table shows that Styland has an average cost of $1.149 per Riverhill share and Digital World had a cost of $2.096 per Riverhill share, while the average cost per share for all pre-IPO investors was only $0.027.
If the figures are to be believed, by selling shares to Styland and Digital World, 3 of the 5 founders received, in Cyber Town, net cash of $153.7m after deducting the loan they capitalised. Through their total 70% stakes in Cyber Town, this implies that Prof He and Prof Liu share $107.6m. We wonder whether Peking University gets any of this.
There was also a pre-IPO option scheme over 40m shares exercisable for 10 years at the IPO price, of which 20.48m options went to the board and of that, 400k to each of the two independent non-executive directors.
INEDs
One of the independent non-executive directors is Professor Hong Jun Yan, a professor of the Department of International Economics at Peking University. Yes, that's the same university where Riverhill's Chairman is a professor of the School of Economics.
The other INED is Prof Zhou Qi Ming, an associate professor of the Department of Geography at Hong Kong Baptist University.
IPO
The IPO prospectus was published on 18-May-01, sponsored by Anglo Chinese Corporate Finance Ltd, offering 100m new shares at a range of $0.45-$0.60 each and eventually pricing at $0.60, with a normal "green shoe" over-allotment option of 15m new shares. This eventually raised HK$69m gross and $57m net of expenses.
The financial adviser and co-lead manager was International Capital Network Ltd, owned by International Capital Network Holdings Ltd (ICNH, 8004), which should be familiar to you after Parts 1 and 2 of this series. We'll cover ICNH in a future article. One of the 2 Co-Managers was Ever-Long Securities Co Ltd, which is owned by Styland. The other was CLSA Emerging Markets.
Track record: General
Riverhill took advantage of the waiver then available for GEM applicants to allow track records of less than 2 years. Its first period ran from 12-May-99 to 30-Jun-00, and the second for 6 months to 31-Dec-00.
During the track record, Riverhill was engaged in only 9 projects.
Despite such a concentrated track record, the names of the customers, and the value of each contract, were not disclosed in the prospectus.
Regulatory note: There is really no excuse for a lack of transparency in track records. The Listing Rules should be amended to require disclosure of the amount of business done with any customer (or inter-related group of customers) which exceeds 5% of turnover in a given period, and the name of that customer and its parent companies (if any). No names, no float.
Track record: first period 12-May-99 to 30-Jun-00
Riverhill's first project came on 3-Jun-99, a website for "a software house in Hong Kong", completed in Oct-99. Like all the other projects, the client was not named in the prospectus. Nor was any breakdown given of the fees earned by project. The same client description was used for a client in the Inworld Group Ltd (Inworld, 8100) prospectus.
On 21-Jun-99 came the 2nd contract, a website for "an internet content provider in Hong Kong" completed in Nov-99.
In Oct-99, the group set up its research and development department to develop "proprietary software products such as CyberGPS, CyberGIS, CyberGuide and CyberTown".
Digital World, Ancora and cwap.com
On 11-Oct-99, Riverhill gained its 3rd project, to design "a WAP-enabled tourist information system for 224 cities in mainland China". The client was "a WAP portal in Mainland China". The prospectus cryptically tells us that of the top 5 customers, "one customer, accounting for 15% of the Group's turnover for the period ending 30th June 2000, subsequently became a wholly-owned subsidiary of Digital World". 15% of Riverhill's turnover amounted to about $3.58m. The project was completed in Jan-00.
It's a fair bet that this unnamed customer was Ancora Worldwide Ltd (Ancora), the owner of cwap.com, which was sold to Digital World for HK$95m by Kevin Ngai Kwok Kin (Mr Ngai), now Chairman of Inworld Group Ltd (Inworld, 8100) and others in 2000. Ancora also bought services from Inworld later on. According to the domain record of cwap.com, Ancora is located at the Beijing office of BSPN, Riverhill's principal subsidiary.
Riverhill's largest customer accounted for 22% of turnover for the period, and the top 5 accounted for 86%, so excluding Ancora (or whoever it was), 3 others accounted for 49% of turnover.
On 18-Oct-99, the group's 4th project came for a vehicle tracking system for "a highway construction and management company in Mainland China". This was a two-stage project expected to complete in May-01.
Split time!
Let's stop the clock there for a moment, because, as luck would have it, when Styland bought into Cyber World, it was a "Major Transaction" under the listing rules, which means we got an accountant's report by Albert Lam & Co, for the period from 12-May-99 to 30-Nov-99. That allows us, by subtraction, to split the first track record period into two parts, as shown below.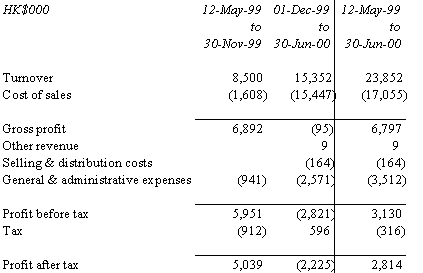 Notice that the second part of the period was loss-making - it is only the first 7 months that made a profit.
On 2-Jan-00 came the 5th project for a web site for "a software house in Macau", completed in Feb-00. Thanks to a geographical breakdown of sales, as this was the only project in Macau, we can infer that the contract was worth 16.1% of turnover or about $3.84m.
On 8-Jan-00 came the 6th project for "network system design and integration" for "an internet content provider in Hong Kong", completed in Mar-00.
On 27-Jan-00 came the 7th project, "an internet digital mapping system on Hong Kong", for "an internet content provider in Hong Kong". The project was in two stages and expected to complete in Jun-01.
In Jan-00, Riverhill became an authorised dealer of various products of MicroImages, Inc. and in May-00, it was appointed as head distributor of selected software by Intergraph China Ltd. Both produce GIS software. Interestingly, the contact page for BSPN on MicroImages web site lists an old web address on an Inworld web site.
Out-sourcing the track record
In the period, Riverhill used sub-contractors for an undisclosed number of projects at a total cost of $4.1m. The identity of the sub-contractors was not disclosed. During the period, the largest supplier to Riverhill "provided technical support to the Group for website development projects, accounting for 35% of the Group's total purchases." We note that Riverhill's 1st, 2nd, 3rd and 5th projects all involved web sites. So it seems that some or all of this early part of the track record was effectively out-sourced.
Regulatory note: as "total purchases" are not disclosed in prospectuses, we can't translate percentages into dollars. Companies should be required to put a monetary figure on total purchases so that we know what we are talking about.
Track record: six months to 31-Dec-00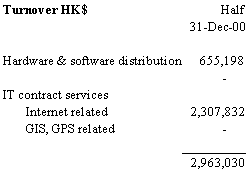 In Jul-00, Riverhill became an authorised dealer for certain products of Silicon Graphics Inc, which makes graphics workstations and servers.
On 6-Oct-00 came the 8th project, and the only new one in the period, "enhancement of an internet portal with virtual reality functions" for "an internet portal on beauty", completed in Mar-01.
In the six-month period, the largest customer accounted for a whopping 78% of turnover, implying a value of $2.31m. This customer was based in HK and involved "3S Applications". so it must be the 7th project and the only one which generated revenue for the half-year. The remaining 22% of turnover came from distribution of software and hardware in Mainland China. The 5 largest customers (including two who just bought distributed products) accounted for 88% of turnover. Although the 7th project customer was an ICP based in HK, all turnover was settled in Renminbi.
Based on completion dates, the 4th and 8th projects were still in progress but did not generate turnover in the period.
Post-track record: up to 11-May-01
Between Nov-00 and Jan-01, Riverhill spent HK$100k on banner advertisements at Inworld.
On 13-Apr-01 came the 9th project, "system design and integration of a digital earth prototype" for "a supplier of scientific appliances in Mainland China" expected to complete in Jun-01.
By 11-May-01 when the prospectus was finalised, only 3 contracts were in progress, with a total gross contract value of $10.1m which had not been recognised by the end of the track record on 31-Dec-00. That would be the 4th, 8th and 9th projects. In fact, based on subsequent accounts, much of this was hardware and software distribution, and the turnover for the 6 months to 30-Jun-01 was as shown below:
As you can see, sales collapsed soon after the IPO, with almost no turnover in contract services. In the most recent quarter to 31-Mar-02, sales were only $402k. All this is a far cry from the "letter of intent with contract value of approximately HK$218 million" stated in the Styland announcement back in Jan-00.
IPO Allotment
On 29-May-01 Riverhill announced that its IPO had been 120x subscribed in the retail tranche of 20m shares which comprised 20% of the initial offer. That oversubscription included 37 applicants for the entire 20m shares, 37 for 10m shares, and a total of 85 who wanted at least half the public offer.
The company reallocated 15m shares to the public offer, leaving 65m placing shares, and then over-allocated 15m shares to the Placing, which it eventually covered by exercising the over-allotment option.
Despite the apparently popular reception, the largest recipient in the placing was a director and shareholder of ICNH, the financial adviser to Riverhill, who received 12m shares, or 15% of the placing. The top 10 placees received 59.1% of the placing, prompting a concentration warning of the type often seen in GEM issues. All would be free to sell.
Share price
Trading began on 1-Jun-01 and 143% of the 115m offer shares changed hands - in other words, some shares traded more than once. The price ranged from $1.14 to $1.68 and closed at $1.62, up 170% on the IPO price. It went on to reach an all-time daily closing high on 6-Jun-01 of $1.80, up 200% on the IPO, valuing the firm at $747m.
Post-IPO Acquisitions
In Sep-01 Riverhill acquired 52% and 25% of Xi'an Giahe Information Consultation Industry Co Ltd and Wuhan GIS Information Technology Ltd Corp respectively for HK$1.5m.
On 31-Oct-01 Riverhill acquired 35% of Beijing Cityonmap Technology Co. Ltd. (Cityonmap) for HK$5.2m in cash. The company is "principally engaged in the research and development of wireless application of GIS and GPS". The vendor was a BVI company called Green Yield International Co Ltd and we don't know who owned it.
In Jan-02, Cityonmap teamed up with Beijing Hi-Tech Wealth Co. Ltd., "China's biggest PDA manufacturer" to launch a PDA with navigation features.
Investment in Inworld
In Inworld's IPO, the allotment announcement revealed that one of the top 4 placees was "Cyber World Technology Limited, a customer of the group" which of course is owned by Riverhill. That cost $4.0m for 7.6% of Inworld's placing. Riverhill never disclosed the investment.
Inworld's stock began trading on 31-Dec-01, and there is no sign of it in the Riverhill interim report balance sheet at 31-Dec-01, so it seems likely that they sold it on the first day. In the income statement, under "other revenue", Riverhill records "other income" of HK$443k in the 3 months to 31-Dec-01. Perhaps part of this is the profit on Inworld shares. Riverhill's net loss for the quarter was $4.0m.
Deposit with Digital World subsidiary
On 6-Feb-02 Riverhill announced results for the 6 months to 31-Dec-01. The statement revealed that Riverhill had placed a deposit of $2.0m "to an independent network provider, Digital Nunet Exchange Limited, to secure board band (sic) availability in Beijing." Does that name sound familiar? Digital Nunet Exchange Ltd is 55% owned by Digital World.
Accounts receivable
The interim report was incomplete, and the company had to put out supplemental results which revealed that accounts receivable at 31-Dec-01 included an amount of $1.648m due for over 120 days.
Declining cash balance
Since the IPO, Riverhill's cash balance has declined rapidly:
| Date | Cash HK$m |
| --- | --- |
| 30-Jun-01 | 65.5 |
| 30-Sep-01 | 56.0 |
| 31-Dec-01 | 32.3 |
| 31-Mar-02 | 17.5 |
If it continues at that rate, it should be down to zero around about now.
The 31-Mar-02 quarterly results showed a loss of $3.56m, compared with $1.94m in the quarter to 31-Mar-01. The interesting thing about that is that in the IPO prospectus, Riverhill showed a net loss "based on the Group's management accounts" for the three months to 31-Mar-01 of $1.33m for the exact same period. It makes us wonder how accurate the group's management accounts were! The restated loss was 46% larger than the prospectus claimed!
Chairman quits board
On 24-Jun-02 Prof He, the largest management shareholder, resigned as Chairman and executive director, and became "Honorary Chairman", which Riverhill later clarified is not a board position.
Share price
Riverhill's closing price today was $0.345, down 80.8% from its high. However, its net asset value per share at 31-Mar-02 was only $0.131, including losses of 2.5 cents in the first 9 months of the financial year.
Summary
After 3 Parts to the Stynet story, a network should be clearly visible. In Riverhill, we have a company:
which once had "letter of intent with contract value" of HK$218m, but managed turnover of $1.97m in the last 9 months
in which Styland and Digital World bought pre-IPO shares and shareholder loans from "independent third parties" at a combined cost of HK$178m
whose track record included sales to a company (Ancora) which was sold to Digital World for HK$95m
part of whose track record was performed by sub-contractors
whose turnover collapsed almost immediately after the IPO
whose prospectus understated losses for the 3 months to 31-Mar-01, which turned out to be 46% larger than stated
which placed advertising with Inworld which appeared in Inworld's track record
whose financial adviser was ICN
which briefly invested in Inworld's IPO
which has a rapidly shrinking cash balance
whose Chairman and largest management shareholder has already resigned.
© Webb-site.com, 2002
---
Organisations in this story
People in this story
---
Sign up for our free newsletter
Recommend Webb-site to a friend
Copyright & disclaimer, Privacy policy
---