And we think we know who they mean. The facts all point to entities featured in our network diagram last October.
HKMA, SFC announce "serious concerns" about transactions by mainland bank, HK subsidiary

24 April 2019
A joint announcement and circular issued today (24-Apr-2019) by the Securities and Futures Commission (SFC) and Hong Kong Monetary Authority (HKMA) warns of "serious concerns" regarding "a series of complex transactions" by a "bank within a Mainland-based banking group" and a licensed corporation owned by a subsidiary of that group. Webb-site's previous analysis allows us to pinpoint the transaction, or one which is entirely consistent with the stated facts.
The regulators found that:
"The subsidiary... obtained a credit facility from the bank... The subsidiary then made a large investment in a private fund set up by a licensed asset manager. The sole purpose of the fund was to provide a loan (Loan A) to a special purpose vehicle (SPV) owned by a substantial shareholder of a listed company against a pool of collateral which was mainly composed of the listed company's shares.
Loan A was used to repay part of a loan of another SPV owned by the substantial shareholder which had financed projects in an emerging market. It was subject to a margin call arrangement whereby additional cash or securities collateral would be required when the loan-to-collateral ratio exceeded an agreed level."
In a circular dated 3 August 2018, the SFC expressed concerns about arrangements which effectively provide margin financing in the guise of investments; it is of the view that the arrangement put in place by the Group, which was accounted for as an investment in a private fund by its subsidiary, was in substance a margin loan leveraging on the funding support from the bank.
The HKMA's inspection identified deficiencies in the bank's lending practices...
The SFC also found that the Group's subsidiary, via a separate subsidiary holding a money lender licence, also had provided lending to other listed companies secured by collateral provided by major shareholders. Some borrowers had pledged a significant proportion of the listed companies' total issued shares (up to 70%). These were illiquid stocks of doubtful quality."
OK, so now for the big reveal. Remember our article, The Huarong-CMB network, 26 stock not to own (19-Oct-2018)? Well that was partly about China Minsheng Banking Corp Ltd (CMB, 1988.HK, 600016.SH) and its HK-listed subsidiary CMBC Capital Holdings Limited (CMBC, 1141). Earlier, we posted an announcement dated 15-Mar-2018, that CMBC had subscribed HK$300m into a "segregated portfolio company" known as "New China OTC Fund 2" (NCOTCF2), managed by China Urbanization Capital Limited. These are very likely the bank, the subsidiary, the fund and the asset manager respectively referred to in today's SFC-HKMA announcement.
NCOTCF2 then made a loan of HK$400m to Delta Link Holdings Limited (Borrower), which is very likely the SPV. CMBC's announcement didn't identify the sole shareholder of the Borrower, who was the Guarantor of the loan. The loan was said to be secured on shares of an unnamed HK Listco, incorporated in the Cayman Islands and listed in HK and "principally engaged in the real estate business in the PRC."
At the time, Webb-site deduced from disclosures of interests that the Guarantor must be David Wang Weixian and that HK Listco must be Greenland Hong Kong Holdings Ltd (0337). He had previously on 19-Sep-2017 pledged the shares to Huarong Investment Stock Corp Ltd (2277) for a HK$500m loan on 19-Sep-2017, something we also deduced from disclosures of interests even though the Huarong announcement did not disclose it.
As for the SFC's final paragraph, the "separate subsidiary holding a money-lender licence" would be CMBC Capital Finance Limited, which is wholly-owned by CMBC and has made numerous loans against shares, many of which we have documented here on Webb-site Reports. To make all this clearer, we're reproducing that network diagram from last October, without updating any of the connections but highlighting the entities involved outlined in red. Which part will the regulators work on next, we wonder?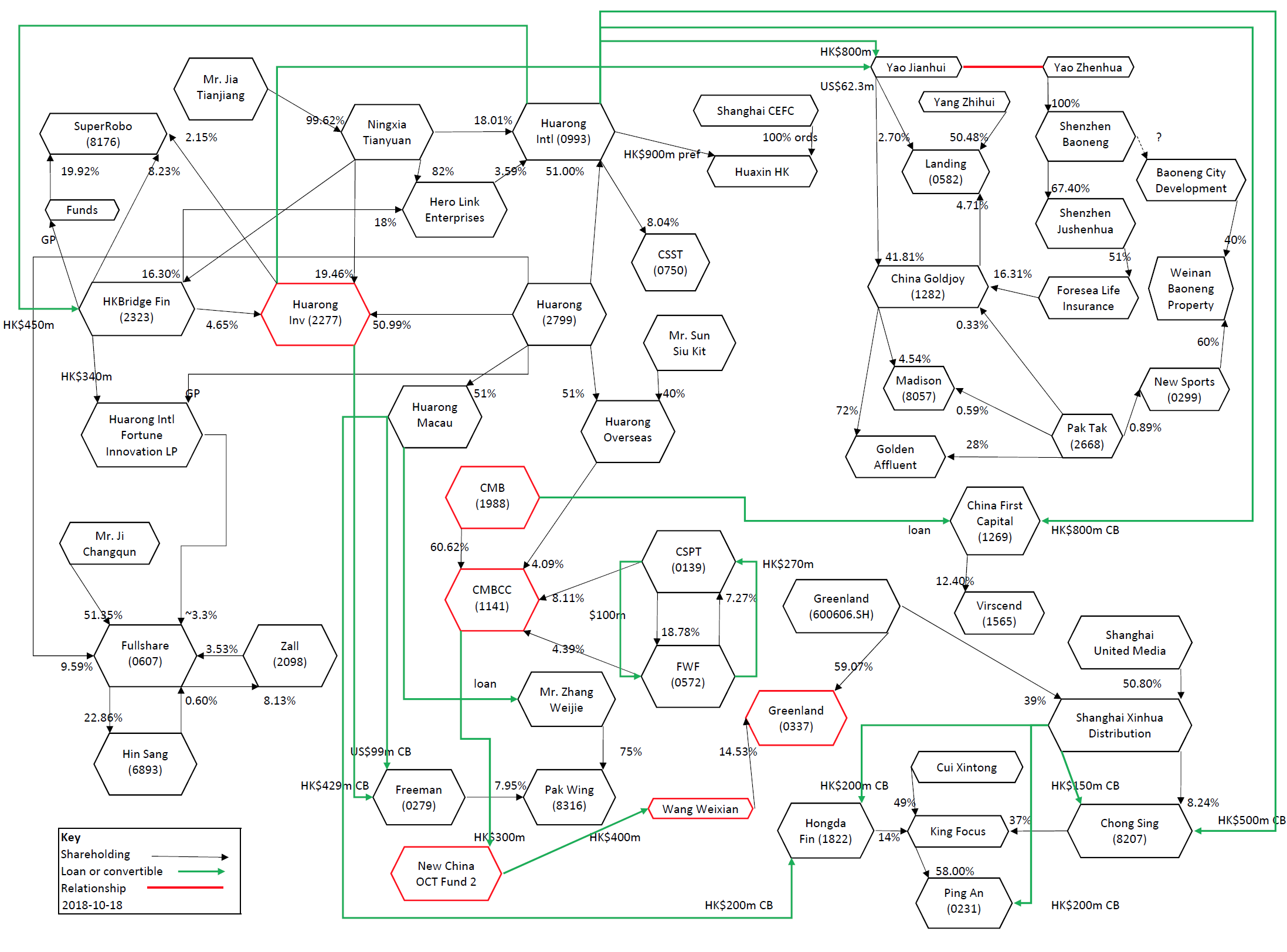 © Webb-site.com, 2019
---
Organisations in this story
People in this story
---
Sign up for our free newsletter
Recommend Webb-site to a friend
Copyright & disclaimer, Privacy policy
---