In our first circuit diagram since the infamous Enigma Network, we examine the overlapping networks, bubbles and funding surrounding 26 HK-listed companies that your portfolio would probably do better without.
The Huarong-CMB network: 26 stocks not to own

19 October 2018
Back on 15-May-2017, we published The Enigma Network: 50 Stocks not to own, leading to a historic meltdown of much of that network on 27-Jun-2017 and subsequently the first ever joint ICAC-SFC raid and investigation, which is ongoing - so far, nobody has been charged with any offence, and no winding-up proceedings or other legal action has been taken against any of the listed companies involved.
Drawing that picture was really the only way to illustrate such a complex web of dealings, and once again we find ourselves resorting to the circuit board to show the network of relationships surrounding China Huarong Asset Management Co Ltd (Huarong, 2799) and another large financial player, China Minsheng Banking Corp Ltd (CMB, 1988.HK, 600016.SH).
At the foot of this article, you will find a list of entities and people mentioned in the diagram. Click on the links to find a trail of past announcements and filings in our archive which explain the transactions. And this year's diagram comes with a new feature: colours - or at least, two of them, in addition to black and white. Green indicates loans or convertible bonds, with amounts labelled where known.
Red indicates a family relationship - the Yao brothers, in this case. Yao Zhenhua runs Shenzhen Baoneng group which controls Foresea Life Insurance. In 2017, he was banned from the insurance industry for 10 years for abuse of the insurance fund. His brother Yao Jianhui controls China Goldjoy Group Ltd (1282) which has a bunch of SFC licences in HK under Golden Affluent Limited (BVI). Yao Jianhui's investments have been partly funded by an HK$800m loan from Huarong International Financial Holdings Ltd (HIF, 0993) and a US$62.3m loan from Huarong Investment Stock Corp Ltd (HIS, 2277). HIF and HIS are both 51% owned by Huarong.
As if 3 entities for lending and investing are not enough, Huarong has two more unlisted 51% subsidiaries of note: China Huarong Overseas Investment Holdings Co Ltd (Huarong Overseas), which is 40% by a Mr Sun Siu Kit, and Huarong (Macau) International Co Ltd (Huarong Macau), the other owners of which we were unable to identify beyond their corporate names.
Both HIF and HIS, and probably Huarong Overseas and Huarong Macau, are highly dependent on financial support from Huarong. For example, HIF owed its parent group HK$18.92bn at 30-Jun-2018. The story is similar with CMB's listed subsidiary CMBC Capital Holdings Ltd (CMBC, 1141). In our view, this stock is a bubble, with a market value last night of HK$16.94bn ($0.355/share), but net tangible assets at 30-Jun-2018 of just HK$1074m ($0.023/share). The balance sheet is highly geared with loans from CMB and its subsidiaries totalling HK$6.34bn.
As you can see, CMBCC is where Huarong and CMBC connect, because buying into this bubble has been China Soft Power Technology Holdings Ltd (0139), partly funded by loans from Huarong Overseas, which also owns 4.09% of CMBCC and therefore has an interest in keeping the share price high. Other bubbles in the diagram include SuperRobotics Ltd (8176) with a HK$3.544bn market cap ($7.00/share) but net tangible assets at 30-Jun-2018 of HK$187.4m ($0.37/share).
Another bubble is China First Capital Group Ltd (CFC, 1269) which has a market cap of HK$17.74bn, but net tangible assets at 30-Jun-2018 of RMB2518m (HK$2983m). Included in that NTAV is a 12.4% stake in Virscend Education Co Ltd (1565) then valued at RMB1776m, and that stock is also trading at a rich valuation several times its NTAV, so CFC's attributable NTAV is even smaller than it looks. CFC has issued an HK$800m convertible bond to HIF as well as borrowed against its Virscend stake from CMB.
To be clear, this is only a partial view of the network, just as much as we can fit on one screen, and doesn't begin to touch what has been going on in the mainland or in other countries. For example, the connection between the Shanghai Government, its media arm Shanghai United Media, and Shanghai-listed Greenland Holdings Corp Ltd and their Huarong-assisted funding of various HK-listed companies all bear further scrutiny. But we've said enough - a picture is worth more than a kiloword, we think.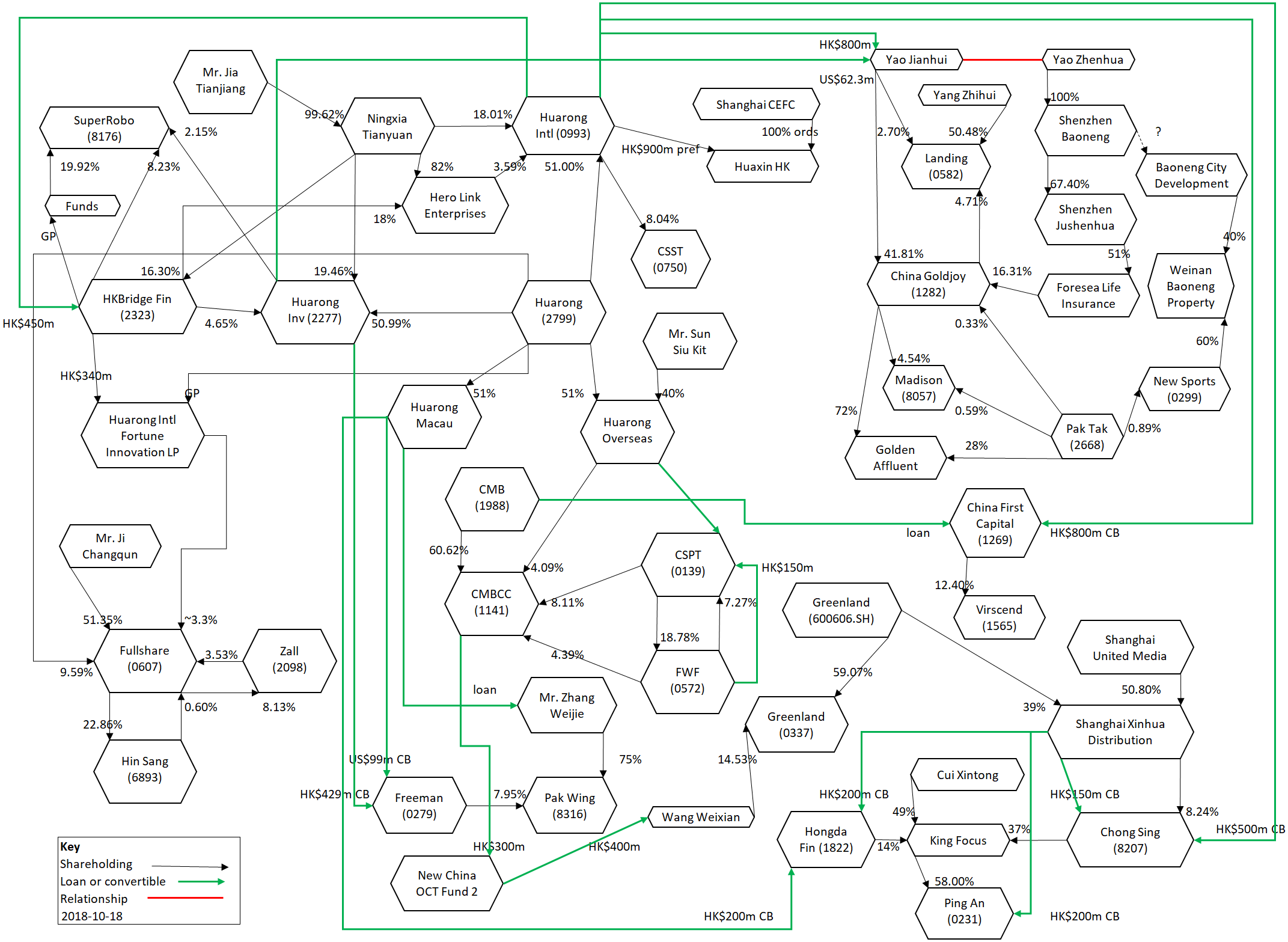 © Webb-site.com, 2018
---
Organisations in this story
People in this story
---
Sign up for our free newsletter
Recommend Webb-site to a friend
Copyright & disclaimer, Privacy policy
---