We now connect Joseph Lau to Executive Talent, and focus on a series of dubious transactions by Hycomm and the bubble in its stock while it did the coal mine hokey cokey, from which bubble Joseph Lau has profited hugely. We also look at the creation of Inno-Tech and the youngest infant mortality on GEM, Codebank.
Raking muck, Part 3

5 March 2012
Continuing on from Part 2, you will recall that there are at least 8 listed companies in this series:
To this list we now add a 9th company:
In Part 2, we explained how Executive Talent Limited (Executive Talent) had been rewarded with shares as "Arranger" in the creation of COMG, in which Vicky Yu was also a subscriber, and how earlier, in 2005, Executive Talent had been a creditor-cum-shareholder in the restructuring of KH Investment Holdings Ltd (KHIH, 8172, then Satellite Devices) in the same year that Vicky Yu was appointed to the board of KHIH.
So whom else can we connect to Executive Talent? Joseph Lau, of COMG and CPEC, which featured heavily in Part2, amongst others. Here's how:
WKH and Hycomm invest in Corning
On 13-Aug-2007, WKH agreed to buy 10% of Corning Investments Ltd (Corning) from 3 vendors for HK$36m, satisfied by 31,266,284 new shares (12.25%) of WKH at $1.1514 each. Corning was incorporated on 28-Feb-2007 and owned 100% of Digital Outdoor Television (Hong Kong) Ltd (DOTV) which in turn owned 100% of Today's Media Ltd (Today's Media).
The vendors were "Yang Pei" (3.5%), "Ye Ai Fang" (3.0%) and Executive Talent (3.5%). We know nothing about Yang Pei and Ye Ai Fang, who sold their entire stakes. The announcement didn't say who owned Executive Talent, but the obligations of all vendors were guaranteed by Joseph Lau and one Yuen Nim Cho. That would be Joseph Yuen Nim Cho, then CEO of DOTV. After the deal, Executive Talent retained 14.5% and the other 75.5% was owned by 2 unnamed parties. The deal was completed on 24-Aug-2007 and the circular was dated 30-Aug-2007. The financial adviser was Kingston Corporate Finance Ltd.
DOTV was incorporated on 9-Jun-2006 and named "Adcentral Company Limited" until 3-Apr-2007. DOTV acquired Today's Media on 2-May-2007 "and started its operation since then". Today's Media had "an installed base of over 100 plasma TVs in various locations in Hong Kong" in restaurants, computer arcade and record stores. More indoor than outdoor then. It made a loss of HK$2.72m in 2005 and $4.84m in 2006. DOTV had consolidated net liabilities of $0.66m at 31-May-2007, but the deal valued it at (wait for it) HK$360m. Yes, really.
On 24-Aug-2007, 11 days after WKH invested in Corning, Hycomm agreed to buy 7.5% of Corning from 3 vendors (2.5% each) for HK$27m, satisfied by 270m new shares (7.56%) of Hycomm at $0.10 each. Each vendor was a BVI company with no disclosed owner(s). The vendors were Delancey Ltd (Delancey), Noblemore Holdings Ltd (Noblemore), and Executive Talent. After this, Delancey owned 48.5%, Noblemore 22.0% and Executive Talent 12.0% of Corning. The circular was dated 5-Sep-2007 and the deal completed on 18-Sep-2007. The financial adviser was Mega Capital (Asia) Co Ltd.
We note that the COMG web site describes Joseph Lau as "Founder of Digital Outdoor Television (DOTV)" so it seems plausible that he was also behind one or more of the vendors in these transactions - otherwise, he had no shareholding in the venture, which would be odd for a founder, and it would be even odder to voluntarily guarantee the vendors' obligations without having an interest in them. Whatever his role, this was yet another outdoor media venture with which he was associated and stakes in which had been sold at high prices to listed companies.
WKH has gradually written off its $36m investment in Corning. It wrote off $6m in 2007, $9m in 2008, $6m in 2009 and $5.7m in 2010, reducing its book value to $9.3m at 31-Dec-2010. Hycomm has taken a more pessimistic approach regarding its $27m investment, writing off $4.5m in the year to 31-Mar-2008 and $22.5m in the year to 31-Mar-2009, reducing its book value to zero less than 2 years after purchase. So between the two listed companies, for $63m of investment, they have only $9.5m of book value left.
Today's Media was dissolved by deregistration on 10-Dec-2010, and the DOTV web site www.dotv.com.hk is not responding at the time of writing.
A concert party for COMG?
Now that we have demonstrated Joseph Lau's association with Executive Talent as guarantor of its obligations in the sale of Corning to WKH on 13-Aug-2007, the question arises: were Joseph Lau and Executive Talent acting in concert in the creation of COMG? Joseph Lau was the largest participant in the placing on 5-Oct-2007 of unsubscribed shares from the open offer, when he took up 29.53% of COMG, and he was probably also one of the 3 sub-underwriters of Tanrich Capital when the open offer was launched on 23-Aug-2007, just 10 days after the WKH/Corning deal.
As "Arranger" in the creation of COMG, on 23-Nov-2007, Executive Talent was issued 44m shares (4.72%) of COMG, which diluted Joseph Lau to 28.14%. So between them, they had 32.86% of COMG. If they were acting in concert, then that should have triggered a takeover bid. We call on the SFC to investigate this, in addition to the concert party concerns raised in Part 2.
That's enough about Executive Talent, but there is more to come about Joseph Lau and friends, and we get there by looking at the history of Hycomm.
Hycomm share placing
On 27-Jul-2007, Hycomm launched a placing of 320m shares (9.7%) @$0.126, a 19.75% discount to the 5-day average price, via Hani Securities (H.K.) Ltd (Hani), to pay for a forestry acquisition. It is notable that after the placing completed on 3-Aug-2007, there was no immediate deposit of the shares into CCASS - they remained outside the clearing system, and only 80m were deposited to Hani's account on 21-Aug-2007.
Hycomm convertible notes
On 10-Oct-2007, Hycomm launched a massive best efforts placing for up to HK$300m of 5% 3-year convertible notes in 2 tranches, equivalent to 84.01% of the existing issued shares, again through Hani. The conversion price of $0.10 was a 25.9% discount to the 5-day average price. None of the placees would hold more than 9.99% of Hycomm upon conversion, avoiding them becoming connected persons of Hycomm. A circular was dated 1-Nov-2007 and the placing was approved (presumably on a show of hands) at an EGM on 16-Nov-2007. Eventually and without further announcement, $150m of the notes were issued on 4-Feb-2008, raising $146m net.
The announcement and circular both said that "Subject to consent of the [notes] holders, [Hycomm] shall be entitled at any time before maturity to redeem the whole principal amount of the relevant [notes]." What they didn't say was that this would cost 105% of the principal amount. Shareholders should have been told, but this fact is buried in note 24 of the annual accounts for the year to 31-Mar-2008.
So who subscribed the notes? Disclosures of interests show that Joseph Lau subscribed $34m (and simultaneously acquired 160m shares from someone else), George Chan Yuen Ming (George Chan) subscribed $50m and Beh Yong Shin (Ms Beh) subscribed $50m, so each had a holding equivalent to 14.00% of the existing issued shares (the disclosures wrongly show the percentage as 9.86%, which is based on the enlarged share capital if all the notes were converted). We don't know whom Joseph Lau acquired the 160m shares from, but we wonder whether that relates in any way to Delancey, Noblemore and Executive Talent, which together received 270m shares when they sold the stake in Corning to Hycomm, or to the 320m shares issued in the aforementioned placing. The 3 disclosed holders together subscribed $134m of the notes, so $16m were subscribed by others.
The interesting thing about the convertible notes issue is that it reunites George Chan with Joseph Lau, who was "a General Manager in Investment Division for over 5 years" at Tomorrow International Holdings Ltd (Tomorrow, 0760), which is now known as Talent Property Group Ltd. George Chan was the controlling shareholder of Tomorrow and has been a substantial or controlling shareholder of several listed companies but has never been a director of any HK-listed company. Who needs the disclosure that goes with that? He has featured several times on this site.
Neither George Chan nor Joseph Lau joined the Hycomm board, but on 15-Oct-2007, Mr Liu Shun Chuen was appointed as an ED of Hycomm, and three weeks later, on 6-Nov-2007, Mr Yeung Sau Chung was appointed as an INED of Hycomm, switching to ED on 11-Dec-2007 and becoming MD on 4-Jun-2009, a post he still holds. On 18-Dec-2007 Elaine Tam Chi Ling was appointed as INED. Roll the clock back to 31-Mar-2002 and you will find that all 3 of these people served together on the board of Goldbond Group Holdings Ltd (0172), then known as "Can Do Holdings Limited", when the largest shareholder was George Chan. Take a look at the directors' report and you will see what we mean.
Hycomm issues shares to George Chan for 5.8% of Tomorrow
On 12-Mar-2008, Hycomm agreed to buy 130,386,800 shares (5.8%) of Tomorrow @$0.4525 from George Chan in exchange for 590m shares (14.18%) of Hycomm. George Chan already held $50m of notes convertible into 500m shares representing 14% of the existing shares of Hycomm, but because he had not converted, he was not regarded as a connected person under the Listing Rules.
Regulatory note: as we have said for years, the Listing Rules should be amended so that persons with interests in shares underlying convertibles, warrants or other derivatives, amounting to at least 10% of the existing shares, should be regarded as connected persons. The potential to become substantial shareholders by exercising these rights is enough to have substantial influence over the actions of a company without converting.
Companies cannot issue shares at below par value, which in Hycomm's case was $0.10. So the Hycomm shares were issued at $0.10, which was 48.36% above the 5-day average closing price. However, this was exactly countered by paying 48.36% above the 5-day average closing price for the Tomorrow shares. So Hycomm issued shares with a par value of $59m in exchange for Tomorrow shares which were only worth $39.8m in the market, defeating the purpose of the prohibition against issuing shares below par value.
Hycomm already held 10m shares (0.44%) of Tomorrow before the deal with George Chan, so the deal increased its stake to 6.24%. On 19-Jun-2009, Hycomm sold 90m shares (4.00%) of Tomorrow off-market @$0.219, less than half the purchase price, cutting its stake to 2.24%. The purchaser was an unnamed "independent third party".
Open offer and house purchase
On 22-Jul-2008, Hycomm launched a 1:2 open offer at $0.10, a 39.4% discount to the 5-day average, raising $40.0m net, along with a 5:1 share consolidation effective 28-Aug-2008. The offer was partly underwritten by George Chan and partly by Head & Shoulders Securities Ltd (HSS). At the same time, Hycomm agreed to buy Million Good Group Ltd (Million Good), a BVI company which owned House 26, Las Pinadas, 33 Shouson Hill Road, HK, which was the home of the vendors, Stanley Choi Chiu Fai (Stanley Choi) and his wife Maggie Cheung Fung Kuen (Maggie Cheung), who agreed to lease it back for 2 years. The deal was priced at HK$37m, which was based on a property value of $64m less a mortgage debt. $35m of the payment was deferred for up to 270 days after completion at 4% interest p.a.. Completion occurred on 31-Oct-2008.
Policy note: by buying an offshore company which owns a property, the purchaser can avoid HK stamp duty on a property purchase, which is one of many good reasons to abolish stamp duty.
The open offer circular went out on 28-Aug-2008 and the acquisition circular was dated 4-Sep-2008. When the open offer closed on 17-Sep-2008, it was only 32% subscribed. George Chan took up an additional 148m shares, increasing his stake from 14.18% to 26.04% of Hycomm, while HSS arranged subscribers for 134,947,910 shares or 10.81%. From the disclosures of interest, we can impute that in addition to taking up the entitlement to 16m shares on his 32m holding, Joseph Lau also took up 13m shares from the underwriter.
Disclosures of interest also show that 90m shares (7.21%) were subscribed for $9m by Tin Ching Industrial Co Ltd, which was 99% owned by Tin Ching Holdings Ltd (BVI), which is 50% owned by Mr Chan Koung Nam and 50% by Mr William Chan Kwong Yin. After a 20:1 consolidation, they sold their shares off-market on 30-Jan-2009 at $0.26, taking a loss of $7.83m, or 87%. Skipping forward, on 8-Aug-2011, Hycomm loaned HK$5m to Hong Kong Finance Co Ltd, a money lender which is owned by the two men. The announcement didn't mention their previous investment in Hycomm.
Incidentally, by the time of the Hycomm open offer, Stanley Choi owned $8m of the aforementioned convertible notes.
Simsen and HSS
One puzzling thing is that the Hycomm open offer announcement claimed that HSS was 29.7%-owned by Stanley Choi (at 22-Jul-2008). This is odd, because either side of this date at 30-Apr-2008 and 30-Apr-2009, HSS was 100%-owned by Simsen, according to its accounts.
Simsen agreed to buy 40% of HSS from Maggie Cheung for HK$16m on 8-Mar-2007, of which $3m was cash and $13m in shares. When this completed on 6-Jun-2007, the shares were worth HK$63.21m due to a bubble in the stock. Simsen then put in another $7.6m of cash in rights issues by HSS. On 17-Dec-2007, Simsen agreed to buy the remaining 60% of HSS for HK$90m in shares from Maggie Cheung (52%) and Mr Lam Tung Woo (8%). When this completed on 2-Apr-2008, the Simsen shares were worth $78.59m, and Stanley Choi and Maggie Cheung via their 50:50 company Lynch Oasis Inc. (Lynch Oasis) jointly owned 29.7% of Simsen, just below the takeover trigger, while Chairman Haywood Cheung Tak Hay (Haywood Cheung) owned 31.73%. Stanley Choi became an ED of Simsen on 1-May-2008.
Altogether then, Simsen agreed to pay $106m for HSS but booked it at $157.2m due to share price movements. Simsen wrote off $108.18m of goodwill on the acquisition in the 2 years to 30-Apr-2009.
There was no indication in Simsen's accounts that it had sold or bought any part of HSS in the year to 30-Apr-2009. So how could Stanley Choi have held 29.7% of HSS on 22-Jul-2008? The SFC should investigate this inconsistency.
On 27-Nov-2009, as part of a takeover of Simsen, it sold HSS for just HK$31m to Tracing Paper International Ltd (BVI), which was 70% owned by Haywood Cheung (the outgoing Chairman) and 30% owned by Lynch Oasis. The sale was at close to net asset value, because HSS had in Jan-2009 transferred its securities broking business to fellow subsidiary United Simsen Securities Ltd. The number of SFC licensees at HSS reduced from 25 in Mar-2009 to 3 in Jul-2009, as shown on this page. On 12-Apr-2010, Lynch Oasis sold most of its Simsen shares into the general offer, cutting its stake to 1.00%, for HK$62.18m. Stanley Choi left the board of Simsen on 23-Apr-2010. HSS has resumed business under its new ownership.
Note redemption and rights issue
On 1-Dec-2008 Hycomm announced that it would redeem the convertible notes, with $42m to be redeemed on 26-Nov-2008 and the rest on 16-Dec-2008. The second redemption was later delayed to 26-Feb-2009, to allow Hycomm to complete a massive 7:1 rights issue at $0.144 per share (after a 20:1 consolidation on 29-Jan-2009) to raise $60.9m net. The rights issue was underwritten by George Chan, Joseph Lau and HSS, but Ms Beh sub-underwrote 94m shares from HSS, or 21.5% of the issue.
When the issue completed on 26-Feb-2009, only 34.08% of it was subscribed, of which 30.93% was George Chan and Joseph Lau's entitlements, so the public, who held 69.07%, only took up 3.15% of the issue and were heavily diluted to 11.51% of Hycomm. George Chan increased his stake from 26.04% to 29.74% (just under the takeover threshold), Joseph Lau increased his stake from 4.89% to 19.31%, and Ms Beh took up her full sub-underwriting of 94m shares, or 18.83%. Keep in mind that this issue was net cash positive for all of them, because the company redeemed the notes on the day the issue closed. The top 3 shareholders then held 67.88% of Hycomm in total.
HSS arranged 9 other subscribers to take up 20.61% of Hycomm, but they kept their stock outside the clearing system, so when the dust settled on 3-Mar-2009, only 9.07% of Hycomm was in CCASS and thus tradable. An amount equal to Ms Beh's shares was deposited into CCASS with Yardley Securities Ltd on 1-Jun-2009.
Hycomm and GINSMS
On 15-Feb-2009, Hycomm agreed to sell 60% of Global Edge Technology Ltd (Global Edge) to Panaco Ltd (Panaco) for HK$4m. The buyer's place of incorporation was not disclosed, nor was its owner. From another company's disclosures we can tell you that it was incorporated in HK on 3-Feb-2009, just 12 days before the deal. Panaco was said to be an independent third party, but the other 40% of Global Edge was owned by Royal Link Investment Ltd (Royal Link), a controller of Global Edge within the meaning of Listing Rule 14A.13. For this reason only, it was said to be a connected transaction.
Hycomm acquired its stake in Global Edge on 27-Jun-03 for HK$15m in new shares of Hycomm. Global Edge indirectly owned 49% of GIN International Ltd (GINI), engaged in inter-operator SMS services, delivering text messages between telecom operators generates about HK$0.04 per message. It did this with equipment from Comverse Network Systems, which owned the other 51%, although Global Edge had an outsourcing contract with GINI which gave it 99% of the net income generated by GINI for provision of operation and management services to GINI, so the other 51% of GINI was not worth much (51% of 1% of the net income). What you might call a low GINI coefficient.
The disposal circular was dated 10-Mar-2009, with a fairness opinion from Guangdong Securities Ltd signed by Graham Lam Ka Wai, and the deal was approved at an EGM on 27-Mar-2009. In the year to 31-Mar-2008, Global Edge made profit after tax of HK$1.911m, so 60% of that is $1.147m and the sale P/E was just 3.5.
After the sale to Panaco, Global Edge somehow acquired the other 51% of GINI. On 26-May-2009, Global Edge was rolled into a new Canadian shell, GINSMS Inc, at a valuation of C$4.76m (then about HK$33.4m), based on a share price of C$0.15, which was listed on TSX-Venture exchange (code: GOK) later that year after an offering at the same price. On that basis, Panaco's 19,059,925 shares (60%) of GOK were then worth C$2.86m (HK$20.0m) or about 5 times what Panaco paid Hycomm.
By the time of the sale and purchase agreement to inject Global Edge into GOK, Royal Link had reduced its stake to 30%, and there were two new shareholders: Wisefit Global Ltd (Wisefit, 6%) and Best Power Capital Resources Ltd (BPCR, 4%). A director of Wisefit was Randy Hung King Kuen, a corporate finance specialist and director of several HK-listed companies. A director of BPCR was Judith Chien, about whom we know nothing, but the contact address for BPCR was Shop 215, Manly Plaza, 995-997 King's Road, a small basement property which was owned by Hycomm until it was sold some time in the year to 31-Mar-2009. You can spot it on page 111 of the 2008 annual report. A director of Panaco was a "Raymond Tung" and on the supplemental agreement "Tung Siu Man". We know nothing about him.
According to the IPO prospectus of 12-Nov-2009 (p42-43), the Chairman of GOK, Jonathan Lai Man Kon (Jonathan Lai) bought Panaco (with its shareholding in GOK) after GOK acquired Global Edge, but it doesn't say from whom or for how much. Royal Link was 95% owned by Thomas Ip Kam Hoi (Thomas Ip) and 5% owned by Jonathan Lai. The two men were the only directors of Global Edge and GINI when it was rolled into GOK. Jonathan Lai had been a director of GINI since Jan-2009.

Now here is the problem: Jonathan Lai is the son of Plotio founder Lai Yiu Keung (YK Lai), who was Chairman of Hycomm until 4-Jun-2009. As Chairman, YK Lai signed the letter in the circular, calling Panaco and its owner(s) "independent third parties". It seems like too much of a coincidence that an "independent third party" owning Panaco would subsequently sell it to the son of the Chairman of the vendor, Hycomm. If Jonathan Lai had owned Panaco when it dealt with Hycomm, or had an arrangement to buy it, then as the Chairman's son he would have been a connected person under the Listing Rules.
We call on the SFC to investigate whether the circular contains a false and misleading statement that Panaco was an independent third party, thereby misleading shareholders who voted on this transaction.
If there was a failure to disclose, then it wouldn't be the first time. Hycomm, YK Lai, his wife and two other directors were censured by the Listing Committee on 28-Nov-2005 for a set of unapproved connected transactions which related to a disposal of properties to YK Lai in 2000.
Hycomm and Stanley Choi
As mentioned above, Hycomm had 270 days after completion to pay the remaining $35m to Maggie Cheung for the house-owning Million Good, taking it up to 28-Jul-2009. Although Hycomm had cash (net of bank borrowings) of $215.4m at 30-Sep-2009, it had not paid off the debt. This was extended by mutual agreement to 31-Dec-2012, and the interest rate dropped from 4% before 31-Dec-2009 to 1% after that. Meanwhile, her husband Stanley Choi increased his holding through the 5% disclosure threshold from 4.87% to 5.67% on 10-Aug-2009. He may have acquired the bulk of his shares in the placing of unsubscribed shares at $0.144 by HSS after the rights issue. An amount equal to his holding was deposited into CCASS via United Simsen Securities Ltd on 12-Nov-2009.
Stanley Choi was appointed ED and Deputy Chairman of Hycomm on 23-Apr-2010 at a director's fee of HK$3m p.a., without any mention of the debt due to his wife. He resigned on 1-Oct-2010 "due to his other business and academic development", and the debt was settled with interest in the 6 months to 30-Sep-2011. According to the annual report for the year to 31-Mar-2011, he did not receive any remuneration.
Hycomm and the hokey cokey
You put your coal mines in, your coal mines out, in out, in out, shake them all about...
On 29-Jun-2010, George Chan agreed to transfer 97m shares (19.74%) of Hycomm to Shih Jian Ping (Mr Shih) and a separate filing discloses the price of $1.20 per share in cash. That was a 49% discount to the market price of $2.35, but the net asset value was only about $0.57 per share. In short, the stock was in a bubble, having risen from $0.16 on 3-Mar-2009 after the rights issue. Mr Shih had experience in coking coal mining in Shanxi province. He was appointed as Chairman on 8-Jul-2010. However, the share transfer from George Chan to Mr Shih was not as simple as it seemed, as you will see shortly.
On 20-Jul-2010, Hycomm signed a non-binding letter of intent with 2 BVI companies, the owners of which were not disclosed, to buy coal mines and coal washing plants for up to HK$10.5bn. The bubble in the stock inflated further, with the daily close peaking at $5.90 on 30-Aug-2010. During this, Joseph Lau sold 10m shares @$3.60 on 20-Aug-2010 and sold 9.4m shares @$5.60 on 15-Sep-2010, both off-market, cashing out $88.64m for 3.89% of the company, reducing his stake to 15.42%.
In a concentration warning published on 27-Sep-2010, the SFC said, in relation to Mr Shih's acquisition of shares from George Chan: "our enquiry with the company registrar revealed that as of 13 September 2010, the Shares transfer has not been effected." So it was an "agreement to transfer", but no transfer had actually occurred. In our view, the announcement of 29-Jun-2010 was false and misleading, because it said "after the Shares Transfer, Regal Power and Mr Shi each holds..." rather than "will hold" or "would hold". We call on the SFC to investigate this false and misleading statement. Investors relied on it in believing that Mr Shi, the new Chairman, had an outright substantial stake in the future of Hycomm.
The stock was suspended at $4.96 on 29-Oct-2010 pending announcement of the acquisition agreement for the coal mines which was signed on 28-Oct-2010, but then there was a nearly 2-month gap (one could say the coke was on ice) until 20-Dec-2010, when Hycomm abandoned the deal as "certain conditions" could not be fulfilled. When trading resumed on 21-Dec-2010, the stock plunged, closing at $2.99, down 39.7%, but still highly overvalued in our view.
On 31-Jan-2011, Mr Shih resigned as Chairman and ED of Hycomm "due to his other business engagements", and the share transfer agreement was terminated, so the shares reverted back to George Chan. It didn't take long for George Chan to find someone else to dance with. On 8-Feb-2011, he transferred 60m shares (12.02%) of Hycomm to Mr Kong Lingbiao (Mr Kong), another coal miner. No price was announced, but a filing shows that it was $2.00 per share in cash, a discount of 44.8% to the closing price of $3.62 that day. Mr Kong was appointed as Chairman on 17-Mar-2011.
On 21-Mar-2011, Stanley Choi sold his entire 28.69m shares (5.75%) of Hycomm off-market @$3.00, a 17.1% discount to the closing price of $3.62, but a huge premium to NAV, grossing $86.1m of proceeds.
On 11-Apr-2011, Joseph Lau sold another 35m shares (7.01%) of Hycomm @$3.371 off-market, cutting his stake to 8.41% for cash of $118.0m. We estimate that he has already netted $174.3m from dealings in Hycomm shares, as follows: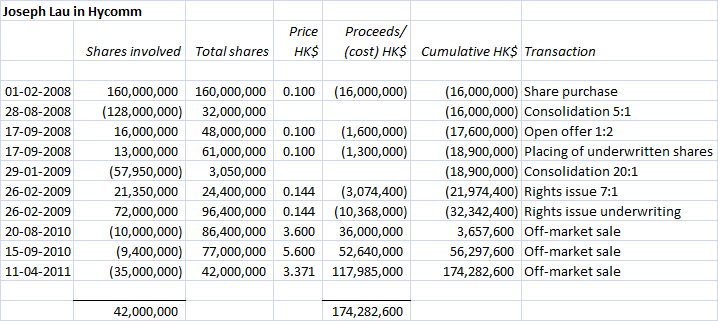 Joseph Lau's remaining 42m shares, at Friday's (2-Mar-2011) close of $1.98, are worth $83.16m, so that would take his net proceeds up to $257m. We are ignoring the $1.7m gain on redemption of his $34m of convertible notes and the interest thereon.
Hycomm is still a partially-deflated bubble with a highly concentrated ownership. The latest interim report shows that it had net assets at 30-Sep-2011 of $0.586 per share. For the 6-month period, it had turnover of $4.3m and a net loss of $0.7m. Most of the turnover was from the management of car park spaces and the renting of the house to Maggie Cheung and Stanley Choi. Only 28.03% of the stock is in CCASS, and 18.83% of that belongs to Ms Beh, which we believe is parked at Yardley Securities Ltd.
Hycomm and Inno-Tech
Now, let's take a trip back to 2002 and the IPO of Inno-Tech. Wong Yuen Yee (YY Wong), co-founder and Chairman of Inno-Tech until 19-Jan-2011, was an ED and General Manager of Hycomm (then Plotio Holdings Ltd) from 1985 to 1991. That was before Hycomm took over the listing of a bankrupt company, Kin Son Electronic (Holdings) Co Ltd, in Oct-1997.
Thomas Ip, the other shareholder of GINSMS mentioned above, was a pre-IPO shareholder of Inno-Tech, holding 5.06% of it immediately after the 2002 IPO at nominal net cost of HK$6,162. According to the Inno-Tech prospectus, he had known YY Wong personally for over five years before 2002, and had introduced business to Innno-Tech, so he was rewarded with the shareholding. He had extensive experience in property investment and trading business in the PRC.
YY Wong co-founded Inno-Tech with her brother, Wong Kwok Sing, in 1999. The formal connection between Hycomm and Inno-Tech dates back at least to 20-Sep-2000, when Hycomm (then known as Plotio Holdings Ltd) agreed to buy 2,100 shares (21%) of CyberLiving Holdings Ltd (CyberLiving), the forerunner of Inno-Tech, from 3 corporate shareholders (the owners of which were not disclosed) for HK$54.75m, satisfied with 75m shares (6.34%) of Hycomm @$0.73. This was supported by a valuation by Purview (Far East) Ltd (then Sallmanns (Far East) Ltd) at $260m signed by Brett A. Shadbolt (Mr Shadbolt). We've put the circular online for your entertainment. CyberLiving was a loss-making 4-month old start-up with net assets of $0.44m at 31-Aug-2000. Hycomm's investment in CyberLiving was converted into 57.6m shares (12%) of Inno-Tech upon its IPO in 2002, so the original cost was $0.95 per share. Inno-Tech went public at $0.28, 70.5% less than Hycomm paid for it.
The Inno-Tech prospectus, p176, shows that on 22-Jul-2000, 3 months before Hycomm bought their shares, the 3 shareholders, namely City Support Trading Ltd, Nice Plan Development Ltd and Nanyin Investment Ltd, had each paid par value for the shares, a total of US$2,100, "as they were initial investors". The owners of those companies were still not disclosed.
Michael Koh and his many GEMs
Another early investor in Cyberliving on 22-Jul-2000 was Sinopower Profits Ltd, which subscribed HK$5.6m for 1,000 shares (10%) @$5,600, at same time as sister company Oriental Faith Technology Ltd (Oriental Faith) (which had earlier subscribed 500 shares for US$500/HK$3,900) bought 250 shares (2.5%) @$6,000 from existing holders, increasing its stake to 7.5%. Both companies were 100%-owned by Michael Koh Tat Lee (Michael Koh) and his wife Eva Wong (Eva Wong). In total they had invested HK$7.1m for 17.5% of CyberLiving. Later, on 21-May-2001, Oriental Faith sold 517 shares to 4 investors for $6.925m or $13,395 per share. The table on p12 of the prospectus gives the wrong entry cost for Orient Faith because it ignores the sale proceeds, which gave the couple back nearly all their investment. Their holding was converted into 33,792,000 shares (6.94%) of Inno-Tech at a net entry cost of HK$178,900 or $0.0053 per share.
One of the 4 investors who bought shares from Oriental Faith was Eva Wong's brother, Denny Wong Chung Yu (Denny Wong) and another was Wong Shui Fun (SF Wong). Their entry price to Inno-Tech worked out at $0.48 per share.
Michael Koh was the CEO of CPEC when it was first listed as "Intcera High-Tech Group Ltd" on 7-Jul-2000, becoming NED on 1-Nov-2001 and resigning on 16-Dec-2002. He was appointed as NED of Hycomm on 12-Oct-2000 (soon after Hycomm invested in Inno-Tech), becoming ED on 16-Jan-2003 and stepping down on 15-Dec-2004.
On 23-Apr-2003 Michael Koh became Chairman of M Dream Inworld Ltd (8100) after buying the largest shareholding, and SF Wong was appointed as an INED the same day and became ED on 26-Mar-2004, stepping down on 16-Dec-2005. Michael Koh became NED on 13-Apr-2007 and stepped down on 29-Feb-2008.
Michael Koh was later an ED of GEM-listed China Railway Logistics Ltd (8089) from 22-Jan-2007 to 20-May-2008. We wrote about his activities there in our article China Railway Games (11-Jun-2009). His latest venture is at GEM-listed Pan Asia Mining Ltd (PAM, 8173), which he joined as Chairman on 30-Nov-2011. In so doing, he replaced his wife's brother Denny Wong, who was ED of PAM from 20-May-2008 to 6-May-2009 then Chairman until 30-Nov-2011. This came on the back of a mining exploration in the Philippines acquired from Eva Wong at a spicy valuation of HK$5,700m. We'll tell you that story another time, suffice to say that PAM now has a market capitalisation of about HK$260m. Michael Koh has been through more GEMs than Elizabeth Taylor, but they didn't retain value the way hers did.
Hycomm and Codebank
In another marvellous deal, on 4-Mar-2000 Hycomm agreed to buy and subscribe 18% of Codebank Ltd (Codebank) for HK$171m satisfied by 68.4m shares (6.53%) of Hycomm @$2.50. We've resurrected the circular, which contains another valuation from Mr Shadbolt valuing Codebank at HK$1,001m. A month earlier, on 3-Feb-2000, Hycomm signed an "Agency Agreement" with Land First Holdings Limited (Land First) and agreed to pay it HK$7.5m as an "introduction fee" for the deal, satisfied with 3m shares @$2.50 upon completion of the acquisition.
Now guess who owned Land First? Hycomm didn't say, but the Inno-Tech IPO prospectus reveals (p2) that when Inno-Tech group was established and until 31-Jul-2000, it shared an office with Land First, and that Land First was 100%-owned by YY Wong, the Inno-Tech co-founder. So at the same time as founding one start-up in which Hycomm invested (Inno-Tech), YY Wong was the agent for the investment in another (Codebank).
The acquisition was delayed and on 15-May-2000 the price was reduced to $153.25m (what a bargain) satisfied by 61.3m shares @$2.50. Hycomm also loaned Codebank $2m which was capitalised into shares on 19-Jul-2001, and when Codebank later listed, Hycomm's $155.25m investment became 60,584,726 shares (10.1% post-IPO) with an average cost of $2.56 per share. Codebank went public on 21-Dec-2001 after an IPO at $0.50, 80.5% less then Hycomm paid for it. But their loss was not over. Codebank (prospectus here) still holds the record for the youngest infant mortality on GEM after a chunk of its IPO proceeds went missing. It last traded on 13-May-02, just 143 days old, before its listing was cancelled. Hycomm wrote off its entire investment in 2001 and 2002.
So there's the disastrous history of Hycomm. In Part 4, we'll take you through a set of horrible transactions involving Inno-Tech, amongst others.
© Webb-site.com, 2012
---
Organisations in this story
People in this story
---
Sign up for our free newsletter
Recommend Webb-site to a friend
Copyright & disclaimer, Privacy policy
---