Investors should beware of a bubble in Byford (8272), which boasts two celebrity shareholders - New World Development's Cheng Yu Tung and Angela Leong, a wife of casino tycoon Stanley Ho. Both apparently paid 186x net asset value for the shares.
Byford bubble

1 June 2009
Shareholders and potential investors in Byford International Ltd (Byford, 8272) should beware of a bubble. At lunchtime today, the underwear seller and licensor (for now at least) closed at $0.66, valuing the company (including a pending placement) at HK$1,585m (US$204m), or 13.9 times its pro forma net assets.
Controlling shareholder
The largest shareholder is Winky Chan Yuen Fan (Ms Chan), who owns 58.40% of Byford (before the current placing), of which 50.44% has been pledged to Kingston Finance Ltd since 11-Nov-08. She is not on the board of directors and we cannot find any other trace of her. We wonder whether Winky has a brother called Noddy ;-).
On 29-Jul-07, Ms Chan purchased 149,254,990 shares (74.63%) of Byford for $0.63 per share ($0.063 split-adjusted), or HK$94.03m in total. Ms Chan's purchase triggered a mandatory general offer at $0.63, made on her behalf by Get Nice Securities Ltd, although she did not wish to privatise Byford. According to the offer document dated 17-Aug-07, she "has over 20 years of extensive experience in trading and managing garment business and had previously owned a garment factory." At the time, she did not have "any concrete plan on the appointment of Directors to the Board" - even though it was expected that all the incumbent directors would resign on the closing date of the offer.
The share price took off after Ms Chan's purchase was announced, prompting a concentration warning on 22-Aug-07 that, as of 30-Jul-07, Ms Chan and 14 other investors held 95.72% of Byford, according to the SFC. Not surprisingly, with the share price at $5.25, nobody accepted the offer when it closed on 7-Sep-07. That day, all the directors duly resigned, and a new board was installed. Ms Chan obviously decided to take a "hands off" approach and did not join the board. Ms Julissa Fong Man (Ms Fong) was appointed as Chairperson, Ms Jeremy Wong Yuet May (Ms Wong, yes, a girl called Jeremy) was appointed as CEO and executive director, and the required 3 INEDs were appointed. The announcement failed to mention that Ms Fong was a Responsible Officer of Ms Chan's financial adviser on the offer, Veda Capital Ltd (Veda Capital). The independent financial adviser on the offer was Partners Capital International Ltd.
On 25-Sep-07, Byford, advised by Veda Capital, announced a 10:1 stock split which took effect on 30-Oct-07.
Unlisted warrants
On 15-Oct-07 Byford announced a placing of 200m unlisted warrants via Excalibur Securities Ltd (Excalibur) and advised by Veda Capital. The issue was expanded to 400m warrants on 26-Oct-07. The warrants had an exercise price of $1.20 per split share and 18-month maturity, and were issued for just $0.015 each, raising $6.0m gross and $5.7m net, despite having an intrinsic value of $0.80 per warrant based on the market price of $2 (split-adjusted) immediately before the placing was announced. According to the 30-Apr-08 annual report, the warrants went to 9 individuals. 1m warrants were exercised on 24-Dec-07 and another 1m on 21-Jan-08. The warrants will expire on 12-Jun-09 and are currently underwater.
Pharmaceuticals MOU
In between the two tranches of the warrant placing, on 23-Oct-07, Super League Investments Ltd (Super League), a BVI company owned by Byford, signed an MOU regarding a possible purchase of an undetermined stake in Wisdom First Investments Ltd (Wisdom First), a BVI company, from Cherry Yeung Chiu Lan, an "independent third party". We cannot find any trace of her online. Wisdom First was "principally engaged in pharmaceutical and related business in the PRC". The MOU had a 90-day exclusivity period, but the purported due diligence dragged on, racking up $766k in expenses up to 30-Apr-08 and another $430k in the quarter to 31-Jul-08. Finally on 13-Nov-08, Byford agreed to sell Super League to Sina Dragon Group Ltd (Sina Dragon) for $10,000. This wasn't disclosed until the interim results announcement on 11-Dec-08, and even then, no mention of the MOU was made. The owner of Sina Dragon was not disclosed and we cannot find any trace of it online. Perhaps Wisdom First should be renamed "Phantom Pharmaceuticals".
Tycoon investors
Byford's stock reached an all-time intra-day high of $3.00 and daily high of $2.65 on 30-Oct-07, the same day the HSI reached its daily record of 31,638. That spike briefly valued Byford at $6bn. On that day, Ms Chan sold 110.45m split shares at $1.70 per share through Excalibur, cutting her stake to 69.10%. 110m of these (or 11m at $17 pre-split) were taken up by Angela Leong On Kei, one of the wives of casino tycoon Stanley Ho Hung Sun (Mr Ho). On 15-Nov-07, Ms Chan sold another 132m shares at $1.70 per share through "a placing agent" (our CCASS Analysis shows that it was Excalibur), cutting her stake to 62.5%. 110m of these were taken up by New World Development tycoon Cheng Yu Tung, who is also a long-time shareholder in Mr Ho's private flagship STDM. The deals implied a valuation of $3.4bn on Byford. At the time, it had shareholders' equity (net of a recent dividend) of just $18.2m. You might wonder why two such savvy investors were each willing to take a discloseable 5.5% shareholding in a listed company for more than 186 times its net asset value, assuming that they paid what they said they did without any undisclosed put option.
We've analysed Ms Chan's dealings in Byford. We had to make two estimates based on CCASS movements and volume-weighted average price (VWAP), because she is not a director, so she only has to disclose dealings which move her holding through a 1% boundary. On the face of it, we estimate that Ms Chan has, up to the quarterly report of 31-Jan-09, raised net cash from her Byford trading of about HK$344m. So she has more than got her money back, if you believe the figures. Despite this, her shares are still pledged to Kingston Finance Ltd: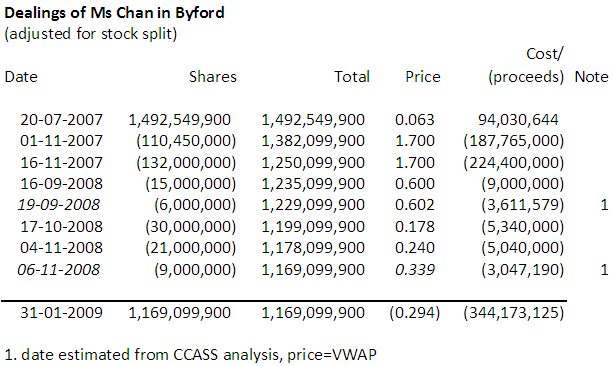 On 22-Nov-07 Ms Rainbow Chan Lai Kwan was appointed as executive director and CEO, replacing Ms Wong who remained as an ED. On 23-Apr-08, Ms Fong resigned as Chairman and ED. As far as we know, Byford has not had a Chairperson since then. On 2-May-08, Mr Chan Fu Kei was appointed as an ED.
On 27-Oct-08, Lawrence Woo Hing Keung (Mr Woo) was appointed as an ED. He has achieved some minor fame in a court case against VC Brokerage Ltd (then CEF Brokerage Ltd) when he claimed that the broker owed him for an inability to complete a short sale of China Mobile shares in the pre-IPO grey market in 1997. The Court of First Instance and the Court of Appeal rejected his claim.
Pending placing
On 9-Apr-09, Byford launched a best-efforts placing of 400m new shares at $0.20 per share through Fortune (HK) Securities Ltd (Fortune Securities) "to strengthen the capital base and to explore potential business and take up investment opportunities in the future". The placing would raise $80m gross ($77.8m net) for 16.65% of the enlarged share capital, exhausting the general mandate. The placing has not yet been completed. Fortune Securities is owned by China Fortune Group Ltd (China Fortune, 0290), which also owns 51% of Excalibur and, advised by Veda Capital, it has agreed to acquire the rest.
On 6-May-09, Byford agreed to sell its core business for HK$45m, for net proceeds of $43m and a gain of $27.5m. The advisor is Veda Capital. The announcement coyly stated that "The Company will review the situation of Rule 19.82 of the GEM Listing Rules upon Completion". You all know what that rule says, right? Of course not, and the company should have explained it. What the rule says is that if a company becomes a cash shell then it will not be regarded as suitable for listing and its shares will be suspended.
At 31-Jan-09, Byford had equity of just $8.6m. Assuming that the placing and sale of the core business completes, then Byford would have 2,402m shares outstanding, and net assets of about $114m, or $0.047 per share. But the current market price of $0.66 implies a valuation of $1,585m, or 13.9 times the net asset value. If the placing does not complete, then NAV will be just $36.1m or $0.018 per share.
Shareholders sell
On 31-Mar-09, China Bio-Med Regeneration Technology Ltd (CBRT, 8158) announced that it was selling a portfolio of listed shares and unlisted warrants for $17m gross ($16.5m net) through Excalibur. These included 10m shares of Byford. This portfolio was probably acquired at some point after 31-Jul-08, as CBRT did not suffer any gain or losses on financial assets until the quarter ended 31-Oct-08. Incidentally, Joseph Orr Wai Shing is an INED of both Byford and CBRT.
On 4-May-09, PME Group Ltd (PME, 0379), which was also the largest shareholder of CBRT, sold 50m shares (2.5%) of Byford in the market at $0.35 to raise $17.5m gross ($17.4m net). Our CCASS Analysis for the settlement date shows that these shares probably moved from the custody of Kingston Securities Ltd to Fortune Securities.
To be continued
Byford is just part of a web of companies and transactions which Webb-site.com is investigating, including PME, CBRT and China Fortune, amongst others. Stay tuned for part 2.
© Webb-site.com, 2009
---
Organisations in this story
People in this story
Topics in this story
---
Sign up for our free newsletter
Recommend Webb-site to a friend
Copyright & disclaimer, Privacy policy
---