There were 19 oath-taking Christians in last week's LegCo swearing in, 7 non-religious oaths, and 44 affirmations. So who believes in a higher power than Beijing?
LegCo - who's got religion?

16 October 2016
While all the attention at last Wednesday's Legislative Council swearing-in was on the 3 rejected legislators, we decided to analyse it a different way. In fact, under the Oaths and Declarations Ordinance, there are two ways to take the pledge, either an "oath" or an "affirmation". Under Section 5, an oath may be taken in the following form:
"The person taking the oath shall hold the New Testament, or, in the case of a Jew, the Old Testament, in his uplifted hand, and shall say or repeat after the officer administering the oath the words "I swear by Almighty God that ", followed by the words of the oath prescribed by law."
...
"Provided that, in the case of a person who is neither a Christian nor a Jew, the oath may be administered in any manner which is appropriate to his religious belief"
Section 7 allows the alternative of making an affirmation instead of taking an oath and states:
"A person who is neither a Christian nor a Jew shall be permitted to make his affirmation instead of taking an oath for any purpose for which an oath is required by law."
This also applies to any person who objects to being sworn - presumably including a Christian or a Jew who prefers to take an affirmation. It states:
"An oral affirmation shall commence -
"I, [name] , solemnly, sincerely and truly declare and affirm"
and then proceed with the words of the oath prescribed by law, omitting any words of imprecation or calling to witness."
In other words, without the god stuff. This alternative actually harks back to the English law Quakers Act of 1695.
So what we actually saw on Wednesday was not 70 oaths (3 of which were rejected), but:
19 oaths by Christians (we did not spot any Old Testaments);
7 oaths by people who are neither Christian nor Jews, or prefer not to say, because they took the oath but simply said "I swear that...", rather than "I swear by almighty god that..."; and
44 affirmations
Amongst the 19 oath-taking Christians it appears that 10 pan-democrats have faith in a higher power, just not in Beijing, while 9 pro-government legislators believe in both. They are, in order of seniority in LegCo:
Name
Gov/
Dem
James To Kun Sun
D
Abraham Shek Lai Him (aka Abraham Razack)
G
Tommy Cheung Yu Yan
G
Priscilla Leung Mei Fun
G
Regina Ip Lau Suk Yee
G
Michael Tien Puk Sun
G
Frankie Yick Chi Ming
G
Charles Peter Mok Nai Kwong
D
Alice Mak Mei Kuen
G
Dennis Kwok Wing Hang
D
Helena Wong Pik Wan
D
Martin Liao Cheung Kong
G
Lam Cheuk Ting
D
Holden Chow Ho Ding
G
Shiu Ka Chun
D
Pierre Chan
D
Ted Hui Chi Fung
D
Sixtus Leung Chung Hang
D
Roy Kwong Chun Yu
D
Of these, Martin Liao held the Bible but omitted "by almighty god" from his oath. Each of Lam Cheuk Ting, Ted Hui and Roy Kwong didn't hold the Bible "in his uplifted hand" as required, and Shiu Ka Chun held the Bible and a tambourine which he proceeded to use after the oath to commemorate the umbrella movement.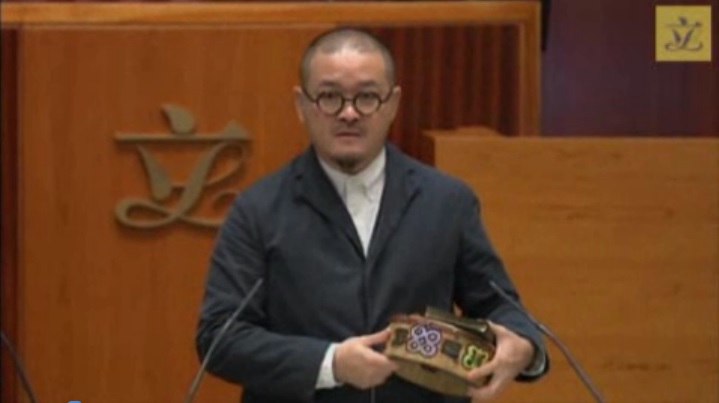 Sixtus Leung Chung Hang took the religious oath but was disqualified for wearing a banner around his shoulders bearing the words "Hong Kong is not China", which, of course, is technically true, Hong Kong is only a little pimple of freedom on the bottom of China. What the LegCo Secretary-General failed to notice was that Sixtus was also crossing his fingers while reading the oath, which some people do when they are seeking to invalidate a promise being made: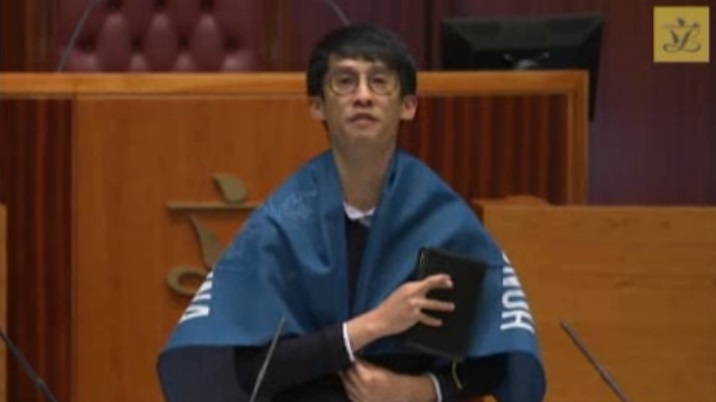 Seven other members took an oath without the Bible, simply saying "I swear that...". They presumably took the "any manner which is appropriate to his religious belief" option. Colourful solicitor/travel agent Paul Tse was one of them, carrying a red-covered book the identity of which remains a mystery to us and wearing a black pseudo-military top. Unlike religion, it has to be seen to be believed: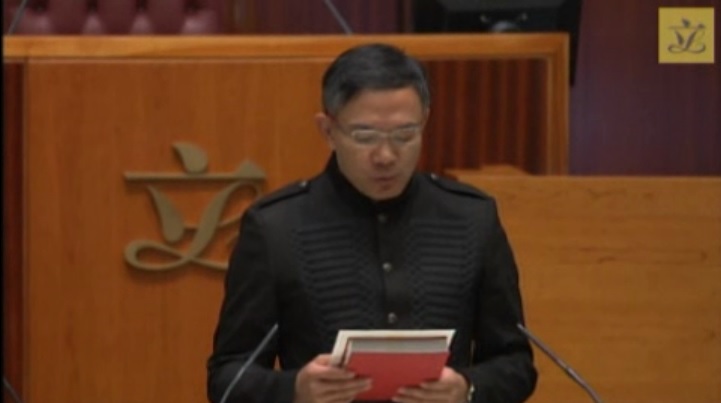 Incidentally, only 5 legislators gave their oaths or affirmations in English, the other official language of Asia's World City, namely: Abraham Shek/Razack (real estate), Kenneth Leung Kai Cheong (accounting), Claudia Mo Man Ching (who wins our award for the most cheerful oath or affirmation), Sixtus Leung and Yau Wai Ching - although the latter two were disqualified.
And the irrepressible "Dr" Elizabeth Quat is back.
© Webb-site.com, 2016
---
Organisations in this story
People in this story
---
Sign up for our free newsletter
Recommend Webb-site to a friend
Copyright & disclaimer, Privacy policy
---