Our analysis shows that a general offer may have been triggered for Longlife and possibly for Capital VC too. We look at the close relationship between the two and the people involved. We also ask how a person could continue to act as director of a valuer, issuing valuation opinions for numerous listed companies, without disclosing that he was bankrupt at the time.
Capital VC (2324) and Longlife (8037)

14 August 2011
Time for a look at cosmetics and health products distributor Longlife Group Holdings Limited (Longlife, 8037) which listed on GEM on 17-Nov-2004. It appears to us that a general takeover offer for this company, and possibly one for its substantial shareholder, Capital VC Ltd (CVC, 2324), should have been forthcoming. Allow us to explain. A key figure in this story is Peter Yau Chung Hong (Mr Yau), an Executive Director of CVC since its listing in 2003, so bear that name in mind as we move along.
A short history of Longlife
On 22-Mar-2007, Longlife's founder and former Chairman Yang Hong Gen (Mr Yang) resigned. On 18-Jun-2007, Mr Yang sold 135m shares (27.00%) of Longlife to Zheng Lixin (Mr Zheng) for $0.252 per share, cutting his stake from 56.10% to 29.10%. On 31-Oct-2007, Mr Zheng was appointed Chairman and CEO of Longlife.
On 24-Nov-2009, CVC, an investment company listed under Chapter 21 of the Listing Rules, bought 37.675m shares (7.06%) of Longlife on-market at $0.23 per share. The next day, 25-Nov-2009, the stock shot up for no apparent reason, and CVC sold 10.165m shares (1.90%) at an average $0.325, a 41% one-day profit, but it later bought back in.
On 7-Dec-2009 Mr Yang sold his remaining 145.5m shares (27.28%) in the market at $0.23 per share. Of those shares, simultaneous disclosures show that 105m shares were placed in three equal amounts of 35m shares (6.56%) with:
CVC (increasing its stake from 4.92% to 10.59%);
Au Yeung Kai Chor, a man who has held executive directorships in, and conducted transactions with, listed members of what we call the Chung Nam Network, and was censured by the Stock Exchange on 4-Aug-2010; and
Eftpos Ltd (Eftpos), a BVI company. At least up to 5-Feb-2008, Eftpos was wholly-owned by one Wu Wai Yin, and through that company, he had earlier held stakes of 9.94% in CVC and 7.90% in Prosticks International Holdings Ltd (8055). Eftpos later held 7.07% of Kaisun Energy Group Ltd (Kaisun, 8203). Neither Mr Wu nor any other person disclosed any interest in the shares of Kaisun or Longlife held by Eftpos.
On 1-Oct-2009, Mr Zheng stepped down as CEO of Longlife but remained as Chairman. On 29-Dec-2009, he began selling his 25.31% holding, eventually reducing to 0.83% on 10-Mar-2010. He resigned as Chairman and director on 7-Apr-2010. At least some of his holding was acquired by CVC. For example CVC bought 40m shares (7.5%) on 30-Dec-2009, the day that Mr Zheng sold 40.85m shares, out of the 43.77m shares traded in the market that day.
Soon afterwards, CVC's influence on Longlife began to increase, as we will show.
New Longlife ED and INEDs
On 19-Jan-2010, a new ED, Cheung Hung (Mr Cheung) and 2 INEDs, Chan Wai Yan (Ms Chan) and William Sham Chi Keung (Mr Sham) were appointed to Longlife. By then, CVC had increased its holding to 22.40% of Longlife.
The announcement of the appointments doesn't disclose (because it was more than 3 years earlier) that Mr Cheung was an NED of CVC from its listing until 6-Aug-2004. Mr Cheung became Chairman of Longlife on 7-Apr-2010. He was Vice President of Sales for Guotai Junan Securities (Hong Kong) Ltd, one of the co-Lead managers of CVC's listing in 2003. He was a licensed representative of the brokerage until 12-Sep-2008. A fellow subsidiary, Guotai Junan Assets (Asia) Ltd, was the investment manager of CVC from 1-Jun-2004 to 16-May-2007. According to Longlife, he is now the Vice President of Guoyuan Asset Management (Hong Kong) Ltd.
Ms Chan is also the sales director of gold dealer CNI Bullion Ltd, which is 30% owned by CVC (the maximum percentage allowed for a Chapter 21 company) and generated most of CVC's profit in 2010. We don't know who owns the rest of CNI Bullion, but that stake puts her independence into question, as she is an employee of an associate of CVC, a substantial shareholder of Longlife. How can Ms Chan be independent of Longlife? It appears that CNI Bullion is part of a larger group of financial services companies under the umbrella of CNI Securities Group Ltd. According to note 34 of CVC's 2010 annual report, Mr Yau has beneficial interests in CNI Securities Ltd, CNI Financial Holdings Ltd and CNI Assets Management Ltd. Another group company is CNI Credit Ltd.
So that's 2 of the 3 new directors we can link to CVC.
The third director, Mr Sham, has no connection to CVC that we are aware of, but he has featured in two previous Webb-site articles for his work as a valuer of businesses acquired by listed companies. In the first of those, Cooking with Gas (4-Mar-2004), two directors of the client company, Grand Field Group Holdings Ltd (0115) were subsequently jailed after charges were brought by the ICAC relating to the fraudulent acquisition. Mr Sham was not charged with any offence.
A bankrupt valuer
According to a follow-up announcement by Longlife made 3 days after his appointment, Mr Sham was declared bankrupt on 11-Jun-2003 and discharged from bankruptcy 5 years later. It is interesting to note that his bankruptcy did not apparently stop him acting as Executive Director of B.I. Appraisals Ltd and signing valuation reports in numerous listed company circulars while he was bankrupt. Perhaps he obtained leave of the court to act as director under section 156 of the Companies Ordinance. As far as we know, his bankruptcy was not disclosed in any of those reports. It only came to light because directors of HK-listed companies have to disclose past bankruptcies.
Whatever the reasons for his bankruptcy, investors in those companies might have viewed the valuations differently if they had known that they were being written by an undischarged bankrupt. For a list of HK-listed clients of his firm, click here. The "1-time" appointments relate to reports in circulars to shareholders. The others relate to ongoing appearances as a valuer in annual reports.
Athens Capital
We pause to note that according to CVC's 2010 annual report, Mr Yau had beneficial interests in Athens Capital Ltd (ACL). ACL acted as placing agent for Longlife in a placing of new shares at $0.215 per share on 10-Feb-2010 which completed on 10-Mar-2010.
Options for CVC
On 9-Apr-2010, Longlife granted options to CVC to subscribe 500,000 shares, exercisable at $0.355 per share for 10 years. No justification was offered for this grant of options to a substantial shareholder. It's not as if CVC is an employee who required incentivisation.
Cohabiting
In fact, Longlife and CVC were getting on so well together that they decided to share an office lease, jointly signing a tenancy agreement for part of the 76th floor of HK's tallest building, the spanking new International Commerce Centre, for 3 years starting 5-Jul-2010. At that time, CVC owned 9.16% of Longlife, and Longlife had not yet become a disclosed shareholder of CVC.
The joint tenancy was first disclosed on page 14 of the Longlife annual results announcement on 22-Dec-2010. If either company defaults on its half of the rent, then the other company is liable for the full amount. According to their reports, CVC occupies Suite 7601B, and Longlife occupies Suite 7602A.
Common auditor
On 3-Sep-2010, Longlife announced it was changing auditors from ShineWing (HK) CPA Ltd to Cheng & Cheng Ltd, which audits just 4 other listed companies in HK, including CVC, which made the same change of auditor on 8-Sep-2009.
CVC/Longlife cross-holding
Now here's the (even more) interesting thing. Some time before 9-Dec-2010, Longlife began investing in the stock market. Of all the stocks it could have bought, it bought shares in its own shareholder, CVC, passing through the 5% disclosure threshold on 9-Dec-2010 and increasing since then.
Mr Yau currently owns 22.18% of CVC (since 14-Apr-2011). According to p15 of the CVC circular dated 28-Jul-2011, as at 25-Jul-2011, Mr Yau also owned 7.99% of Longlife, CVC owned 23.14% of Longlife, and Longlife owned 8.92% of CVC.
CVC cut its holding in Longlife from 23.17% to 22.80% on 29-Jul-2011. Based on the latest disclosures, here are the holdings: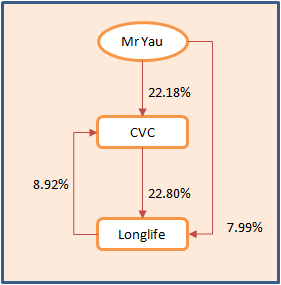 As you can see, Mr Yau and CVC now have more than 30% of Longlife, and Mr Yau and Longlife now have more than 30% of CVC.
A general offer for Longlife?
As a director of CVC, Mr Yau is presumed under the Takeover Code (paragraph 2 of the definition) to be "acting in concert" with CVC. If they are acting in concert, then they together cannot increase their holding above 30% of Longlife without triggering a general offer. Based on the circular, on 25-Jul-2011 he and CVC together held 7.99+23.14=31.13%, so a general offer should have been triggered on or before that date when the combined holding first reached 30%, at the highest price that either of them paid in the preceding 6 months or since that date. We call on the SFC to determine whether a general offer obligation has been triggered by the presumed concert party, as we think it has.
We don't know exactly when they crossed the 30% threshold, or what is the highest price that either of them has paid, but we do know that it is at least $0.28 per share which CVC paid on 15-Mar-2011. That compares with Friday's (12-Aug-2011) closing price of $0.228 per share. Until the question of a general offer is determined, it would be wise to suspend trading in the shares of Longlife.
Being a Chapter 21 investment company, under Rule 21.04(3)(a), CVC is not allowed to own more than 30% of an investee company or take management control of it. So if a general offer for Longlife is to be made by Mr Yau and/or CVC, then it will be up to them to resolve that problem between them. The Listing Rules do not affect any obligation they may have under the Takeover Code. CVC does have an investment manager which can advise upon investments, but it is clear from the prospectus that "the Directors are responsible for approval of all investment decisions" so it cannot be argued that the investment manager put them into this situation.
A general offer for CVC?
On 17-May-2011, Longlife increased its stake in CVC from 7.73% to 9.12%. Taken together with Mr Yau's holding in CVC (which is accurate because every dealing by a director must be disclosed), the combined stake increased from 29.91% to 31.30% at $0.44 per share, passing through the takeover threshold of 30%. There is no presumption in the Takeover Code that Mr Yau and Longlife were acting in concert, but that doesn't mean that they weren't. At the time, CVC and Mr Yau together owned about 25% of Longlife, and there are other circumstances outlined above (the directors, the shared office lease, the share option grant, the common auditor, and the Athens Capital placing) which could allow this inference. The SFC should consider whether in reality Mr Yau and Longlife were acting in concert to acquire control of CVC and therefore whether a general offer is required.
Obviously it would not make much sense if CVC and Longlife were to make general offers for each other, because that could result in annihilation of the outside equity, rather like binary stars merging into a black hole, so if both offers have been triggered then at least one of the offers would have to be made by the only other person involved, Mr Yau.
Joining the Chung Nam Network
On 9-Jun-2011, CVC announced that it proposed to issue 250m shares, or 29.72% of its enlarged capital, to Willie International Holdings Ltd (0273), a core member of the Chung Nam Network, via Chung Nam Securities Ltd as "placing agent". CVC joins two other Chapter 21 investment companies in that network, Radford Capital Investment Ltd (Radford, 0901) and Unity Investments Holdings Ltd (Unity, 0913). The issue price is a 17.1% discount to the 5-day average price, but more importantly, a highly dilutive 59% discount to the net asset value per share - something the announcement doesn't even mention, although it is covered in the circular.
The subscription was approved at the EGM held on 12-Aug-2011. If it completes, then that will dilute Mr Yau and Longlife's combined holding in CVC below 30%, but that doesn't absolve them from making a general offer - they would just have to make the offer to a larger share base.
Mr Yau was appointed as an INED of Freeman Financial Corp Ltd (Freeman, 0279) on 26-Nov-2010 and as an INED of Radford on 30-Jun-2011. Freeman is also a core member of the Chung Nam Network. It is also worth noting that according to an announcement of 26-Apr-2007, Mr Yeung Ming Kwong, Chairman of Forefront Group Ltd (Forefront, 0885), another company in the Chung Nam Network, is or was a director of B.I. Appraisals Ltd, Mr Sham's valuation firm. That firm acted as Forefront's investment property valuer in its 2007 annual report and has also done work for Freeman twice in 2008 as well as acting for Dragonite International Ltd (Dragonite, 0329), another member of the network, on 20-Jun-2011.
Market Misconduct Tribunal
And there's one more thing.
On 12-Apr-2011, the Financial Secretary of HK instructed the Market Misconduct Tribunal to investigate whether Mr Yau and Duncan Chui Tak Keung (Mr Chui) had engaged in false trading, price rigging or stock market manipulation in the shares of CVC prior to a placing in Jan-2009. Mr Chui was Chairman at the time and remains an Executive Director of CVC. The substantive hearings in the MMT case are scheduled for October and November 2011. That should keep them both busy.
Mr Chui is an interesting chap himself. A grandson of the founder of the Fook Lam Moon Restaurant (where a dispute between his father and other relatives is underway), he is also CEO of AIM-traded China Private Equity Investment Holdings Ltd (AIM:CPEH). The bulk of the assets of CPEH are in 33.6% of a company called Fortel Technology Holdings Ltd (Fortel). This is accounted for as an investment rather than associate, so few numbers have been disclosed, but CPEH said in April that it hopes to list Fortel in HK later in 2011. Mr Chui owns 47.8% of Fortel himself, and part of the family stake was sold to CPEH in the first place.
© Webb-site.com, 2011
---
Organisations in this story
People in this story
---
Sign up for our free newsletter
Recommend Webb-site to a friend
Copyright & disclaimer, Privacy policy
---